Last weekend, we brought you the story of an alliance who lost a 220-billion-ISK Rhea while being evicted from Querious over a few days. The alliance in question, Federation of Respect Honor Passion Alliance, got in touch with me during the week to tell their side of the story.
In their TeamSpeak server, I was joined by NeoSerenity, the alliance executor, and Aewyn Gwothorynn, their diplo and translator from English to German, as well as other members of their alliance leadership.
Neutral Entities in New Eden
The leaders I met with explained to me that they were, as far as they were concerned, an independent alliance. They had joined Querious Fight Club because they were looking for a playground, which would allow them to improve their PvP skills and own some structures. From their perspective, QFC had been aware of their situation in regards to also being members of Guardians of the Galaxy, and did not have an issue with it. As they see it, the problem arose when a leadership change in QFC led to a new, more hardline stance, and they were evicted at very short notice.
They evacuated the majority of their assets (although reports say that they still have a number of capitals and as well as a structure or two in Querious), and are in the process of setting up a home near TEST, who they have had an agreement with for four months. NeoSerenity told me that it had been a stressful period, having 24 hours to move their things out of what was now hostile territory, but he was pleased with the way that his members had responded.
The alliance does not see why them being members of Guardians of the Galaxy, and of Querious Fight Club should have been an issue. As they see it, they are not involved in politics and aim to be members of many groups, and to utilise space for their members. They see themselves as Switzerland, neutral to everyone, but building relationships across the board.
This seems to me to be an optimistic, but naive view of Eve politics. GOTG and the Imperium are not on speaking terms; affiliation with one group will make you hostile to the other. Whether or not there is an intent to be politically involved, and leaving aside any concerns about information being shared, the situation can arise where GOTG may do an excursion into QFC territory. At that point, both coalitions would be wondering which side RHP would shoot at.
It is possible to be friendly (or at least not hostile) to multiple groups without actually being a member of any of them, and smaller groups often take this position. It is not, however, possible to hold active membership of two entities who are hostile to each other. It would be questionable whether you can be a member of two entities who are neutral to each other. That there is a corporation in Darkness who have the same name only adds to the suspicion.
Having spoken to them, I do not think there was any nefarious purpose to them joining QFC—I think they are just not used to Eve politics(yet).
About that Rhea
The other event of the weekend was that one of their pilots, Eisbaer Knut, lost a Rhea containing over 200b ISK of goods to SNUFF during a citadel tethering malfunction in Walvalin. While SNUFF are part of the Imperium, this event was unrelated to RHP Alliance's evacuation from Querious. Eisbaer was not living down there, and the location is closer to GOTG space than to Querious, so he was likely moving around between Jita and his home. Although Eisbaer was in the TeamSpeak room with me, he did not speak. When I asked why he was moving that amount of goods, and where he was going with it, I was told by a member of leadership that they had not asked, and did not care to know what he was doing.
One of the reasons I was curious to find out more about the Rhea is that this alliance mail had popped up during the week: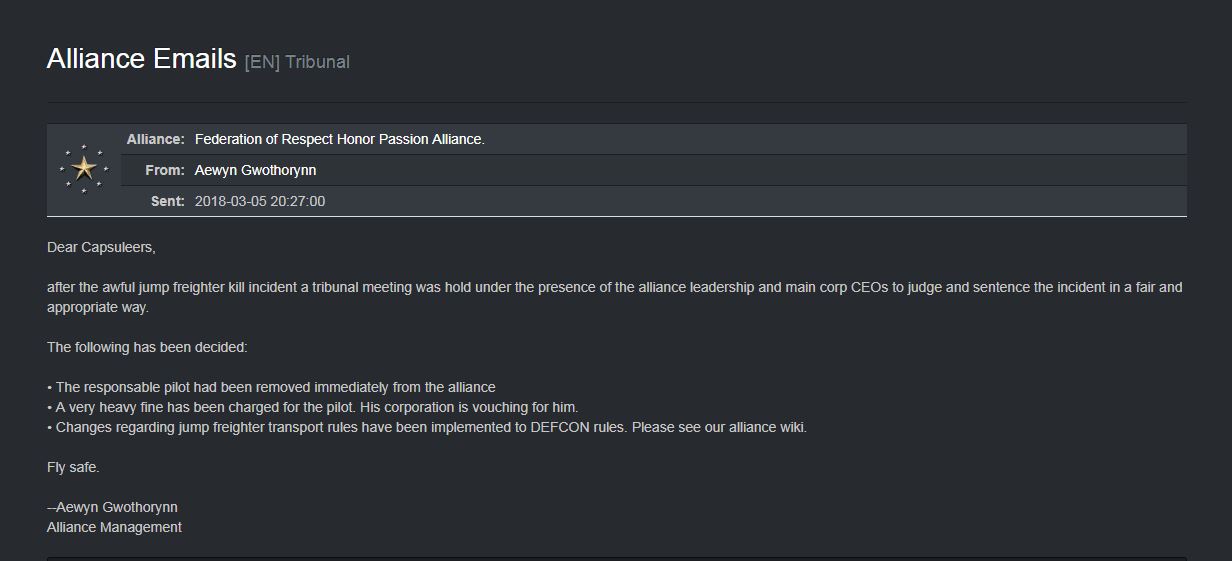 I asked about this, and I was told that the action was taken to make an example of the pilot, and to make sure members understood that you should not do things like this. The cargo was the pilot's own private goods, so was not an alliance courier or alliance assets. They felt this was necessary as it is irresponsible to carry that value of cargo, and so members should be aware of the consequences of doing so. There is now a 20b ISK maximum limit for jump freighters, intended to protect members from this happening again. The pilot was lucky that his entire corporation was not kicked from the alliance as a result of his loss.
There may be people who feel this is an extreme reaction to what is, effectively, a player losing his own assets. It may also be that losing over 200b ISK of your assets is punishment enough, but, the alliance wants to make sure its pilots do not make these sort of errors in the future. This is further complicated by rumours that Eisbaer is an alt of the corporation's CEO. I asked RHP about this, but they did not respond.
As for the future of the alliance, they are making a home for themselves near TEST. They are also continuing to build their relationships with both GOTG and TEST, and hope to forge new relationships with other entities over time. We will keep an eye on their development, and let you know how things turn out for them.