Eve Online is one of the most interesting and simultaneously boring games in the world. The same game that produces the heart-pounding experience of a pack of ravenous wolves chasing you, can also produce the feeling you get studying for exams or running a business—only dressed in a science fiction skin. While there are many who enjoy these drier parts of EVE, myself included, it often does lead to quite a lot of multitasking.
Watching a video on one screen while ratting, baking a pot pie during a big fleet with horrible TiDi, sitting in Jita and watching the market, or making impressive artwork of a Keepstar Citadel while mining—EVE players are notorious for doing a lot of things at once. With recent examples in the community news of EVE players multitasking, I reflected on the various ways that I have spent time while also logged in. I thought some of you might find my suggestions interesting.
This is the first list in a series where I suggest games based on my own preferences that can provide a nice distraction when Eve is slow. Today's theme consists of games with a retro-pixel art style. The following games were recommended specifically with the criteria that they are not too difficult to tear yourself away from should something happen in EVE that requires your attention. Future lists may or may not have this requirement.
Please keep in mind this list is written with the assumption that you likely have more than one screen to be playing on and have access to Steam. These are in descending order from easiest to multitask with to less easy, and I will clarify as to why I have defined them as such.
FTL: FASTER THAN LIGHT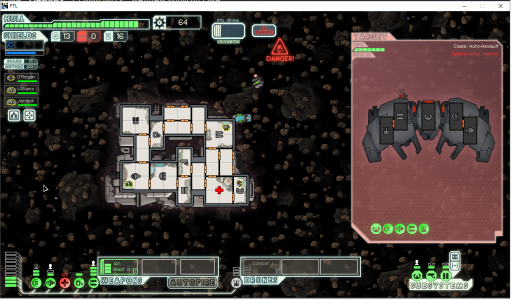 FTL: Faster Than Light is a delightful little game with an oddly hardcore spin. The gist of it is you are the all-seeing disembodied Captain of a starship running from the rebels to try and meet up with the fleet of the Federation. Unlike most space games, you focus on what part of your ship attacks different parts of your enemy's ship, as every vessel is divided up into various sections with specific functions. You upgrade your ship with "supplies" and can add various new functions depending on what is available at spacedocks you encounter. There are a few races that have somewhat different abilities, but they are each fairly self-explanatory when you encounter them. When each character is used for specific tasks, such as tending to the shields, they will gain better efficiency in their assigned department over time. You are able to rename your crew at will, but be aware that all crew members are equally expendable.
The game also has an interesting feature allowing you to open the doors as a defense tactic to suck the oxygen out of various sections of your ship. This is good for putting out fires that your crew can't attend to, as well as damage enemy crews that have boarded your ship. Great for those of you who find sadistic pleasure in suffocating those who dare trespass on your ship. The YouTube channel "Door Monster" made an absolutely hilarious skit that perfectly sums up how absurdly useful this feature can be.
Multitasking With Eve
This game is easy to play in a small windowed mode and is easily moved around for convenience. The UI does not obscure the game so you are able to pause the game at any time to develop a strategy in battle. Clicking outside of the game's screen also automatically pauses it. For multi-gaming, this is helpful since you can just click back on the EVE tab without worrying about pausing FTL. When you are able to return your attention to Lastly, this game barely requires any processing power from your computer.
Further Information about the Game
For a more in-depth analysis of this game, AngryJoe did a great review on FTL and I would highly recommend checking it out. There are lots of ships to upgrade to over time, a serious learning curve to keep you invested, and short campaigns with permadeath. Specifically: if your ship blows up, you're forced to restart the game with no saves. It all helps to keep you coming back to try new strategies.
If you find yourself sucking at this game like me—as permadeath can be really frustrating—there are ways to mod it. However, even mods do not guarantee that you will win against the Boss at the end. This is definitely a well-designed game. There are plenty of videos on YouTube explaining the finer points of FTL that the in-game tutorial doesn't really cover. Bound to provide quick spurts of interesting campaigns, I feel this game is an interesting distraction worth taking a look.
STARDEW VALLEY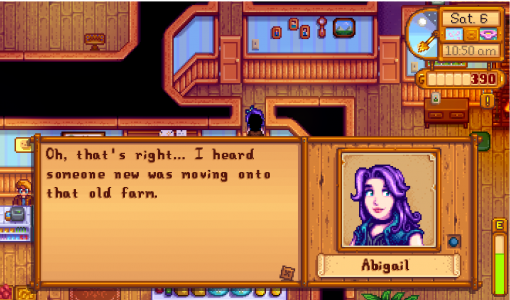 Those seeking an adorable little game that oozes charm, check out Stardew Valley. It is a farm simulator with an emphasis on building up your homestead and your relationships with the townsfolk. The game starts off with you inheriting your grandfather's old farm plot in Stardew Valley, beginning a new life away from the city to live a simple agricultural lifestyle.
There are plenty of different romance options that can lead to the ability to start a family; your relationships with the villagers are a large part of this 2d RPG. Similar to other RPGs with love interests, giving gifts to your intended romantic interest can increase or decrease their opinion of you. Be sure to pursue the person you fancy as soon as possible; there is going to be a dance at some point and you don't want to be the lonely loser who doesn't have a date. No pressure.
Multitasking With Eve
I have been able to play this game in a form of windowed mode on another screen, and it instantly "pauses" the game when you click outside of the screen. I say this in quotations because it doesn't bring up the menu like the actual pause button, but by freezing the game it achieves the same goal. This game strikes me as one of the better games when trying to deal with TiDi lag in a fleet battle, as well as just in general waiting-focused activities.
Further Information about the Game
The game is a little confusing at first. It may help to look at what other people have done to grasp what to do with yourself in the game. I found a nice little Let's play by the YouTuber Aavak who did a series of the game for those interested. If you're anything like me, this step-by-step Newbie Guide will likely be very helpful for anyone else who gets confused easily with so many options. There are also things called "bundles" that are community projects for the player to do.  There is a combat element that I have been told is central to the game, although I have yet to encounter it.
I have not explored Stardew Valley very much as of yet, having only put in a few hours so far. Regardless, the experience already has me absolutely falling in love. The farmland already feels like it belongs to me, and I am enjoying the experience of learning how to cultivate it. The other major allure is how many different characters there are in Stardew Valley, each with their own unique personalities that I look forward to getting to know. The reviews on steam are overwhelmingly positive: 97% of the nearly 50k people who have responded. The only gripe I have with it so far is the tutorial/in-game quests are not as informative as I would like. As shown above, there are plenty of outside sources to make up for this, but I will cite one last beginner's guide. If any of this sounded mildly interesting to you, I would definitely suggest checking Stardew Valley out.
PAPERS, PLEASE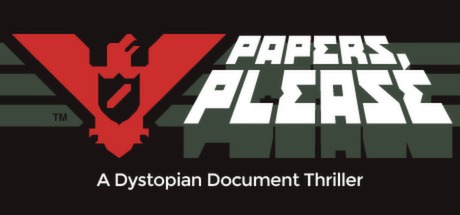 The final game today is Papers, Please. Papers, Please is a bizarre little RPG that plays to those who enjoy looking for little details. This game has dozens of endings in the regular story mode to keep you coming back, as well as an endless mode after you beat it. The premise is that you are a border crossing guard who decides whether people can come into the great country of Arstotzka. The game has an interesting communist vibe akin to Soviet Russia.
Every day you get more documents and regulations you have to follow, and must quickly process each applicant, checking to see if they have the proper documentation. You are also tasked with managing your family's finances and make sure to keep your family alive, going so far as choosing between paying for food or heating that day. You are often presented with an opportunity to let someone into the country who wants a better life. This can lead to some pretty realistic-feeling moral choices, as you have to make the choice to deny them entry. Sometimes causing you to deny people whose stories pull at your heartstrings
However, if you get too many citations (penalties for missing details you should address), it will be deducted from your pay and your family may suffer. Fortunately, you start off with two free citations each day that won't deduct from your pay, but they may come back to bite you after the inspector comes later in the game. I won't spoil too much, but your character has multiple options on how to deal with your situation. Will you join the secret organization against the Arstotskan government and escape with your family? Will you choose a balanced approach, and see where that takes you? Or will you be loyal to the motherland and oust these traitors? Don't trust everyone who comes through, and there may be terrorists that sneak past you.
Multitasking With Eve
Papers, Please is really only playable in windowed mode, as well as instantly pauses the moment you click outside the game window. This game is best for when you are not constantly bouncing back and forth between screens. So if you are constantly having your concentration broken, the game may present more of a challenge if you forget what was already checked. Fortunately, the game is somewhat procedurally generated and saves after each day. If you have to close the game session for whatever reason, it won't be a big deal, as you won't really notice too much of a difference from the previous attempt at completing that day.
Further Information about the game
The YouTuber Jacksepticeye did a Let's play that got me interested in this game, and I'd recommend watching it first if you're on the fence regarding purchasing this game. The completionists out there will be happy to hear that there are far more endings than the ones he ended up with.
Papers, Please is best when sitting cloaked on a wormhole waiting for the sound of someone jumping through. Or some other equally boring task involving a lot of waiting. This well crafted text-heavy RPG gem is a must-have. GLORY TO ARSTOTSKA!
If you have suggestions for themes for future lists or games you would like for me to review, please let me know in the comments below. I hope this article was helpful and at least one of these games will appeal to you, making your EVE gaming session a little more interesting.