Undocking a super or Titan from anything but a Keepstar requires you have a cyno ready to jump to, because you won't be docking back up. That's common knowledge for null sec players, but maybe not so much for high or low sec players.
One such player learned that lesson the hard way earlier today. Alexa Coates had won an Avatar on the Hypernet about a year ago. A little overwhelmed with his new toy he immediately went to the NPC station where it was docked to check it out.
That's when the problems started. "Yeah, long story short, I went to go look at it and undocked by mistake," Coates explained. "I instantly logged and didn't touch EVE for over a year."
Once he got over the horror of an undocked Titan in low sec with nowhere to re-dock, and the need to play EVE again got bad enough to log back in, the story continued. That's where the problems escalated.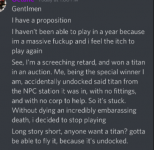 "Well, today I got the itch to play and asked on the EVE Discord if anyone could help," he said. "I was literally offering to give (the Titan) to them for free. I just wanted it gone, so I could play again. I normally play solo, so I had no corp to help." He got some responses. One person told him he'd help move the Titan.
Believing the offer of help to be sincere, he logged back in, Coates explained, "and I see a fleet waiting for me." Frantic, he safe-logged, but not fast enough.