In this recent devblog, CCP gave us some details on the skin that was recently discovered on Singularity. This skin is, however, coming with sad news: the passing away of CCP Blaze.
CCP Blaze was a Senior Software Engineer working on the Audio and Graphics of Eve. As a long time member of team TriLambda, he worked on what you see in space around your ship, from warp tunnels to overlays, with, for example, the Tyrannis changes.
CCP Blaze's cyno was lit on November 14, during a vacation in London. He was 35 and leaves his fiancee and young daughter behind. CCP decided, as a tribute to his work, and as a way to help his family, to introduce a new series of skins. The important part here is that all the profits will be given to Blaze's family. This was stressed again by CCP Falcon in this thread.
The 'Blaze' squadron will be available as a one-off, until downtime on December 19th. It will never be sold again later.
It will be available for the following hulls, in a bundle for 495 PLEX:
Barghest
Cerberus
Hurricane
Ishtar
Oracle
The skin is also available for the Armageddon, but separately, for 110 PLEX, as it was CCP Blaze's favorite ship.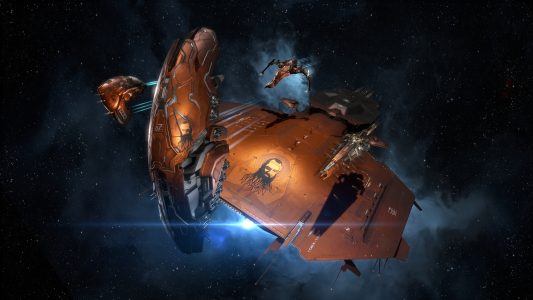 The cyno is not lit yet…
Eve Universe has seen a good number of tributes from players, and this one from CCP will add a glorious Beard between the stars.
On behalf of INN, I would like to present our condolences to the family and friends of CCP Blaze.
Blaze joins Eve lore, his cyno has been lit.
"Blaze" Squadron SKIN

Designed by Angel Cartel engineers, and released as a tribute to the leader of the Dominations notorious "Blaze" hit and run squadron who was lost in battle in late YC119, this nanocoating was made available in very limited numbers for only six hulls.

Known only as "Blaze", a name earned from both the trail of burning wreckage usually left in his wake and his appearance with a golden red beard, his squadron became his namesake after hundreds of daring raids against Republic Fleet assets.

Today, they wear his colors in honor of his legacy as one of the Angel Cartel's most successful and notorious pirates.

"Gone, but never forgotten. His name lives on in all of you. Hoist his colors, and decimate anything that stands in your way." Trald Vukenda – CEO, Dominations.
UPDATE: CCP Falcon has clarified what they mean by 'profit', as many people inquired on both reddit and the official forums:
No fees, nothing. The only thing we need to take care of is tax, because of lawyers and that kind of stuff.

Everything else is donated, zero profit for CCP.