Building a computer is an act of pure joy.
It can take months to design the right machine: deliberating over minor differences between parts, finding the best prices, deciding when is the right time to pull the trigger. And once the parts start to come in, there's nothing like gently removing each shiny new piece of technology from its respective packaging.
Usually.
In July of 2017, I was going through the process of building a new computer. Before even starting the build, I had settled on a GTX 1070 as the heart of the gaming machine I was to build. Reviews pegged it as the best card for the money and, barring anything new and exciting, it was the obvious choice. At around $450, it was far pricier than any card I had purchased before, but I had already made peace with the price point. After all, I would definitely be getting what I paid for.
The day finally came to choose which of these cards I'd be dropping into my system. I had an idea which brand I wanted to go with – the same that was currently in my system – I just had to pick which specific iteration of the card I wanted. Only…none were under $800.
"What?"
To make a long story short, I eventually "settled" on a GTX 1080 Ti, but not before doing a fair amount of reading. What I discovered was that a surge in cryptocurrency prices over the beginning of 2017 had lead to a corresponding surge in cryptocurrency mining. Now, I had heard about cryptocurrency before, but I didn't really know all that much about it. And I had never heard about cryptocurrency mining. But, apparently, those were the two reasons why the GPU market was so skewed. And I didn't really think about it again until the markets recovered, then hit another bump at the beginning of 2018.
So…what is cryptocurrency anyway? What has it been doing to the GPU market over the past year? And, most importantly, is it ruining the GPU market for everyone else?
What exactly is Cryptocurrency?
Generally speaking, cryptocurrency is a form of electronic currency that uses cryptography to secure transactions, verify the transfer of assets, and control the creation of new units of currency (according to Wikipedia).
Bitcoin is likely the most recognizable cryptocurrency, more for its meteoric rise than anything else. But besides insane price gains over the last year, there is plenty else of note about this particular currency. It was first released in 2009 as the first deregulated currency, and has since paved the way for Ethereum, Litecoin, and countless other 'altcoins' that are dominating the exploding cryptocurrency markets. It's worth noting that many of these coins are, in fact, based on Bitcoin, so without Bitcoin as a precursor, many (or all) of these coins might not exist at all!
What is Cryptocurrency Mining?
I mentioned before that Bitcoin is an unregulated currency (a tag that extends to all other cryptocurrencies available at the moment). This means that the price and supply of cryptocurrency isn't controlled by banks or regulatory agencies. Instead, this means that the initial price point for the currency is set upon its release, and that the supply of the currency is produced by the community supporting it.
This is where mining comes in.
Without diving too far down the rabbit hole, individuals create new cryptocurrency and verify transactions of specific currencies by way of mining. In this case, "mining" refers to using the processing power of computers [and increasingly, specialised hardware that can only do this task for Bitcoin, and GPUs for other cryptocurrencies -Ed.] to complete these two tasks.
There's much more that could be said about both subjects, and I encourage anyone interested in the nuts and bolts of how cryptocurrencies work to go read more, but for the sake of brevity, I'll leave the explanation at that.
So What?
At this point, you're likely asking whether you should care about all of this, and the honest answer is "probably not." Staunch followers of crypto markets and avid investors already know all of this and more. And unless you plan on following cryptocurrencies, this is probably more than you'll ever need to know. But as a baseline, this information serves as a sufficient preamble to understanding one of the far-reaching effects of cryptocurrency mining over the past year.
The Mid-2017 Mining Boom

In May of 2017, an increase in the price of Ethereum was accompanied by a significant uptick in mining. And since the mining of Ethereum is GPU-based, the result was a sudden an unexpected strain on the GPU market. None of the major GPU suppliers were prepared for such a massive increase in sales, so by July of 2017, many of the most desirable cards from both Nvidia and AMD were scarce. And those that were available could be purchase well over their MSRP. 
Further, the unavailability of some cards had the side effect of driving the prices of lower-end cards well above their intended price point. A perfect example of this would be the GTX 1060 (both the 3gb and 6gb versions of the card). Both were supposed to fit in a price point somewhere in the low $200 range, but the 3gb card was pushed closer to $260, while the 6gb card was typically at, or over, $300.
During this particular boom, only the most expensive Nvidia cards – the 1080 and 1080 Ti – managed to weather the storm of price surges. Despite meager availability of other Nvidia and AMD cards, these two were easy to get a hold of at their intended price point.
By early fall, pricing and availability started to return to normal. The mining surge was over.
The Current Mining Boom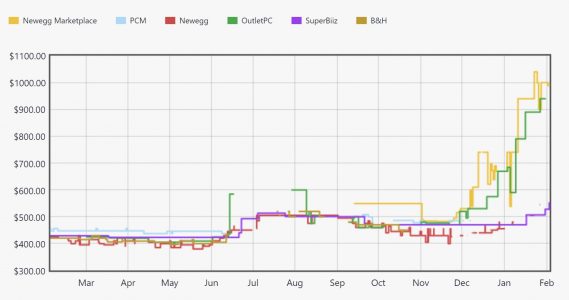 As 2017 wore on, Bitcoin (and related cryptocurrencies) continued to surge. By December, Bitcoin was nearing $20,000 per coin (an increase of over 1000% in value since the beginning of the year). And when Ethereum followed, reaching a little over $1400 per coin, a second mining push began – one that we're still very much in the middle of, though steadily falling crypto prices have many thinking that the current boom will be ending sooner rather than later.
But this push has been far more detrimental to the GPU market.
The availability and pricing of nearly every available GPU has been impacted. The most popular cards for mining have surged in prices, with costs nearly doubling in some cases (as they did during the mining push in mid-2017), and even some the cards that weren't hit before have seen significant increases in pricing. The graph above is an example of a MSI GTX 1070 8GB (I'm using this particular card as a reference because it had the most complete data over on pcpartpicker). While there were price hikes in the middle of 2017, they were nothing compared to the uptick of GPU prices that are still gripping the market even today.
How does this affect me?
Honestly, unless you're planning on building a new computer, the current GPU shortage shouldn't affect you in the least. But for those who regularly undertake the task of building computers, the current state of things is prohibitive.
While the cost of every other component has remained flat, the skyrocketing costs of the single most important part of a computer has made it nearly impossible to build a gaming computer without breaking the bank. The current shortage is so bad, in fact, that an extremely reputable PG gaming site has (for the first time ever) suggested that individuals looking to build a new computer, instead, consider buying a pre-built rig.
For building enthusiasts, this is nothing short of heresy!
Is this the new normal?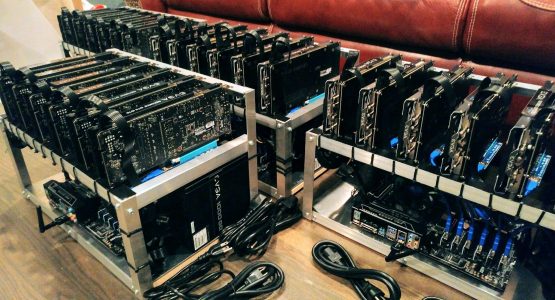 Yes and no. Despite widespread availability, cryptocurrency is still in its infancy. With confidence low (from a traditional investing standpoint) and volatility high, many are still nervous about the viability and future efficacy of the multitude of currencies popping up on the markets. For the few true believers, however, now is the best time to join the fray. And with every surge in the markets, more converts will throw in for their piece of the pie. We saw it once last year and again at the beginning of this year.
But for all of the concentrated activity around each of these mining booms, I doubt that the disrupted GPU markets will remain a constant fixture in the PC industry. I'm sure we'll see a fair few more of these shortages over the course of 2018 and beyond, but at some point something has to give. Either the cryptocurrency market will adjust, driving down the desirability of mining, or the companies producing GPUs will have to increase their production.
For now, I don't see either of these things happening.
While mining has posed a significant drain on the GPU market, these bursts of interest haven't been enough for any of the major GPU companies to consider significantly increasing their production or supply. Instead, they seem more interested in restricting sales. Many manufacturers limit purchases to "one per customer" on their sites. And many retailers have limited customer purchases to two or three to discourage miners from easily depleting their stock. But that still hasn't completely remedied the issue.
Two major GPU companies – Asus and Sapphire – have tried to take advantage of these mining booms by producing cards specifically designed for cryptocurrency mining, but aside from an announcement in the middle of 2017, I haven't seen or heard much about these specially designed cards. Nor have I heard much about their desirability over standard consumer graphics cards.
On the other hand, the price of cryptocurrency has remained attractive enough to draw even more people into mining. At the end of 2017, just before the current boom, I helped a friend of mine build a few mining rigs. As you can imagine, the price of a six GPU mining rig is somewhat hefty, but when all is said and done, its ability to make money is undeniable. Even at normal GPU prices, and with the increased utility cost, each rig is capable of paying itself off in anywhere from six to nine months. And, after that, any mining it does is theoretically pure profit. [Assuming no additional hashing power is added to the network, and that both the cryptocurrency and electricity prices remain constant. -Ed]
Perhaps "Fear of Missing Out" is the biggest reason we've seen such significant surges in mining over the past year. With cryptocurrency skyrocketing in price and the ability to make real money becoming more feasible by the day, it stands to reason that many others would be interested in taking part (and while GPU prices were more reasonable, I was tempted as well).
Future Outlook
For now, I don't really see the end of the current boom. Many are trying to get into mining at the moment while cryptocurrency prices are high, and the result is that pretty much every GPU is either scarce, or ridiculously overpriced. A quick trip over to newegg shows a 1050 Ti going for $219.99, a price point held by the 1060 3gb a little over a month ago. Right now, that same 1060 is going for $739.55!
And pretty much anything more powerful is going for over $1000.
That being said, I'm not sure cryptocurrency is ruining the GPU market. Not completely, anyway. As long as surges in mining follow the rise and fall of cryptocurrency, then I suspect we'll be fine. Of course, PC building enthusiasts will have to keep an eagle eye on GPU prices, and likely alter build schedules to take them into account, but I suspect it's something we can all live with. On the other hand, if mining becomes a more permanent (and even more prevalent) fixture of cryptocurrency space, we might be in for a bit more of a pinch while GPU producers figure out their production levels to account for the increased demand.
Either way, anyone on the market for a new GPU should be ready to wait for a few months for prices to improve, but I doubt things will return to normal in 2018. Patience will likely be the most valuable commodity for potential buyers this year and in the foreseeable future.