Today CCP released a video featuring CCP Seagull explaining that changes are coming to PLEX in EVE Online. The effort is to simplify the interaction between players, CCP and the game by moving away from using both Aurum and PLEX to purchase certain items or services in the game. UPDATE: CCP Rise will be joining Matterall in this week's Talking in Stations to discuss the upcoming changes at 1500 UTC this Saturday on Imperium News's Twitch channel.
Splits and Reverse Splits
The first aspect is the split of a single PLEX as we know it today into what I will call 500 mini-PLEX. Aurum balances over 1000 Aurum will reverse split 7 to 1 into mini-plex. CCP will do this conversion for all accounts in full that have a balance over 1000 Aurum. Accounts with less than 1000 Aurum will not be converted at this time to avoid flooding the market with the new mini-PLEX.
It seems somewhat odd that CCP would keep calling them PLEX since it will now take 500 PLEX to purchase additional game time. The DEV Blog seems to indicate the intent to continue calling them PLEX.
No More PLEX in Killmails…
We all know killmails with PLEX are a never-ending source of hilarity. Now CCP will create a container in game to hold your PLEX. This container is account based. This means it will be seen by any character on your account when you log in. It is always accessible in any location. Let the hilarity commence with the first KM with the new PLEX. PLEX you buy on the market will have to be moved from your inventory into the vault to be accessible to all characters.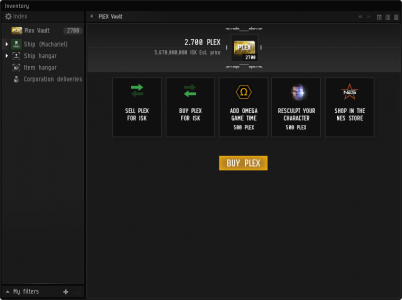 Team Size Matters Says – Smaller is Better!
Converting from a $19.99 USD PLEX to 500 valued at a rounded $0.04 USD per new PLEX allows CCP to use it across both the game and the New Eden Store.  This allows CCP to simplify payments. It also gives them a small unit to use for pricing in the store. It will be interesting to see how this plays out and how CCP will bundle PLEX for sale.
Aurum is dead!
In the end, there are winners and losers. Aurum is the loser. I suspect mostly because Aurum is a pain to type and PLEX is easy.
OMG The Market Will Crash!
I will give CCP credit since it looks like they did some math on how to convert Aurum to PLEX with the least impact on the market. They have said that their aim is not to change the price of items such as Skill Extractors. However, the market is the market and it is going to react. I suspect it will be less of a swing than the 'Excavator' Mining Drones had.
By converting only the pent up Aurum accounts that have over 1000 Aurum and the plan to run some sales to deplete outstanding Aurum CCP expects to minimize impact. They are also announcing this well in advance of the release date to give the market time to stabilize.  No date for release has been confirmed, but more details will be given at Fanfest.
Conclusion
By making a lesser valued PLEX CCP will be able to standardize on a single cash conversion within the game. The design should make things easier for both players and CCP in the long run. This is a smart move for CCP. Making things complex from player and coding perspective is never a winning combination.  When something makes everyone's lives easier it is generally a good move.
You can read more in the DEV Blog here.