To start the month off with a bang, CCP released details of the next expansion for EVE, titled "Lifeblood".  An announcement trailer was released along with updates to the, erm, updates page on the EVE Online site.
Many of the changes were already slated to appear in the Winter Expansion, so are now coming early in an autumn one instead.
There are the changes to moon mining and reactions, which were already known about, and are partially on SISI for testing at present.
Empire Changes
It seems as if the Empire changes originally scheduled for Winter will also now be arriving in October.  The updates page lists two high-sec specific changes, Resource Wars and Pirate Forward Operating Bases.
At first glance, the resource wars seem to involve some sort of collaborative exploration style gameplay, and the tags assigned to the update page indicate that as well. They may equally be high-sec mining incursions.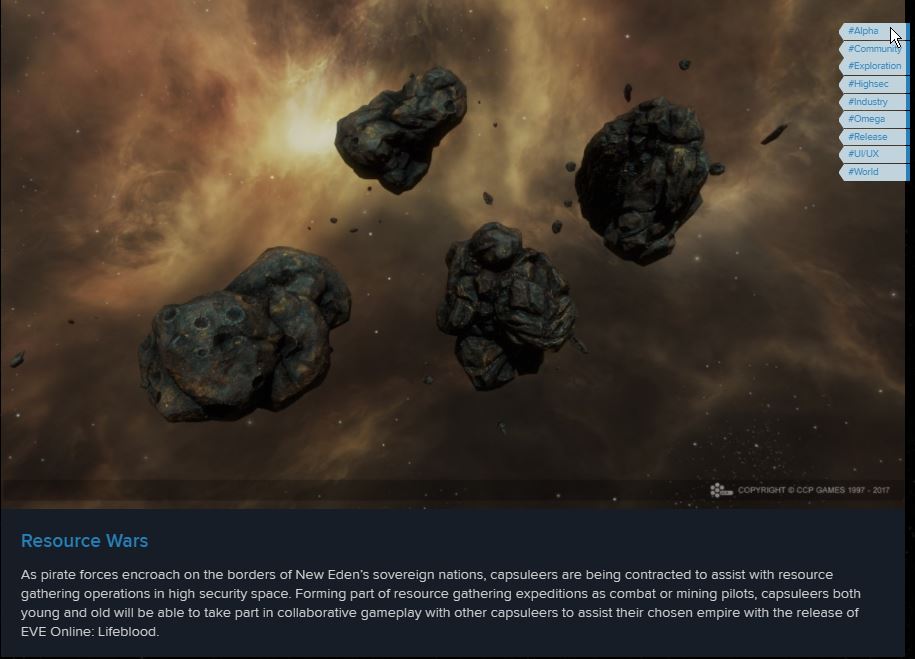 Pirate Forward Operating Bases seem to also involve exploration in high-sec, but are tagged PvP as well.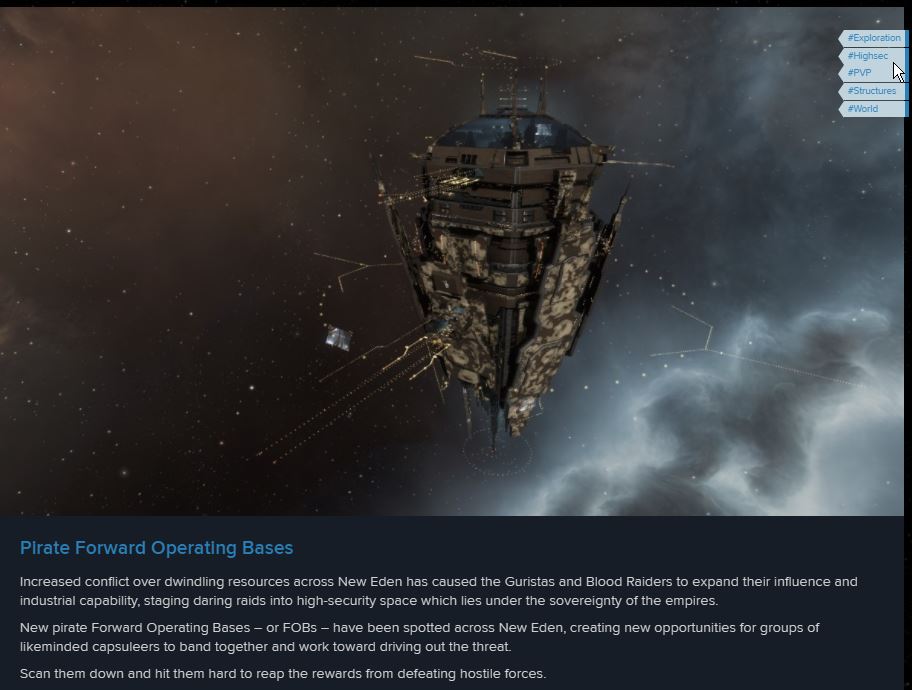 As this is the first time we have heard details either of these upcoming changes, there is very little information to give at present. but, we will keep an eye on the devblogs, and SISI and update you as more information becomes available.
Whether these two additions to the game satisfy those who have been eagerly awaiting the winter high-sec expansion (and who were worried it had been scrapped completely with the removal of any mention of it from the Winter Updates page), remains to be seen.
Alpha Ships Balance Pass
Another change is a balance pass for alpha ships. As with the Pirate FOBs and the Resource Wars, nothing is as yet known about this beyond what is on the updates page.  It appears that commonly used Alpha ships will be getting changes to their slot layouts and bonuses. There is no additional information on the forums yet about this, but the last balance pass for frigates and cruisers was in Rubicon in 2014. With the addition of Alphas to the game last November, it seems that they need another look at their uses, especially as alpha players are stuck with their racial ships.
The Agency
There are also changes coming to The Agency series of events, which have so far had a luke-warm reception from pilots. There will be the possibility to find other pilots to do agency-related activities with, which implies that the activities will be expanding somewhat from what they are at present.
The key aspect of this update is the moon mining and reaction changes, as these represent a large change to the landscape of Eve. The addition of high-sec activities involving pirate factions has the potential to drive engagement in high-sec, while the alpha ships balance pass hopefully allows alphas to feel that there are ships from all races which are useful to them.  At present, the advice is too often "Go Gallente", which can be a bit disheartening if an alpha has their heart set on being Caldari (and admit it, who doesn't want to be Caldari!).
We will keep an eye on the forums, and SISI as these changes are slowly added and will keep you updated as more information comes out.