A young boy clad in red runs through the forest. It's dark and he's alone. Between the trees, he sees something – a truck. The boy continues forward as it pulls away. Ahead, two masked figures with flashlights peer into the darkness. The boy stays hidden, but a noise draws them near. As the figures pass his hiding spot, the boy continues forward into the unknown…
Inside, Playdead's second game, is fascinating. From title screen to credits, the atmosphere and heavy handed sense of mystery are enough to drive the player forward – through a forest, a farm, a factory. Deeper. Further inside.
Something Wicked
From the offset, there is a feeling that something is not quite right. And the player is quickly thrust into danger when masked men give chase. But even when the player successfully escapes and moves on to portions of the game where dangers are more environmental, the feeling remains. While danger does lurk around every corner, this isn't the reason why.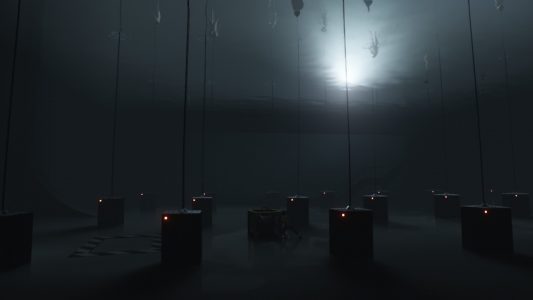 Inside uses the Unity engine to beautifully render a complete world. I say "complete" because each area has a remarkable level of depth. While the player travels along a horizontal axis, the camera regularly shifts to afford the player a more dynamic view. And to great effect. The game toys with size and scale to alter the player's perception of the world. Often, the shifting sense of scale adds to the mystery and growing sense of unease.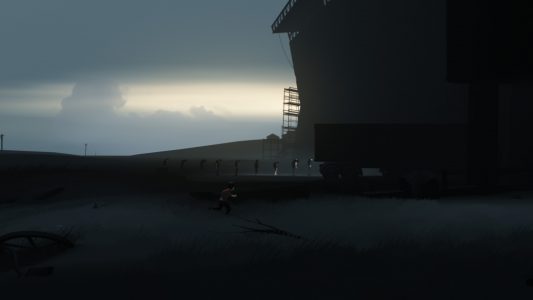 The visuals are tied together with soft musical tones that were composed by routing sound through a human skull (really). The sounds are abstract, haunting, and a perfect accompaniment to the game's visual theme.
Maximizing Simplicity
Traversing Inside's sinister world only requires the use of five keys. Compared to other games, the ability to move, jump, and grab things may seem simplistic. And it is. But the truncated gameplay affords the player uncommon focus that the game takes full advantage of.   
There are traditional platforming sections present throughout the game, but these are typically used as interludes between more complex puzzles that require the player to pay attention to – and ask questions about – the game world. Some rulesets are reused a few times, but many puzzles introduce new concepts to challenge the player.
None of these puzzles are so difficult that players will go searching for a guide. Each is painstakingly crafted so that it takes the perfect amount of time to solve: just complex enough that the player is pushed to the edge of frustration, but not so far that they'll give up before solving the puzzle and moving on with a sense of triumph.   
Preserving the Mystery
So far, I've remained relatively cryptic about Inside's narrative. That's because there isn't much to reveal. For most of the game, the player treks through areas that take them deeper into an obscure facility. It's obvious that some kind of experimentation is being done there, but nothing specific is revealed.
Eventually, there comes a point in the game were things change.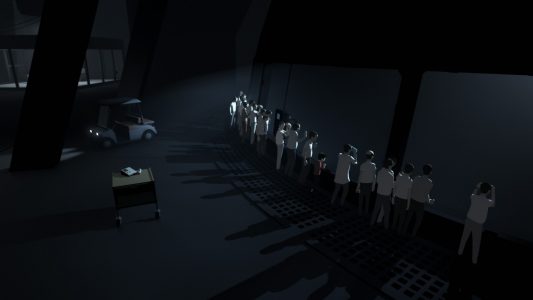 It is at this moment that the game takes a turn for the strange and there isn't any way to describe what occurs without spoiling it.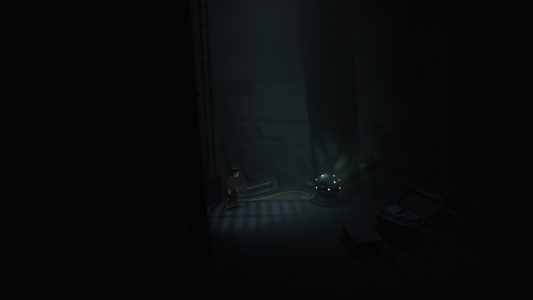 There is also a secret ending uncovered by finding, and deactivating, fourteen orbs hidden across the game world, but it is (apparently) just as strange.
Deep Enough?
Inside intrigued me from the moment it appeared on Steam. But I was unsure that the game would be worth $19.99 – especially after my experience with Limbo.
It was offered for free on Steam when Inside released: a celebratory present to the community.
Playdead's first game was interesting, with an art style that oozed atmosphere, but the abstract story left me somewhat disappointed and bewildered. I wanted more from the game or, at least, a bit more structure as far as the narrative was concerned. Instead, I got a solid puzzle platformer that left me scratching my head when all was said and done.
So with doubt in my heart, Inside remained on my Steam Wishlist. Untouched. Eventually, Playdead released a demo for the game and I downloaded it. And I played it. And when the demo ended, I bought the game without hesitation (for $14.99).
Despite Inside's peculiar narrative and simplistic gameplay, there is an equal measure of charm and intrigue exuded from each atmospheric pixel. I found myself drawn in. Glued to the soft glow of a painstakingly crafted science fiction world.
I finished the game in only a few hours, but as the credits rolled I felt content and contemplative. I grasped for meaning where none was explicitly given. And I found myself craving a second dip into Inside's mysterious world. A dip I will take in search of the secret ending I missed.
Some people might not enjoy such an abstract offering. After all, games like this aren't for everyone. If you prefer something with more structure – and a straightforward narrative – Inside is definitely not for you. But if you are a firm believer of games as art, then this is a game you can't afford to miss.  
My only regret is that I didn't buy Inside sooner. On sale, it is a must buy. And at full price, it is still very much worth it.
But don't take my word for it – dive inside and find out for yourself…