This has been a week absolutely rife with stupidity, and now it has gifted us with the Stupidity Failscade of the Tranquility Trading Consortium. And I'm not gonna lie, I am giggling myself light-headed over a lot of it. But I wasn't always. When Asher pulled out of the TTC, I was, in fact, kinda pissed off, because I thought it was a strategically stupid move. But then FRT flipped tables, and Gobbins and Vily panicked, and I got really, really pissed… because I was 500 words into an article I'd entitled 'Target TTC: Strategic Stupidity'. I'm gonna re-use a chunk of it here, too, just because a) I feel like it, and b) it's a decent, re-usable chunk. So, without further ado…
The Recycled Bit
First, full disclosure: Beginning in 2015, I was the Fitting Director for Goonswarm until I chose to step down last year. At the beginning of this year, I was asked by another Director to come back. I contacted Asher and offered, and he said that if I really wanted it, I could, but that if this was me feeling like it was something I was obligated to do, he had other directions he was looking at exploring. So I didn't return. No harm, no foul, and I still consider Asher a friend.
Friends can disagree, and friends can even think their friends are making really, really dumb moves. If I'd been asked about this before Asher went public, he'd have heard my opinion privately. But he didn't, and we're gonna be talking about this all weekend on the idiot-box Twitch (that's a reference to this ancient thing called 'teevee' for all you Zoomers), so I figured it's better to get it all out in the open before Caleb or Dirk try winding me up to rant about this shit. If anyone tries to tell you this article is about me being bitter about not being a Director anymore, or because I hate Asher, feel free to laugh in their face. I certainly would. Anyway, on to the stupid…
A Few Words on the TTC
Asher's hated the TTC since about the moment it came into being. Frankly, he's been looking for an excuse to kill that Keepstar for years, and the fact that now, it's going to be the only HS Keepstar killmail ever available might well have just been too tempting for him to pass up. We haven't spoken about it, so I don't know. But I don't disagree with wanting it dead.
The TTC has always been a morally objectionable cartel. Commerce that moves (moved? I mean, it's still there) through the Tranquility Trading Tower is mostly aimed at Highsec. Null blocs tend to just shop in Jita so it's easier to get the crap moved out via JF service. Perimeter, while close, is still an extra gate of vulnerability.
That means the TTT —by design— represented the Nullsec blocs reaching into Highsec's pants and taking money right out of their wallets. Congratulations, Highsec pilots who hate Nullsec, we've been making you subsidize our nonsense for years. And that was about to get much, much more profitable.
There's been a lot of half-truths and (charitably) misremembered stuff spewed around about how things got to where they were, with everyone trying to cast everyone else as the bad guys who are responsible for this. Gobbins' ping looks like it's the most accurate, which makes sense as he and Vily are the original parties who are still around. Asher never cared about the details, and Kaz, IIRC, wasn't around for the start of the whole agreement. But Gobbins does leave out a few notes, including crucial stage in all of this:
The lead-in to the TTC
Before the TTC existed, there were a number of market hub attempts in Perimeter, usually run by IChooseYou. Then the evil Null blocs came and more or less put a gun to his head and told ICY 'You give us a cut, or we blow up your hubs'. Well, no… just one Null alliance did that: Horde.
That's where the 'Null blocs have HS market hubs' idea came from: Horde co-opted a dude nobody liked enough to defend, and started making money. Then TEST (ie: Vily) came up with the idea to go one better, and not being an idiot, he approached Gobbins about doing it jointly, so nobody would blow up the new market structure. Vily then reached out to Mittens, and offered Mittens a share, to make sure Goons would also not blow it up.
So when Gobbins says the Imperium 'created the initial, very defined structure to begin with'? That means Mittens had Corps Diplomatique put everything in writing, so there wasn't any confusion and it didn't end up being more trouble than it's worth.
You know, what anyone with half a brain does when money's involved: Get it in writing.
But beyond that bit of forgetfulness and spin, Gobbins' take on it squares pretty well with my own memories of the Directorate-level discussion within GSF, and more recent 'I am hearing the same story from multiple sides' incidents regarding Asher's behavior in the TTC discord… basically since the moment he took over.
As for the Ashab Sotiyo… again, things I heard from multiple parties over the years indicate it was never about joint ownership, and I really doubt it'll survive.
But Back To This Crap…
In isolation, Asher's decision to pull out of the TTC was dumb. The reasons it was dumb were, themselves, pretty simple:
You have to be able to kill it. Against a Keepstar, you assume 10% time dilation (TiDi) and push for the damage cap. That's 7h per fight. In Highsec. Except you have to account for Crimewatch, so you're in packet loss territory. Shields? Nobody cares/fights. Armor's where defenders push back. If you don't reinforce on the armor timer, that's 2 more 7h+ HS fleets you need.
Asher called the defense of the TTT 'Sisyphean'. I don't think telling some skirmish commander to take a bunch of destroyers up to Perimeter once every 6 months or so is much like pushing a boulder up a slope all day, only for it to roll back down again. Attacking the TTT fits the bill a lot better.
Money, Pt 1: Being out of the TTC, means you're not getting TTC money. And you're paying to keep that wardec up… while everyone is still bitching about alliance cash-flow options being limited?
Money, Pt 2: Hey, you know that —ballpark— half a trillion a month you're not taking as income anymore? It didn't just vanish. Now it's being used against you. But it's not half a trillion a month. CCP just stopped taking half of your market fees. So now it's more like 800B-1.1T a month to use against you. Maybe the TTC could offer it to B2?
Asher said GSF would need to police Highsec to prevent a new TTT from going in. Think about that for a moment. The most notorious Null bloc is going to dictate to Highsec what they can and can't do? There hasn't been a 'let's all gang up and kill Goons' poster that good since the Viceroy Program cost the Imperium the North.
Then Thursday happened, and suddenly Asher was very much not stupid.
Thursday: The Stupidity Failscade Sets In
As of downtime on Thursday, June 15, the Nullsec alliance in the best and strongest position to to anything it wanted with the TTC… was Fraternity. FRT's numbers, economic strength, and difficult-to-assail positions in the North gave it a strong position in the first place. Add to that the relatively low attrition and economic damage taken by FRT in the WWB2/Beeitnam aftermath, compared to TEST (effectively defunct), FiRe (effectively despised by literally everyone), and Horde (effectively Horde, and let's face it, no-one should have to suffer that), and you have an alliance in the driver's seat of an endeavor poised to start printing ISK again.
And they decided to drive it into a ditch.
Now, let me be clear: This isn't a stupid decision on its own. It does put them in a weaker position than they otherwise would have been, though, and so it has to be taken as basically dumb, from a strategic point of view.
But that's when the TTC panicked and killed itself.
Almost as soon as FRT made their announcement, Vily ran around unanchoring every TTC structure in the Forge region. The Initiative declared war. Gobbins sent out a ping to his people declaring it all dead. And most notably, now GSF has declared war on the TTC, and is using the TTC Sotiyo in Ashab as their War HQ for this whole debacle.
So Why's That Stupid?
Frankly, Vily and Gobbins gave up way too fast. It didn't matter when Vily started unanchoring things, they were never going to get the full week. INIT was always going to declare war just as soon as Asher wasn't obligated to fight them. There's no reason Vily had to go scrambling to unanchor every structure so quickly that he (by his own statements to TTC merchants) couldn't even tell people that he was unanchoring the structures their market orders and stock were in. He literally panicked into being Progod at the 1DQ1 gate.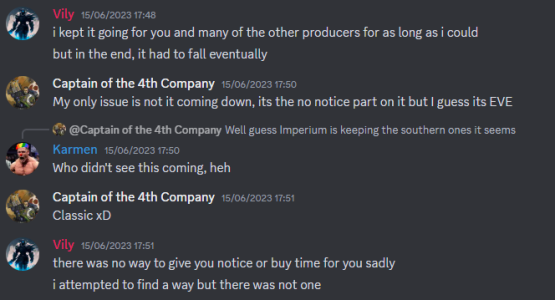 Nor did Gobbins need to throw in the towel right away. None of the developments within the first 36 hours meant that B2 couldn't have been enticed into just showing up to help create TiDi, for a price. B2 is the perfect group to do it, too: they're local, they have numbers, and they don't actually need to shoot at Goons, FRT, or anyone else. They wouldn't need to even expose themselves to hostile counterfire by joining the war as defenders. They would only need to be there, interacting with one another in ways that Crimewatch needs to double-check.
Now, maybe Gobbins already talked to B2. Maybe they told him to pound sand. But given the statements made in the TTC discord recently, I very much doubt it. First Vily, then Gobbins, panicked and took what they believed was decisive action. But neither the unanchoring nor the official 'it's dead, Jim' declaration in any way needed to happen this quickly. There was time for a measured, considered, well-planned course of action. But instead, they opted to panic, and no matter the circumstances, panicking is stupid. Which makes the collapse of the TTC a stupidity failscade.
And Then That Happened
And then Goons made another move. They declared war. It was inevitable, of course, especially because there's no way Asher was going to call Shines off, and no way he was going to not want to be on the only HS Keepstar kill ever.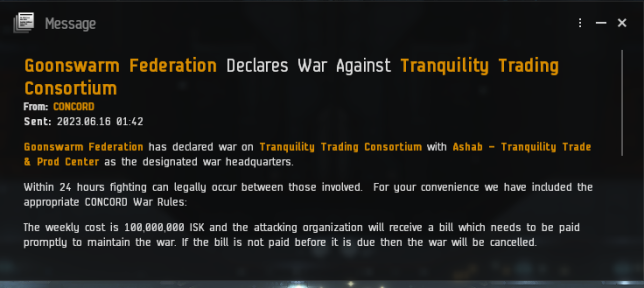 With this move, Asher has effectively finalized the death warrant on the TTT. But it goes beyond that: he's declared war on IChooseYou (ICY), as well. ICY has a number of structures around the Forge area, including Sotiyos that are likely on the XL chopping block.
At the time of writing, the first blow has already been struck, presumably by The Initiative. The Tranquility Trading Tower has had its shields torn away, and is currently reinforced:

You should probably expect half the streamers in EVE to be covering this one. FYI, the timer is set to become vulnerable at 01:45 EVE time on June 17.
That said…
This stupidity failscade is good for the game. I'll even go one better: this stupidity failscade makes the changes to XL structure anchoring possibly the best change CCP has made for the health of the game since the introduction of citadels seven years ago.
Nullsec picking Highsec's pockets was always a travesty. It never should have been allowed. Passive income —also bad for the game— needed to go away, and still does. The TTC represented a strong passive income source across the game. CCP should have immediately ripped it out by the roots. Just like they should declare being a rental landlord an exploit.
Then Why Be Part Of The Problem?
The answer to that comes down to the realpolitik of Nullsec. CCP did allow the TTC, and given the eternal arms race of Null, once it started, all of the large blocs felt the need to get a slice of the pie. Not doing so meant letting the enemy have an economic advantage, which in turn meant giving them a military advantage. On top of that, every time we looked at the mechanics of attacking the keepstar, the math favored a small group of defenders who only needed to make the fight long enough and annoying enough to make the DPS numbers unattainable for 15 minutes.
15 minutes, spread out over more than seven hours. It doesn't need to be all at once, and that's assuming the attackers get the timer paused in the first second that it's active. Given TiDi… it probably won't pause for at least the first two to five minutes, so the rest of that? That's not very hard at all. Successfully attacking the keepstar in a location that guarantees TiDi below 10% and packet loss would require more than luck… it'd require something on the level of a stupidity failscade within the TTC.
That said… just because sometimes there's no 'best' option, only 'least bad', doesn't make it good. It doesn't make it something you should do, only something that, given an obligation to see to the needs and enjoyment of your alliance first, feels like something you have to do. Which, quite frankly, sucks, but boo-freakin'-hoo, that's the gig, and it's part of why I'm glad I don't have to do it anymore.
Final Thoughts
Throughout, I've made clear why I think Asher's decision to leave the TTC was a strategically dumb move. That it triggered this whole stupidity failscade only serves to highlight just how foolish —strategically or otherwise— many of the most powerful alliance leaders in the game can be. But there's another side to this, and it's worth drawing attention to.
For years, realpolitik has dominated Nullsec politics. Recognizing the circumstances of the moment, leaders made choices for the best long-term repercussions for their side. It's the way things usually happen in, well, real politics. And it created a very similar framework. Large blocs engage in an arms race with no end in sight, trapped by feelings of 'we need to do X even if we don't think it's good for the game'.
Only the most stubborn null groups have rejected this approach, most in only very limited ways. The Imperium's refusal to be rental landlords, for example. The TTC was part of that: a 'necessary evil', borne of opportunity and realpolitik, but nevertheless, an evil.
Asher's decision may have been strategically foolish, though there is room to question that. Maybe the fix was in. Maybe FRT and Goons agreed to both bail before either did. The decision may have been opportunistic, too; only possible once CCP guaranteed no future Highsec keepstar.
But Asher's point was still the moral decision: to no longer be part of an organization that he found objectionable. And the stupidity failscade it kicked off shows that it was a decision that, ultimately, was good for the game. And if we're all very lucky, it'll mark an end to realpolitik in null, and a return to gaming.
It was the right decision.