On Monday September 2, a post to Reddit revealed the ability for players and bots to detect cloaked ships entering and leaving grids by reading the in-game logging file. The use of this technique will most likely be ruled as an exploit, but at the time of writing it is not.
However, this piece has been written to inform users who are unaware of the logs generated so that they can better understand how bots and other players may be able to detect cloaked ships. Again, it is not advisable that you use the outlined technique, as it is unclear what action CCP will take with this coming to light.
Yes, you read that opening sentence right: CCP has (likely by accident) given every user the chance to fight the Stealth Bomber threat with one simple in-game log which tells the user when a ship on grid warps, even when they are cloaked.
The revelation was first reported by Reddit user Nimos, and has since been independently verified for INN on both Singularity and Tranquility. The log file below shows a log generated when a cloaked ship starts to warp on an occupied grid. This means anyone paying attention to the log or has an automatic log filtering system will be able to tell when someone is arriving on their grid.
The particular line you should look for are the two instances of "starting REPEAT event: warping for another ship" log. This can be seen at 10:52:00 and at 10:52:09, with the top right notification from the testing user who stopped their ship. While this log has been generated under a controlled environment, it was created on the live Tranquility server.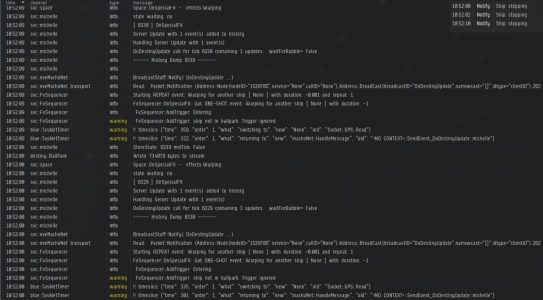 So what does this all mean? Well, it means that users who are aware of it can use the log files to see when a ship is in warp even when cloaked. Any users who are running any bot programs can add this as an alert to start to warp the ship off.
This capability is truly game-breaking in the potential advantages it provides for botting players, and we here at INN hope that it is addressed properly as soon as possible.