This winter, while war rages in the southern regions of EVE Online, I'll be presenting some recipes from the American south that might offer some flavorful experiences in the weeks to come.  This week we'll start in Louisiana where French, African, Spanish, and even Native American styles of cooking all came together to create one of the world's truly unique cuisines – Cajun. This way of cooking food produces colorful dishes, rich textures, and is often as spicy as it is savory. Even something mundane like "Red beans and Rice" can be phenomenal when done the cajun way. So, open your spice cabinet and prepare to clear your sinuses and let's talk about Gumbo!
A Roux Awakening
The trick to making a good gumbo is in making a good roux. The trick to making a good roux is not to burn it.  A roux is an oil and flour mixture that serves as a base liquid for certain dishes or sauces.  It's best to keep it simple, for instance, we just use peanut oil and regular white flour, and while any form of oil, whether it comes from butter or animal fat would be acceptable, it's best not to try something audacious on your first attempt. The next thing is to combine the oil and flour over a medium to low heat in a heavy bottom pan, preferably a cast-iron. Stir gently for about 20 minutes and turn the heat down if you see signs of burning like clumping.
The Holy Trinity
In almost every cajun dish you have what is often referred to "The Holy Trinity" of ingredients which are peppers, onions, and celery. Chopped similarly and cooked together these three vegetables provide a distinct flavor and smell that is common in southern kitchens.  In Gumbo this is then paired with tomatoes and okra, okra, which is particular to the American south helps give it a creamy texture.
Once you get the base of the dish down with the roux and vegetables, the remaining ingredients are really up to you. Spicy sausage, chicken, and shrimp (or crawfish) are the most common meats added to gumbo but feel free to try others as well such as venison, crab, or lamb.  A beautiful thing about southern cooking is that there truly is no "right way," to make a dish so long as the end result entertains the taste buds and delights the senses.
This most recent time we made gumbo, we threw it on the smoker to simmer with the lid off instead of letting it sit on the stove-top. We cooked it exactly the same as we normally would, and it turned out great. This added an additional "smokey" flavor to it and is something I highly recommend if you are able.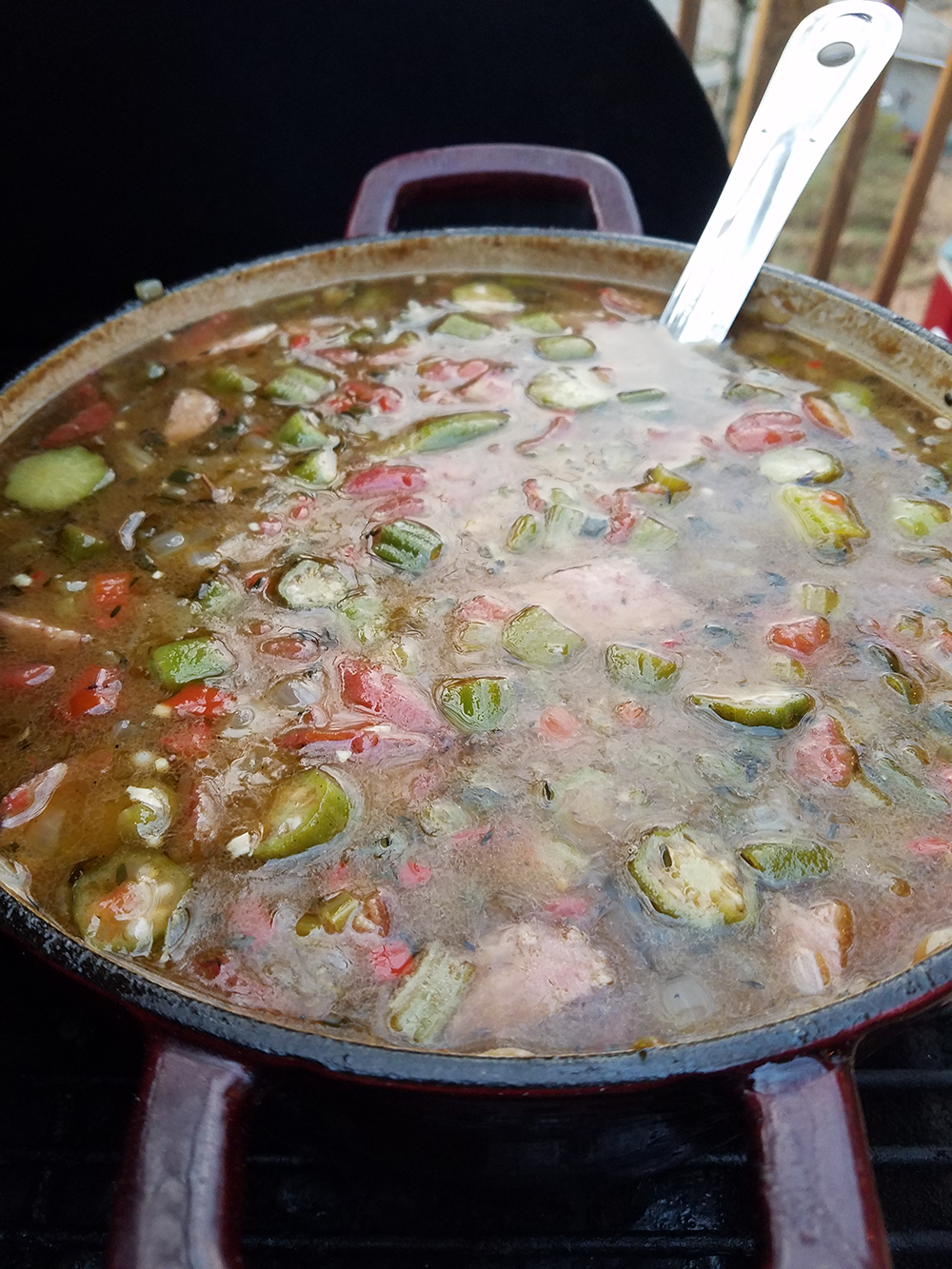 Chicken and Sausage Gumbo
Ingredients
Serves 10 to 12 (about 16 cups)
1 cup peanut oil

1 1/4 cups all-purpose flour

3 cups diced onion

1 cup diced celery

1 cup seeded and diced red bell pepper

1 cup seeded and diced poblano pepper

2 tablespoons minced garlic

2 bay leaves

2 teaspoons fresh thyme leaves

1 (12-ounce) bottle light beer

7 cups Chicken Stock

1 tablespoon plus 1 teaspoon salt

2 teaspoons freshly ground black pepper

1 teaspoon cayenne

1 pound smoked sausage (I like Conecuh brand) or other spicy smoked sausage such as Andouille

3/4 pound sliced okra (fresh or frozen and thawed)

2 cups seeded and diced tomatoes

11/2 pounds cooked chicken, pulled into 2-inch pieces

1 cup chopped green onion tops

4 to 5 cups cooked rice, for serving

Optional

:

Filé powder
Directions
Heat the oil in a large, heavy-bottomed (preferably cast-iron) skillet over medium heat. Whisk in the flour and cook, stirring constantly, until the mixture darkens to a rich, reddish-brown color, 30 to 35 minutes. (Be careful not to let the flour burn or the gumbo will taste burned.)
Once the roux reaches the desired color, add the onion, celery, and peppers and cook, stirring, for 2 to 3 minutes. Add the garlic, bay leaves and thyme and cook an additional 1 to 2 minutes. Whisk in the beer, stirring to scrape any browned bits on the bottom of the skillet. Transfer the roux mixture to a large Dutch oven or stockpot, over medium-high heat. Add the chicken stock, salt, pepper, and cayenne and bring the mixture to a boil. Reduce the heat, and simmer the gumbo for 20 minutes, stirring occasionally.
While the gumbo is simmering, slice the sausage lengthwise and then make crosswise cuts, forming 1/2-inch thick half-moons. Place the sausage in a large skillet over medium heat and cook, stirring occasionally, until the sausage is rendered and lightly browned, 8 to 10 minutes. Transfer the sausage to a paper towel-lined plate and pat dry.
Add the cooked sausage, okra and tomatoes to the gumbo and simmer an additional 30 minutes, stirring occasionally. Stir in the chicken and cook an additional 10 minutes. Taste and adjust the seasonings, adding more salt or pepper, if needed. Just before serving, remove and discard the bay leaves and stir in the green onions. Ladle the Gumbo into warmed soup bowls and top with cooked rice. Serve hot with a dash of hot sauce and Filé powder on the side.