At roughly 10:15 a Ragnarok was captured in a belt in M-OEE8 which is a staging system for the enemies of the current swarm deployment. The Ragnarok wasn't shit fit, or ratting even though it was found in a belt, so I imagined it was running special operations. Either extracting or putting troops deep behind enemy lines. I could only guess what it's true purpose was there. Naturally like most capitals, it was filled with various treasures and faction or officer mods waiting to be taken by the daring fleet. The ship alone was worth an astounding eighty-three billion, and the accompanying pod was worth a further ten billion.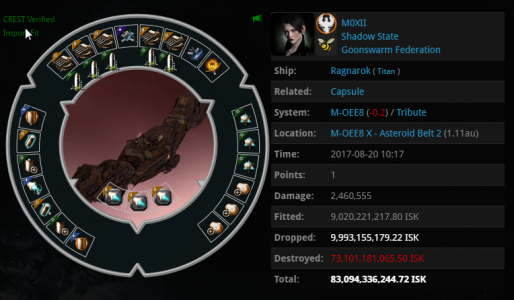 While the Ragnarok was worth a whopping 83,094,336,244.72, less than 10 billion was recoverable from the wreck. Curious about the loss, and the details behind it I reached out to the FC who commanded the assault to find out more.  It turns out it was an escalation, I was wrong it seemed. Definitely not there for a bridge. It turned out a roving Jackdaw fleet had tackled an NC Apostle and Thanatos that were camping the Taisy gate. From what Killah Bee told me, Moxii jumped the Ragnarok in to go for a doomsday on the enemy ships stuck tackled at the gate. It was then that they flash formed a fleet to destroy the Ragnarok. The Ragnarok warped back to a safe he was previously using but unfortunately, the enemy fleet had dictors waiting there for him. After that, the poor Ragnarok melted quickly.
Having spoken to the Pandemic Legion FC, I reached out to the pilot who lost the Ragnarok for their side of the story. It turns out I was less wrong than I had originally thought. The Ragnarok had a purpose in M-0. It had bridged in the Jackdaw fleet to tackle the Thanatos. The Thanatos was in serious trouble and their faxes were stuck about 100km away. Being a goon hero, he jumped in to doomsday the Thanatos but caught an alt with the same name that happened to be flying the Apostle instead. I asked Moxii for a few words for up and coming Titan pilots and he gave me sound advice. "Don't fuck up your bookmarks and warps." sound, very very sound.
As promised, Killah Bee sends a shout out to the pilots who probed him and managed to keep tackle on him. All in all another start to a crazy day in New Eden.
Update: A video with the comms of the loss has been uploaded