Stargates around New Eden, in all security spaces, are experiencing major disruptions Monday, and in some cases shutting down completely. Reports of gates flickering on and off have been received from Pure Blind, Catch, Venal, Fade, Tenerifis, Vale of the Silent, Khanid, Kor-Azor, Providence, Fountain, Tribute, and others.
CONCORD issued a travel advisory to all capsuleers. "Stargates are being reported as going offline temporarily across the New Eden cluster [and] travel delays are anticipated."
In response, Amarr military forces aligned with EDENCOM have begun forming in Sasiekko at the Raravoss gate, and pro-Triglavian capsuleers are expected to engage them soon. Some observers believe that if EDENCOM forces breach Raravoss and attack Triglavian solar transmuters it might force the invaders to take unknown retaliatory action, including the closure of those systems to anti-Triglavian pilots.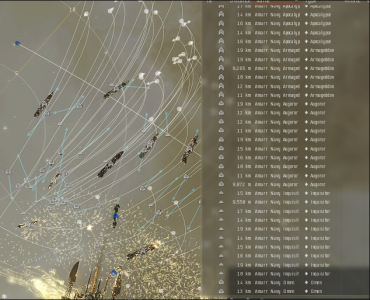 Some gates are being affected by Metaliminal Storms, including those at the storm's center as well as in surrounding systems. Others appear to be part of what Triglavian observers see as the coming separation of systems in Final Liminality from New Eden. How that will play out is the subject of some debate.
"We all assumed the Triglavians might" shut down access to the Final Liminality systems, explained Elsebeth Rhiannon, known as 'the EDI Oracle' for her work predicting which systems would be affected by liminalities. "Since then, we have found out that all gates in New Eden have been disturbed by the liminalities."
Rhiannon said that all gates have a "pulse" of red light that dims and brightens. "The pulse has been becoming more and more rapid; it was 15s frequency when it was first confirmed for good, and has gone down by 3s a day since then. It's now at 3s since [Monday EVE time] midnight. It's the same pulse that liminal stars exhibit, and we now think it's actually been going on for a much longer time but no one properly connected the dots."
That pulse is expected to drop to zero in about 10 hours, or midnight Tuesday EVE time, according to observers at the Arataka Research Consortium (ARC), which has studied Triglavian actions. When the pulse reaches zero, the stargates may shut down.
"I guess the major question here is, 'is this a beginning of a peace or an escalation of a war?'" Rhiannon said. "The Triglavians stopped their attacks at 27 liminalities and have not made further advances for about two weeks now. They are doing something in the final liminality systems. EDENCOM has at least publicly concentrated on evacuations, rather than a counterattack; and now they have warned that they might cut off the 27 systems in question."
She added that the warning "could speak of a standoff, a peace of sorts, or at least a cold war instead of a hot one."
"On the other hand, we don't know anything about what the Triglavians are doing exactly, why they need that space, and what exactly is CONCORD doing poking around in the Abyss. So that might speak of an escalation coming."
Data experts at The Triglavian Initiative also suggested that the 27 systems that have experienced Final Liminality appear to be about to become a separate region in New Eden.