There have been a lot of discussions lately around the rising PLEX prices.  Since the Great PLEX Split of 2017 on May 9, the price for a month's worth of PLEX has risen from 1.25 billion to 1.5 billion ISK.
Reasons put forward for this range from deliberate manipulation to shortage of supply, with skill farming and nullsec ratters also blamed at various points.
A look at the volume shows that aside from a spike at the start of June (more on that later), the volume has remained fairly stable: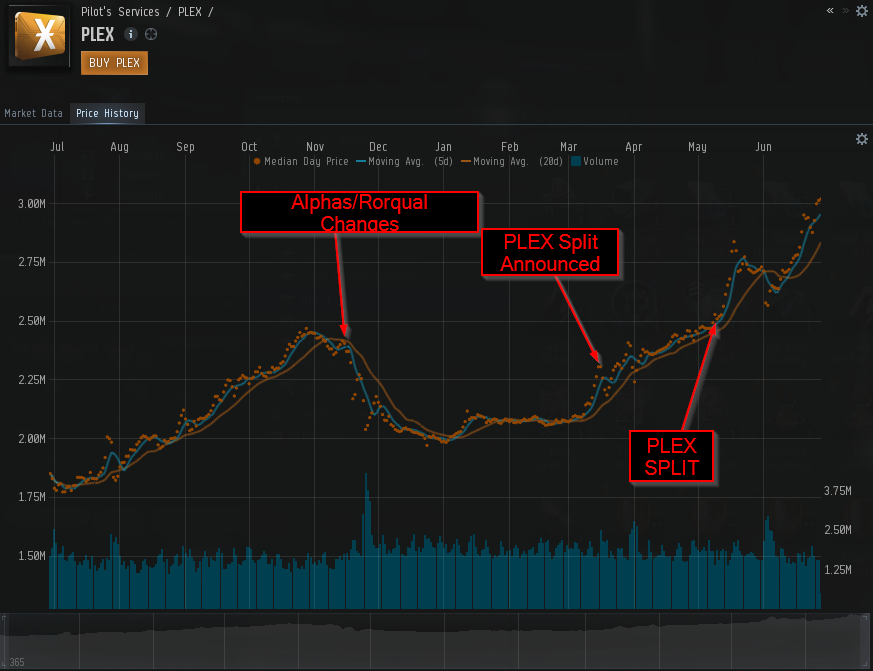 Since the PLEX split, the price has risen sharply, while the volume traded has remained about the same. If anything it has declined since the beginning of May: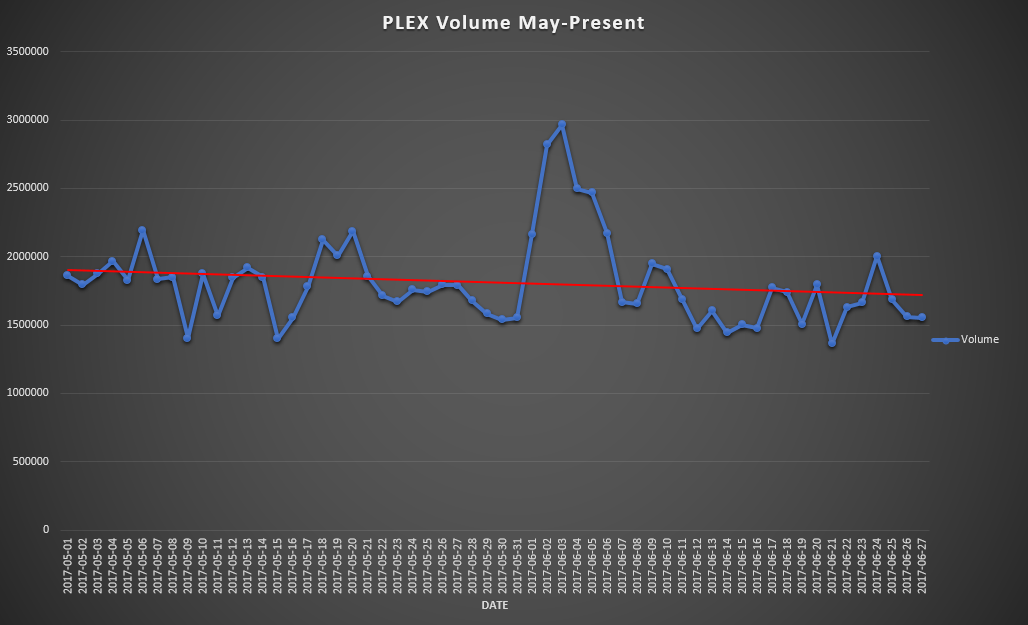 Increased utility of PLEX since the split has put pressure on the price, as now it is actually feasible to buy skins and other vanity items you want from the store without ending up with leftover Aurum, but this is a limited area in terms of volume.
This month has seen the introduction of a 15% sale on Multiple Pilot Training Certificates (MPTC), with MPTCs on sale from June 21-27 for 412 PLEX. This has caused some traders and skillpoint farmers to stock up on them. The most extreme example I am aware of is someone sitting on close to 1000 MPTC, but I am sure there are those with more invested in them.
These have mostly been purchased through the store using PLEX, which would usually be expected to cause a bump in volume, but we do not see that.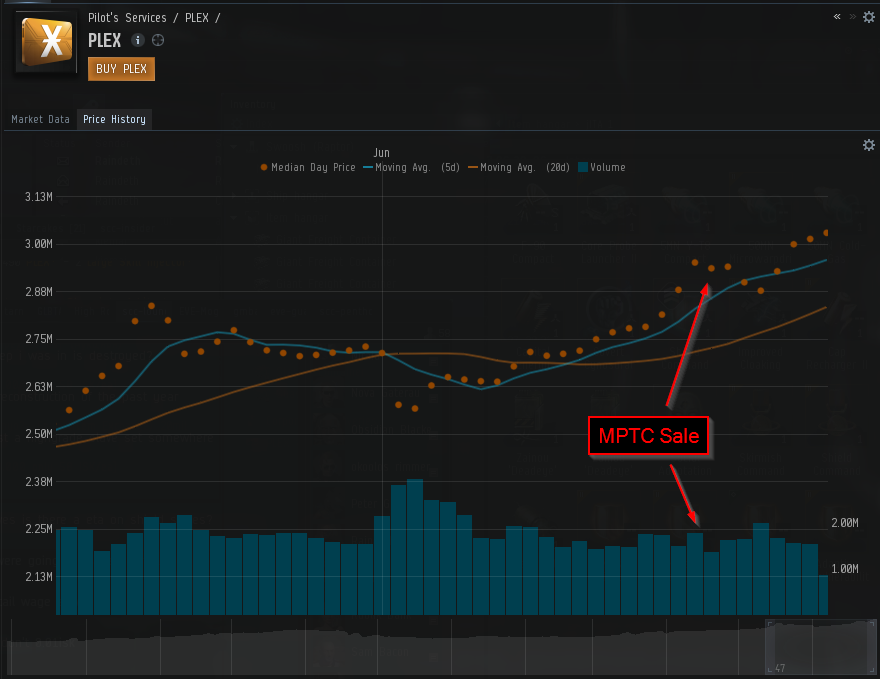 Additionally, there have recently been several very tempting sales. Markee Dragon, Steam and Humble Bundle all have the Premium Edition of Eve on sale.  This means for $25 you can get 1-month Omega, 650 PLEX and an MPTC as well as some fluff items.  Steam also has a sale on the standard edition, which gives 150 PLEX as well as Omega subscription
The effect of these sales is noticeable on the graph for MPTC, but negligible on the PLEX graph. With additional pressure on the PLEX market from the players investing in MPTC, any PLEX from the sales is only acting to slow the rise in prices at present.  Many players are using the 650 PLEX they get to purchase an additional month of Omega, to give themselves a two-month window to earn the ISK for their next Omega sub. They are hoping that by the time they need to buy again, prices will have fallen. This means that the additional PLEX available is not acting to cool the market, as would be expected.
There has also been PLEX dropping in small quantities in the Rogue Drone event.  Four days before the event ended, there had been 1.2 million sites run by players, and 60k PLEX dropped. The problem with this is that they were dropping in amounts of 1-5, so for most players, not worth taking to market. It would be interesting to see the data for PLEX on hangar floors/in vaults during the event.
Now, back to the volume spike.  There was a 15% sale at the beginning of June, which resulted in around 3.5 million PLEX being dumped on the market over a weekend.  This is equivalent to around 7000 months of Omega, or around 9T ISK.  This only temporarily cooled the market, and once the sale was over, the upward movement continued.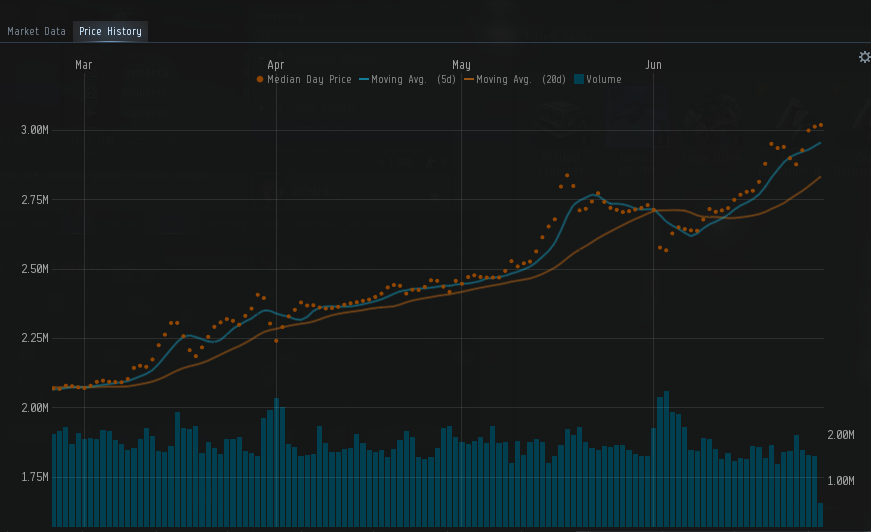 We can see from the sales, and drops in the events, that CCP is making attempts to slow the price rise. So far, it hasn't been successful, but that is due to a lack of PLEX rather than an increase in demand for them in-game. Without the people buying up hundreds of billions of PLEX to purchase MPTC, the price rise this month may have been slowed as the volume traded has decreased and people have been able to utilise the 3rd party website sales to get Omega.
There are multiple reasons for the decline in supply. There is the usual decrease in players in the summer months, there have been angry players stopping subbing due to recent events, and there is a lack of action in Eve.  If you do not need to get hold of ISK in a hurry, there is a reduced need to buy PLEX for RL money.
I suspect the reason we do not see a rise in volume from the MPTC, and increased usability of PLEX is because the normal volume has decreased, and so these extra uses just bring it back up to where it was before.
Will prices continue to rise at the rate they are now? For the short term, probably, but, as always in Eve, everything is in CCPs hands and what they decide to do in terms of sales and other events. The new Agency event coming in July also gives PLEX, but, I suspect it will not be enough to make much of an impact (like we saw with the Rogue Drone event). Sales seem to have the largest impact, along with gameplay changes. Gameplay changes have a longer-term effect, as you can see from the dip after Alphas were introduced, and when pilots were cashing out to inject Rorquals. Sales have a bigger impact, but usually only for a day or two.