On the last day of 2016, as much of nullsec was warming up for the Catch invasion by TEST and friends, Pandemic Horde turned their attention instead to highsec. Specifically to the structures in Perimeter.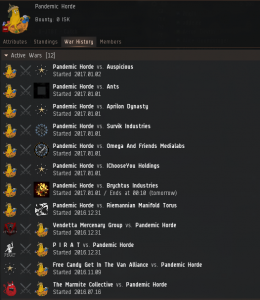 The groups that Horde have declared war against are all owners of structures in Perimeter, both Engineering Complexes and Citadels.
Several of these structures have been reinforced, and Gobbins (Pandemic Horde CEO) has called for stratops on upcoming timers today, with several already going out, one at 1100 and one at around 1430.  Structures have been put into reinforced over the past day or two as well.
The 1430 stratop was for a fortizar that was not public, and had no market module, and Horde assembled a fleet of around 90 pilots, comprised of hurricanes, rattlesnakes, basilisks and ospreys
The stratop was announced by Gobbins posting posted an evemail (believed to be from Karin), where someone had written to him "Since you have started to attack my citadel, there is no room for us to work together. You will never get a penny from me".
This post was used as the launchpad for the stratop after downtime today, with Gobbins telling the members that as the person did not appreciate their (Horde) honest offer of protection and insurance, they would put the fortizar into structure.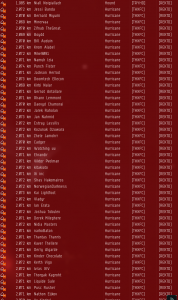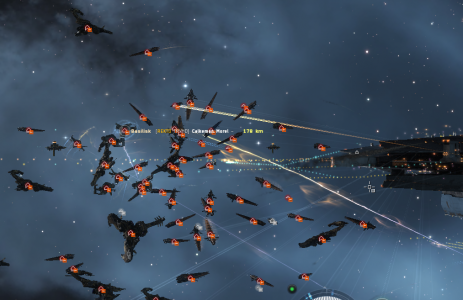 The Fortizar was put into its final reinforce timer, so will be vulnerable again 6 days from today.
Pandemic Horde seem particularly invested in attacking the citadels belonging to Karin Yang of Riemannian Manifold Torus , no doubt aided by the change in Karins corp description

One of the wardecs has been retracted, against Brychtus Industries, who have also set their Fortizar to private.
At 1830 the third op of the day was underway, with Horde once again assembling a large fleet to attack the fortizar colloquially known as "Boobies" due to the characters in its name.  A third Fortizar, belonging to IChooseYou comes out of first reinforced shortly afterwards.
The 1830 timer came and went, with Horde present in system, but not attacking.  The citadel then immediately went into a vulnerability timer with just over 1h remaining.
A ping went out on horde comms for everyone who could, to form up for a fight.
There were over 650 in local, with Horde having an assembled fleet of over 200, and around 100-150 defenders.
Horde destroyed over 20b isk, but were unable to reinforce the citadel.
Reasons for the attacks
For several days, requests from Horde members on the forums for reasons behind the wardecs were met with silence, but, today Gobbins replied to a question about the wardecs. He was asked why Horde were attacking citadels that many members, including Gobbins himself, trade out of on alts, and use the industry facilities for building.  His reply was "Don't you think we plan to put up our own?"
While it is true that the perimeter structures generate a lot of traffic, there is no guarantee that if someone removed all the Perimeter market structures, that the traffic would automatically move to theirs.  There are other structures in close proximity to Jita which traders and industrialists can move to if they chose, and, given the 2.5% tax charged by Horde in their own citadel, they would have to drop some way with any highsec structures they owned to get close to anything that encourages traders to move out of 4-4.
There has also been a wardec placed by The Culture, allegedly after someone called Raknor Bile "Mate" on Reddit, and it has been suggested that Raknor asked Gobbins to wardec the same owner, and then Gobbins decided while he was in Perimeter, he may as well dec everyone.
The final suggestion that has been put forward is that Horde are moving into the extortion business in highsec, and given the fees paid by citadel owners for defense, it could potentially be better income than some alliances get for renting out space.
Whatever the reason, 30+ structures with 3 timers each to explode, and the ability of the owners to drop another fortizar at any time, as well as the ships exploded during the timers, means that, whatever happens, there is bound to be some activity in Perimeter for the foreseeable future, unless Horde get bored and go back to their usual stomping grounds.  This may also be a good time to keep an eye on hurricanes on the market, as they are being used heavily not just at the structure shoots, but also in the war in the south in nullsec.