Here at Imperium News, we are happy to report the return of the Imperium's monthly FC tournament in Delve. The competitors have been drawn, and all but one have two weeks to put together their theorycrafted fleet for the rumble in Delve.
There have also been a few changes since the last tournament, though. For one, FC commands are only to be given by the tournament FC while they are still active and on grid. Two, no alliance doctrines will be allowed, which cuts out a few tried and true fleet compositions. Three, the available automatic entries for placing well have been cut from four to three.
The dates for this months competition will be May 12 and 13, and will be once again streamed by Imperium News. Last months tournament featured eight FC's in a seventy billion ISK showdown, with Asher Elias coming out on top. The competitors have been drawn, the rules have been set, and glory is on the line.
RULES FOR THE BRAWL:
Only FC's will give fleet commands.
No pre-formed Imperium Doctrines.
The fight will take place on one grid, you can warp but may not leave grid.
To discourage some of the underhandedness that caused other blue shoots to cause issues before, each opposing FC will be given the enemy main doctrine ship 10 minutes before the fight. Spying is disallowed.
The fights will be arranged so that you have one every 20 to 30 minutes. INN will stream it with a 10 minute delay, and they will have a live command comms stream which should be a really cool stream for viewers.
The first 4 matches will take place on Saturday. The final 4 on Sunday. This would mean the top 4 teams would need to import 3 fleets in total (3rd place will be determined between the two losers). You may change your fleet doctrine between fights.
We will have a jabber channel for isk betting, maybe even an oddsmaker.
No caps allowed. There are no other ship restrictions.
Fleets will start in one spot on grid 50km away from each other.
You may FC in a language other than English if you can secure 50 people who speak it.
All ships must fit an "All 5s" character on PYFA. If a member doesn't have all the skills to fly the ship they may run EG and EE implants (powergrid and CPU) to allow them to run it. Mindlinks are allowed. No other implants are allowed. No drugs.
You will contract your entire fleet to a judge who will run an evepraisal on it to determine if you spent too much.
You must field 50 members.
Cloaking is allowed for strategic purposes but not to delay/draw the fight.
Members may keep ships that lived but may not use them on another fleet in the tournament.
The match is over when one fleet has the final ship destroyed.
The top three FCs will receive automatic entry to the next tournament, if they choose to take it.
Whisper Quietly vs Ediroll (Ediroll had an automatic place from last month)
Lt Maxinio vs Sybegh
Parrthurnax Greybeard vs Zintage Enaka (Paarthurnax had an automatic place from last month)
Mike Flood vs Callius Nalelmir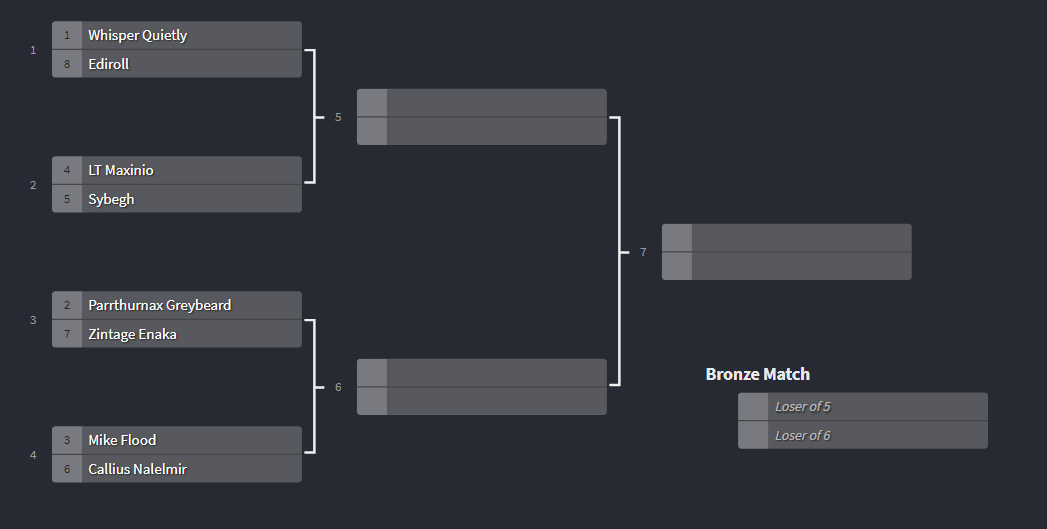 As always, ingenuity and creativity (and a dash of good target calling) will take the day. Members of the Imperium can participate by joining the fleets and being available on GSF mumble. All fleet members will be given a ship for free. If your ship lives, you even get to keep it!
INN hopes those of you watching from home enjoy the brawls on the INN Twitch stream, beginning at approximately 1900 EVE Time. As always, we hope to see you there.
I'm Johnny Crowe for INN, and all I have left to say is go get 'em, Whisper Quietly.