Fallout 76 has been a hot topic since Bethesda announced it at E3 in June. While many people love the idea of a multiplayer Fallout game, just as many hate it, and the court of public opinion is ablaze with negative feedback now that it is out.
The bottom line is that Bethesda has delivered a game with all of the bugs and shortcomings players have come to expect from Bethesda's single player titles, wrapped in a fresh, new, multiplayer take on a blockbuster franchise. While it's easy to criticize (and I'll be doing plenty of that later), Bethesda managed to get a whole lot right.
Fallout 76 is polarizing, and it definitely isn't for everyone, but there is more than enough going on in the wildlands of West Virginia to keep players engaged for a long time.
Blue Ridge Mountains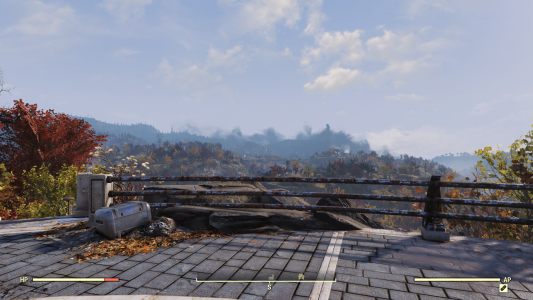 In previous Fallout games, emerging from the vault is somewhat of an ordeal. The act thrusts the player into an entirely new world.
Fallout 76 is different.
Once finished creating a character, the player is ushered through a winding vault, that feels very much like a rushed tutorial, to the waiting world. The area just outside of Vault 76 is marked with welcome signs and a stepped walkway that meanders down the side of a mountain. In the distance, a mix of autumn hues paint the treetops. It's a beautiful sight, but far different than any other "wasteland" fans of the series have come to know and love. If anything, it looks normal in comparison.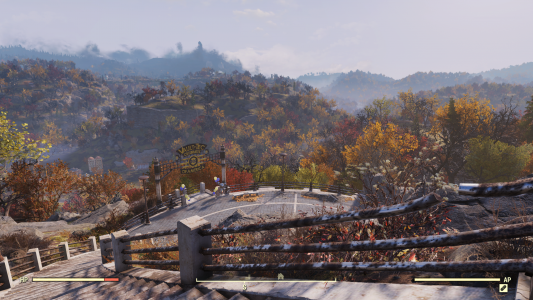 Fallout 76 features far more color than any of the other games in the series, and the Creation Engine has been updated to include some of the fancy graphical improvements Bethesda added to Skyrim: Special Edition, but the visuals are still a far cry from "Next Gen." Add to that some glaring graphical glitches – like the occasional tree that floats a few inches above the ground, god rays that shine through mountains, and general performance issues – and the engine is really starting to show its age.
Even so, I'm enamored with the beautiful countryside of the starting area and the higher-level areas featuring well-crafted locales that, in many cases, make up for some of the flagging engine's drawbacks.
A Whole New World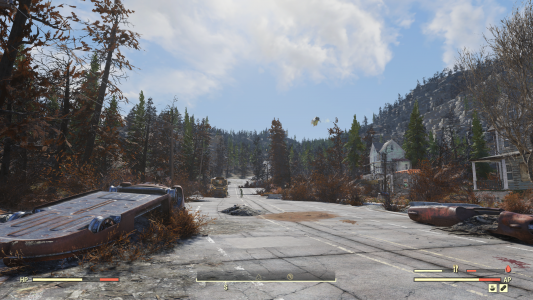 It's a good thing too, because the world of Fallout 76 is MASSIVE (four times larger than Skyrim according to Bethesda). And each of the world's six regions is packed with things to do.
The Lone Wanderer
As expected, there is the typical mix of main, side, and miscellaneous quests, identical to offerings from Fallout 4 and Skyrim, but since there are no human NPCs in Fallout 76, quests are discovered in computer terminals and notes scattered around the world or doled out by robots.
The result is a uneven quest system.
Some are mundane and don't feel worth finishing, while others are far more compelling than I would have expected, considering the lack of traditional quest givers. That being said, it's often easy to gauge which quests are worth completing before getting too far into the meat, but that means players will spend more time than they should managing the sheer number of activities they pick up during their wandering. If left unchecked, quest details will stretch all the way to, and over, the AP bar on the right side of the screen.
Overall, however, veterans of Bethesda games should know what to expect.
Better Together
For players more interested in the multiplayer aspect of Fallout 76 – basically, the entire reason the game exists – there is plenty of PvE quest content available in the form of Daily Quests and Events.
Daily quests are what the name implies – a daily offering that rewards the player for completing it. I appreciate Bethesda giving me the opportunity to farm missions for rewards, but so far, I haven't had the need to complete a Daily Quest more than once, because general exploration has provided me with more than enough resources to make do.
Events, on the other hand, are a bit more interesting. While still farmable, they're designed to draw players from all over the map to a single place, usually to protect a robot NPC or an area from waves of enemies. Alone, these events aren't worth the challenge, because the cost is far higher than the reward. With a large group, however, Events can be a blast, especially on a crowded server.
Of the two, I prefer Events, but both are a welcome addition and ensure that I have more than enough questing activities to keep me busy if I'm not wandering from one undiscovered location to another.
Into the Wilderness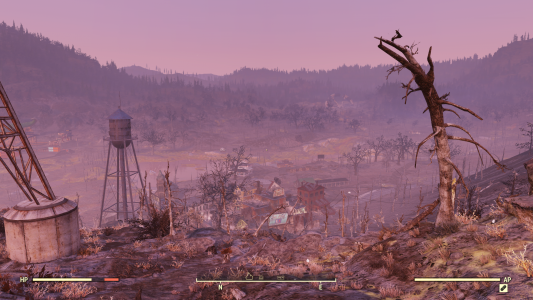 Of all the other things in Fallout 76, exploration is the most recognizable. With such a large map, and such a rich world, the wasteland of West Virginia offers more than enough locales to keep the traditional Fallout player occupied for countless hours.
There are plenty of marked locations to explore, but even in between, Bethesda has crafted secrets and easter eggs hidden in plain sight. Many of these are just as well-crafted as the marked locations, with enough charm that I found myself laughing out loud or sighing in wonder on more than one occasion.
Even without the presence of human NPCs, there are enough other creatures filling the wasteland to make it feel alive.
A New Challenger . . .
But what happens when you run into others out in the wasteland? After all, human interaction was the impetus behind why there are no NPCs.
From the moment Fallout 76 was announced, PvP was a huge concern, but I'm surprised, and pleased, with how well it works. Mostly.
PvP exists, but it's designed to discourage griefing. If a player is shot, it applies a tiny amount of damage and notifies the defending party that someone wants to initiate PvP. Firing back starts the battle. The winner is awarded a small number of caps and all of the loser's junk.
But . . . I've never seen this type of PvP engagement in this game (on purpose, anyway).
Because of the way PvP is set up, and due to the abundance of loot, there's no reason to partake in PvP battles. On the surface, it's a bit disappointing, because it takes any kind of danger away from running into another player out in the wasteland, but I understand why Bethesda decided to go with such a hamstrung version of PvP – it's nearly impossible to kill someone who has no desire to participate in open PvP.
Honestly, I think Bethesda knew most people wouldn't be interested in PvP, which is why they made so many other options available.
Different Ways to Play
Hunter/Hunted and The Battle that Never Was (Versus) are two modes that pit players against one another in head-to-head battles. The former is Bethesda's take on battle royale, where players hunt one another with the goal of being the last man standing. The latter is an event that has players reenact a civil war battle. Both are about what you would expect.
Workshops: The Hidden Gem of PvP
Workshops are the most underrated aspect of PvP in Fallout 76 and are becoming my favorite activity outside of base building.
Scattered around the world, Workshops are claimable areas that contain resource nodes that players can harvest for raw resources – and they're the only real areas of open PvP in the world.
At any point during the process of claiming or defending a Workshop, another player can come along with an aim to change that. If they decide to take the Workshop, a king-of-the-hill event begins, ending when one of the players is dead. Sneakier players can simply walk into the Workshop and attempt to harvest the resources being gathered. Either way, the onus is on the defending player to adequately protect their investment. Smart turret placement and installing locks on resource extractors are a must to hold a Workshop on a busy server.
While some haven't gotten the hang of effectively defending Workshops – I've done my fair share of looting unlocked containers – others are formidable foes. It's possible to steal from these individuals, but be prepared to receive a bounty for the act, and in the process become wanted.
Wanted players can be engaged by anyone, and killing a wanted player rewards a small number of caps for the deed. It's a fun diversion, if a little one-sided (though, to be fair, getting hunted down is punishment for misbehaving).
The Best of the Rest
Much of the rest of Fallout 76 is familiar (crafting, building, inventory management, etc.), but Bethesda Austin went out of their way to add a few quality of life improvements.
The map is no longer constrained to the Pip-Boy. Now, it takes up the entire screen, in full color. It's easier to read and navigate, and even includes a few clues as to what might be in store out in the West Virginia Wasteland.
Junk, the game's ubiquitous building material and other inventory items, can now follow the player around via a shared storage, accessible from any stash box in the game world. This means that it's possible for players to store items as they explore.
Aside from finding stash boxes in the world, players can pay a few caps to place a Construction and Assembly Mobile Platform (C.A.M.P.). This claims a small area of land and allows players to build a la Fallout 4 settlements. Each player has a budget that limits how many objects they can place, but there's more than enough options available to set up a decent sized crafting workshop. And with the refinement of the building system, it's more fun than ever before!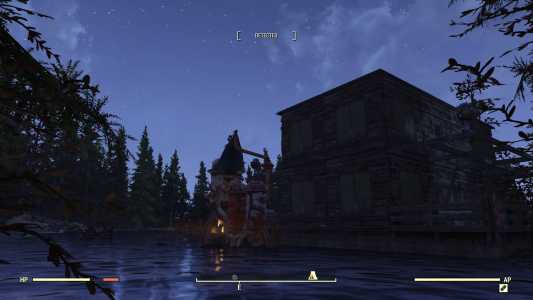 Finally, there's been an improvement to the S.P.E.C.I.A.L. system. Points are distributed as usual, but perks have now taken the form of cards. These cards contain many of the same bonuses veterans of the Fallout series have come to expect, but they can now be equipped on top of each S.P.E.C.I.A.L. attribute. As players level and increase each attribute, they gain more cards to equip. In practice, it's an interesting system that allows on-the-fly customization, meaning a player's build can change as needed.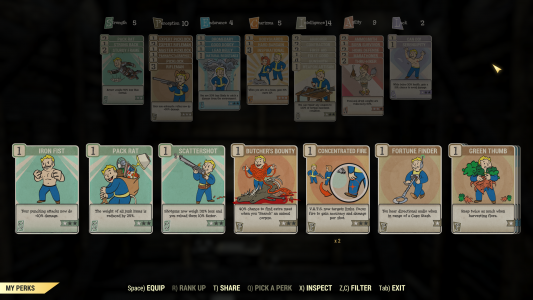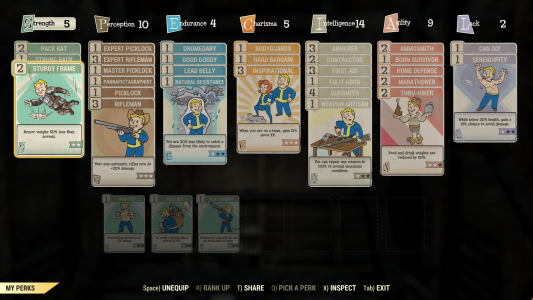 It's Definitely a Bethesda Game . . .
So, from a high level, Fallout 76 plays just like its predecessor, with the foil of multiplayer layered on top of some already fantastic gameplay – squint just right and the game looks perfect. The drawback, however, is that all of the issues present in previous Bethesda games are still present here, with some new problems added into the mix.
Time For An Upgrade
The Creation Engine has been showing its age for years, and in addition to the cracks mentioned above, it's fair to say that the adaption to multiplayer hasn't been perfect. During the beta, and the week after release, performance of the engine was terrible, with regular frame rate hiccups and poor performance on high-end rigs.
A 15 Gb patch pushed on November 19th did a lot to improve the stability of the game, and it runs more smoothly on a wider range of hardware than it did at release. That being said, occasional jitters, menu hangs, and frame rate drops are still present every once in a while, so there is still a ways to go before performance is perfect.   
It is also worth mentioning that one of the more vexing limitations of the game engine, present in Skyrim and Fallout 4, still hasn't been resolved. The physics engine is still tied to the frame rate, so Fallout 76 is limited to 60 fps (for players with 144Hz monitor, it's limited to half the refresh rate, so 72 fps). At the time of writing, FOV is still limited to a default value, but Bethesda has noted that it's something they're looking into changing in a future update.
Mixed Signals
Personally, I find issues with questing to be the most frustrating aspect of Fallout 76.
While Daily quests and Events work just fine, single player quests are a total mess.
When in a group, each member has to complete every step of the active quest. The end result is that players with slower computers (read: longer load times) wind up well behind other party members. Often, when questing with friends, it turns out that we either have to wait for one party member to catch up, or risk leaving them in the dust.
It makes me wonder why Bethesda didn't choose to put the party lead in charge of quests (like in MANY other multiplayer games). It's a design decision that doesn't make sense and changing it to mirror other multiplayer games would be a significant improvement to questing in groups.
Then, there are the bugs.
On more than one occasion, I've had quests refuse to advance from one stage to the next. Instead of fixing the problem, logging out resets the quest to a previous checkpoint, forcing me to repeat a portion of the quest I've already completed, and usually, the quest is still bugged.
In every case where this has happened, luck seems to be the driving force behind whether the quest will advance.
This has happened often enough that it is become a defining characteristic of the quest system in Fallout 76 and is one of the main reasons I spend more time exploring than questing. Because I never know when I'll hit a proverbial brick wall.
Party Foul
During the Beta, the "Social" aspect of Fallout 76 was broken. It has gotten better since release, and the 15 Gb patch definitely helped smooth out some of the bigger issues, but Bethesda still needs to work on smoothing out multiplayer so it works flawlessly – a must in a predominantly multiplayer game.
There are a few issues still lingering in the "Social" aspect of the game – like friends disappearing from the friends list (which the November 19th patch was supposed to fix) and players being unable to accept a team invite – but these bugs are few and far between. The friends list issue usually resolves itself in a few minutes, but the inability to accept an invite is a bug that only relogging into the game will fix. Further, depending on who the bug is affecting, it might require the entire team to relog.
However rare, it's a huge issue that derails fun whenever it crops up. And Bethesda needs to resolve it ASAP.
Fixing the Fight Club
Above, I mentioned all the ways players can partake in PvP, but I still think it needs a rework. The Events, and Workshop locations, are nice to have, but I still don't understand why Bethesda decided to include general PvP – it's a move that is more confusing than disappointing.
As it stands, general PvP is far more punishing to the initiating player, as it gives the defending player a few moments to take buffs, equip the proper weapon, and consider optimal placement for a response. In that situation, I don't understand why anyone would decide to participate in PvP. Of course, Bethesda wants to ensure that griefing isn't possible, but I'm not sure this is the best way to go about doing it while still calling the system in place PvP.
A better idea might be to divide the game into PvE and PvP servers, giving players the option to choose between whether PvP is fully open, or restricted to areas in the world where it is allowed. Personally, I'd very much like to have this option, because it would give me the ability to choose what kind of Fallout experience I'd like to have.
We'll see what, if anything, Bethesda decides to do down the line.
Addressing Release Woes
Critics and gamers have deadpanned Fallout 76 as terrible. At the time of writing, the aggregate Metacritic score (for PC, Xbox, and PS4) stands at 51 out of 100, with an average user rating of 2.67 out of 5.
Those are abysmal numbers, but I'm not sure they're completely fair.
I can admit that Fallout 76 has its share of drawbacks and that Bethesda has some work to do to get the game to a perfect state, but I don't believe the game is so broken that it deserves all the hate it's getting. In fact, if NPCs were added and the game were released as a single player offering in the Fallout franchise, I'd expect it to get pretty decent reviews across the board.
So, why all the hate?
Honestly, I think Fallout 76 is reviled because of what it isn't instead of what it is.
Bethesda has developed a reputation for producing high-quality single player games that, though rough around the edges, are crafted with love for a rabid, international fanbase. I think many of those fans were taken aback when Bethesda announced a multiplayer Fallout title instead of Fallout 5. And I think the pain intensified when it was made clear that another single player Fallout title likely won't happen until after Starfield and The Elder Scrolls 6. Realistically, that puts Fallout 5 somewhere near 2030 if Bethesda sticks to its usual development cycle. That's a long time to wait for another single player entry in a beloved series, but that's no excuse for hating a game for failure to live up to a certain set of expectations.
I'm belaboring this fact because I've seen reviews criticizing Fallout 76 because it is a multiplayer title. I've seen reviews bemoaning the fact that the game doesn't have a single player mode. And I've seen reviews that gave the game a low score, despite saying it's fun. This isn't to say that gripes with the game aren't valid – very many of them are – but in the case of Fallout 76, the critical response feels more like a backlash than a fair evaluation.
The fact is that, even with all of its bugs, Fallout 76 is just as good as Fallout 4. With the addition of multiplayer, it's even better.
Almost Heaven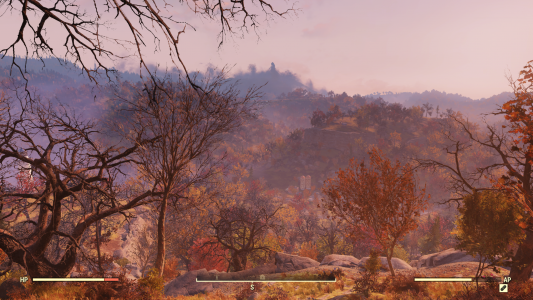 Fallout 76's reception makes me worried about Bethesda's future.
If the fans are so bent out of shape about this small step towards something different, I cringe to think about how they'll react to Starfield if it doesn't live up to expectations (especially since Bethesda worked on it in lieu of TES VI).
The bottom line is that Todd Howard has been saying – for years – that they want to try something new. Fallout 76 is the first step in that direction; one that's been a long time coming. And one that, despite its flaws, will get better over time, because they're actively supporting it.
Of all the criticism I hear about Fallout 76, this seems to be a point that every critic conveniently leaves out. That's not meant to be an excuse for the more egregious bugs the game released with, but it does point to the fact that Bethesda wants Fallout 76 to succeed and will do what it takes to get the game to a place where players will be happy.
Already, a 15 Gb patch has quashed a lot of the game's release issues, and there are plans to add in things like an FOV slider, push to talk, text chat for PC, a larger stash box, and more. If that isn't a promise to the community to make the game better, I don't know what is. And that doesn't even take into account the fact that Bethesda Austin plans to develop more content for the game . . . free of charge.
In my opinion, Fallout 76 strikes a perfect balance between a single player and multiplayer Fallout experience. It's not perfect, by any means, but there is more than enough content to appease even the most discerning of Fallout fans.
If you have been on the fence about picking it up, now is the time, because $39.99 for a full-fledged Fallout title – with multiplayer – is an absolute steal regardless of what the critics say.