CCP released several Dev Blogs and forum posts this week. The posts highlighted everything from skill injector changes, quality of life improvements, and color blindness support. These changes and additions are coming to New Eden in the near future.
Color blindness support
On May 18, Team Psycho Sisters released a Dev Blog announcing upcoming support for color blindness coming to Eve Online. The addition will come as a new UI mode that can be toggled in the general settings section of the game. A beta version of the mode is coming to Tranquility in the June release.
Team Psycho Sisters estimate that 7.999% of Eve players suffer from some sort of colorblindness. This is not an insignificant chunk of players. Plus, it is important to remember how crucial color is to the gameplay of Eve. In the heat of the moment, it is easy to rely purely on color to interpret incoming information. The inability to interpret color information can be detrimental. Imagine not being able to tell the standing of another pilot in space at a glance, or even having a hard time telling which gate is the next to your destination.
How it works
When toggled on, color blind mode offers two presets designed for two common types of color blindness: Deuteranopia (red/green) and Tritanopia (blue/yellow). There is also a custom mode that allows you to enable and disable the six main color hues to your needs. The beta version is currently available on the test server, along with a survey to provide feedback.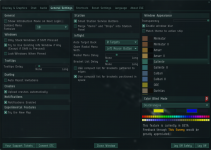 Impact
For those affected by color blindness, this is a much needed and possibly overdue addition. Being able to modify the color hues in-game to fit your condition is a great thing. Beyond that, it will also help third-party developers, such as Overview Pack creators. I had the opportunity to speak with Zirio, the co-creator of the Z-S Overview Pack used by thousands of players. Zirio was in the process of developing a version of his Overview Pack that would have been color blind friendly. However, with the introduction of colorblind mode, that will be much easier. He stated that he is optimistic about the changes because he will benefit from the UI to get an optimal color scheme for his Overview and will be able to spend more of his time focusing on future improvements he wants to make.
If you are affected by any form of color blindness, make sure to try out the new mode and fill out the survey. Your feedback is imperative to improvements.
Quality of Life Improvements
In a May 19th forum post, CCP Lebowski laid out quality of life improvements being worked on by Team Five 0. These changes are coming out in the 119.6 release and set out to make everybody's life easier.
Here is the bullet point summary of the changes from the forum post:
Fleets
When the fleet boss quits a fleet role will now be passed on to the highest ranking member in the fleet that is at the top of the list in the UI.
The Fleet window no longer closes automatically when you leave a fleet.
Heavily relaxed the squad and wing size restrictions to 256 members per squad, 25 squads per wing and 25 wings per fleet. However, fleets are still restricted by a max size.
A fleet can now be created with a saved setup.
The watchlist now shows ship icons.
Fleet members in Structures now show as docked in the fleet composition window.
Reduced the delay in the fleet composition window from 60 to 20 seconds.
Added shortcuts for broadcasting Warp/Align/Jump To.
The ship belonging to the member in your watchlist will show as highlighted if you mouse over them, making it easier to find people on the field.
Double clicking a member in the watchlist no longer opens the show info window for the pilot.
Structures
Capacitor/Shield fully recharge upon docking/undocking from Structures.
Structures now have a bio/description section where owners can list pertinent information about their structure.
The deployment window for an Upwell structure is now displaying the reason why a location is not valid deployment location.
Miscellaneous Changes
Systems in the Constellation show info window are now sorted alphabetically.
Added a volume column to the results given by a survey scanner.
Added a duration countdown to the tooltips of modules with very long durations (Siege, Doomsdays, Cynos).
Added packaged volume information to the tooltip for the multibuy window.
Added the quantity of remaining ammo for the currently loaded type to the right click menu.
Added an est price column to the inventory window (when in details mode).
Added an option to the inventory window to allow sorting by est price (right click option in icon view, column sorting in other views).
Impounded Corp Offices will now retain their full division structure.
It is nice to see CCP working on improvements to make everyone's life easier. Each change may seem small, however when all put together this is actually a nice large set of improvements.  If you want to test out any of the new quality of life improvements you can, as they are currently live on the test server. Make sure to report any feedback you might have to CCP so they can make tweaks before these changes hit Tranquility.
It is wonderful to see CCP spending time to make significant changes to existing systems instead of just focusing on new content. A mix of both new content and constant improvement on existing systems is a good way to structure development, as is produces a mix of additions to the game.  As always, I am looking forward to seeing what other changes will be released in the near future.
A special thanks goes out to Zirio for answering our questions!