CCP Games has released EVE: Valkyrie on SteamVR. The award-winning space dog-fighting game is now available on every PC and console virtual reality system. The release on SteamVR brings the title—which was previously only available to Oculus Rift and Playstation VR owners—to the HTC Vive and Razer HDK2 markets. EVE: Valkyrie is nominated for the virtual reality game of the year and is, by far, the favorite to win this much-deserved award.
EVE: Valkyrie is a space dog-fighting game where you pilot one of three ship classes in intense multi-player combat. You can choose from a fighter, heavy, or support class which each bring unique abilities to suit your style of gameplay. As a general purpose damage dealer, the fighter class is most accessible to new players. The heavy class performs the job of controlling an area of space. If you prefer to aid allies and hinder enemies, look to the support class.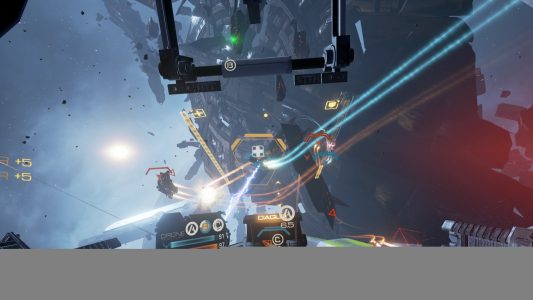 The addition of SteamVR support enables both premium-experience ($800) HTC Vive owners and entry-level ($400) Razer HDK2 owners to experience this groundbreaking game. The OSVR to SteamVR bridge software enables the HDK2 to support SteamVR titles. Open Source Virtual Reality (OSVR) supports the widest array of hardware options possible by providing an open hardware and software specification. OSVR requires some software and PC configuration knowledge. HTC Vive, on the other hand, is a plug and play experience. After all, HDK stands for Hacker Development Kit.
CCP Games have decided to forgo support for hand-tracked controllers for EVE: Valkyrie. Instead, they support game controllers and joysticks. A HOTAS setup like the Thrustmaster T.1600M or Warthog provides the ultimate experience. Also, the XBOX controller and Steam controller work great with Valkyrie.
Editors Note: Turk Fezzik is now delving into the HTC Vive version of EVE Valkyrie, and will provide a full review over the weekend. Regardless of which platform you're playing on, or if you're simply a spectator, watch this space, and see you in the next life.