Among the great artists in the community – an expansive community of artists you can join here – there are a few notable names which are near ubiquitous. Like the Dutch masters in painting, everyone knows them, and their work is so distinctive that for someone in the know it becomes immediately apparent who created a piece.
One such artist, who brings a background in professional print media to his creations, is RixxJavix. Rixx has become incredibly well-known for his EVE ship posters, empire and faction propaganda, and his many submissions to CCP-led art contests. His artwork appears in the EVE Gear Store, has been included in silent auctions at EVE Vegas and other events, and appears in print as well.
The style of his artwork is distinctive, bold, clear, and makes clever use of colour and framing to make the images jump from the page. There are even a limited selection of triptychs he created, which include artistic illusions to make the artwork appear as though it were flying above the page.
Socially, he's very active. He has a decade-long blog, a podcast, and a YouTube channel. He routinely helps and talks with new players and other artists in the community to encourage their efforts. He is active in the greater community in a way that few are.
We took the opportunity to reach out to Rixx for an interview and he graciously obliged. [Editor's Note: Interview begins below art, scroll down]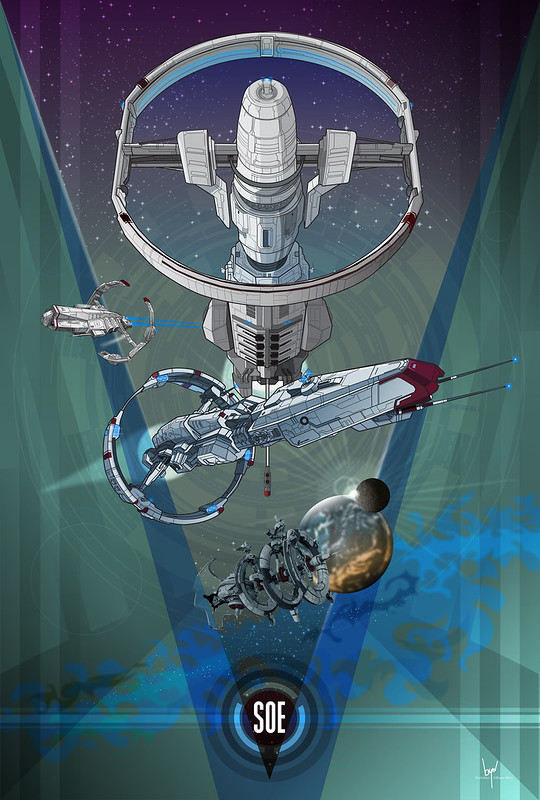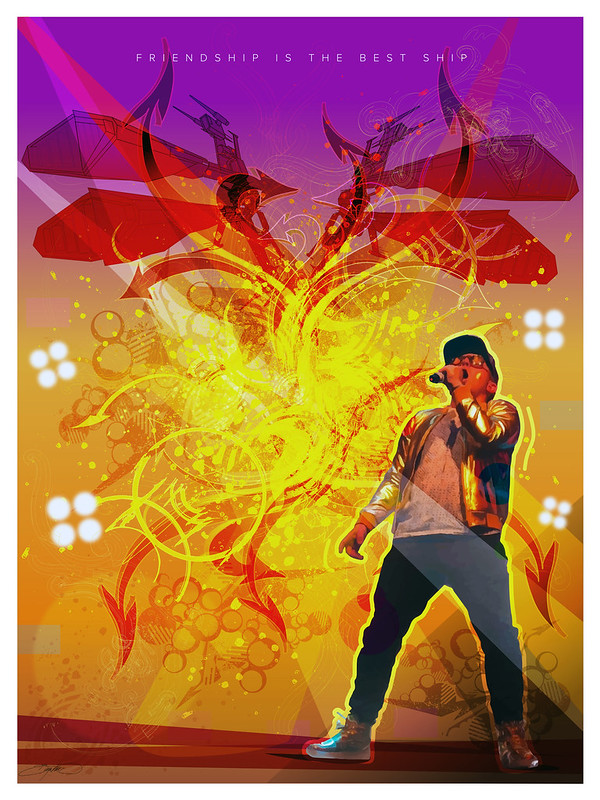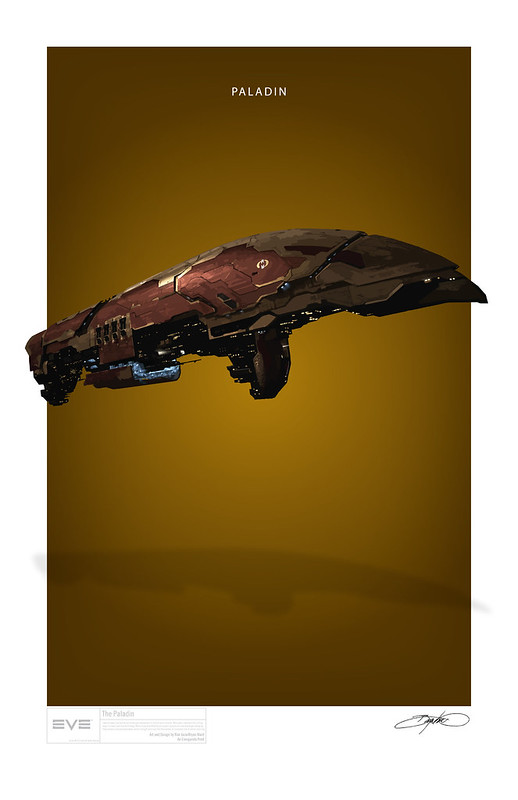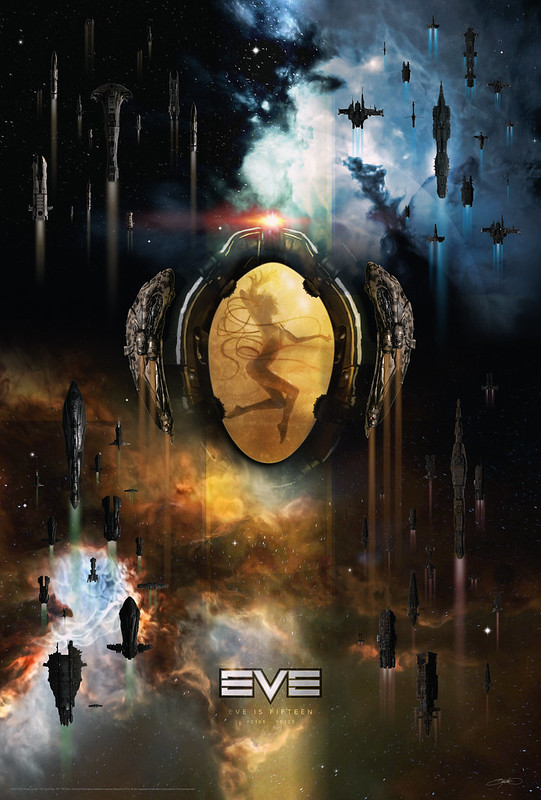 For those new to EVE or to the community, can you tell me what got you started with creating artwork of EVE? What inspired you?
The game itself. When I started playing EVE it was just like any other game at first. A hobby. A way to spend time with my son, who got me into the game after he came to live with me full-time during my divorce from his mother. Those first few years I just followed him around space and we had adventures together. Fought wars in Providence, traveled around, got into trouble. At the time I owned an advertising and creative agency, so my game time was extremely limited. But during that time I started noticing a wider community in the game, forums, blogs, and other outlets. All of which was new to me.
During some of these nullsec wars I stared making banners and wallpapers in support of the alliances we were in. And those started getting a lot of attention on the forums. I met Richie Shoemaker during that time and started helping him out with EON Magazine, doing the full page ads for different alliances and writing a few articles. And other side projects with a few people.
My agency was asked to present a pitch to CCP to provide the social media for them during this time, which was my first exposure to the company and some of the employees.
It wasn't until 2010 when I started writing a blog called EVEOGANDA that things really started getting serious on the creative side. Wallpapers and banners started turning into alliance logos and more serious pieces. But it was a process, a journey really. There wasn't a singular moment when I decided to start doing serious art based on EVE. It was always more about creative expression and finding an outlet for my work, which evolved over the years.
Can you tell us about your process, and how you decide about what to depict?
I've always been a fan of spaceships and science-fiction, it's what attracted me to EVE in the first place. I enjoy challenging myself and trying new things. I also get bored relatively easily. Which is why my work tends to be all over the spectrum, from graphic design, writing, illustration, cartooning, video graphics, pretty much anything that I feel like trying next. The largest body of singular work I've done is the line of spaceship posters, eight of which CCP sold back in 2015.
Those were born out of a problem I was having with spaceship art, EVE art specifically. The better the art is, the more it just looks like a screenshot from the game. This is still a problem as EVE has gotten better and better looking over the years. So how to solve that? I tried a bunch of things at first and finally landed on a more "botanical" style, by removing the spaceships themselves from space. It let the spaceships be the center of attention instead of the environment. I ended up doing about 150 of those posters.
The great thing is that my process for illustrating them changed about a 100 times during that time. The way I started doing them is nothing like the way I finished doing them. That was a very creative moment for me. And it taught me a lot.
Do you use any special tools or peripherals to help you in your process?
Mostly I use an iMac Pro and Adobe Creative Suite software – Photoshop and Illustrator primarily. I've been using those since they were in Beta (I probably shouldn't have admitted that). This year I got a Wacom Cintiq Pro that I've been working with and I'm really loving the ability to draw directly on the screen. I've always used Wacom tablets but felt detached from them. This thing feels much more like real drawing and painting, I love it.
How long have you been playing EVE, and when you're not painting spaceships or designing propaganda, what's your favorite thing to do to pass the time?
I've been playing EVE since 2008, shortly after it become available on the Mac. Pretty much non-stop since then. I'm also a film nerd, I love playing arcade games, reading comics, and for the past year my Wife and I have been busy renovating our home – which has kept me extremely busy. I also enjoy driving fast sports cars. But, to be honest, I mostly create pretty much non-stop. Even when I'm not physically working I'm working in my head and coming up with new ideas.
How have your artistic endeavours in New Eden grown over time?
Everything changed back in 2015. That's when CCP and I started working together on a new EVE Store concept. That process evolved into what became them selling my posters thru a third-party seller called QMx. My wife and I attended our first Fanfest that year and I finally met other players in real life. That was incredible and we've been three times now. We would have gone again this year, but obviously it was cancelled due to Covid.
At that Fanfest I actually gave a talk about EVE fan art and sat on a roundtable with Andrew Groen, who was considering writing a book about EVE history. I also signed posters for players who bought them at the store in Harpa. That experience really changed things, not just for me, but for my wife as well. Since then we've traveled to Vegas, Amsterdam, Toronto, Alaska and we've hosted our own player event at our home each year since then, called Steel City EVE.
Working with CCP can be challenging at times. Everyone who I worked with back in 2015 [has left] the company. And that changing of the guard can cause some issues, simply because new people may not be aware of what was said or done in the past. But over the years I've worked on various projects, Fanfest posters, Vegas posters, charity donations, team logos. I even once managed to get an original logo into EVE Valkyrie. When CCP Guard decided to leave I created a special illustration for him and we traveled to Amsterdam to present it to him in person. That was amazing.
Since 2010 I've paid for my in-game character entirely from commissions that I do for the community. At last count I've created well over 1,200 alliance logos and other materials for the EVE community. I'm very proud of the work I do and the projects that I've been involved with over the years, big and small. And this year I was fortunate to be asked to work with the people that run the EVE Gear Store and develop something truly unique for the EVE community of players.
That's the process where what became the "Freaky Frigates" came from. It took 10 years but I finally managed to get some real merchandise onto the EVE store, merchandise that I'm incredibly proud of. It's different and it isn't what you typically see from a gaming store. But more than anything I hope that EVE players enjoy it.
Do you think there is room for more support from CCP in the way of art assets, media, and other resources for players who want to get creative outside of the game?
I'm extremely encouraged by the new Partner Program and what CCP is doing to help support creators across multiple platforms. It remains to be seen how well supported this program will be over time, as we all know CCP often creates things under the best of intentions, but doesn't always follow through. But I think CCP Aurora and those around her certainly want this program to be successful. So I am very hopeful.
If you had a 'magic wand' or 'enchanted gavel' and you could just make one thing true in New Eden or the game client (from an artist's perspective), what would you change or produce?
This question used to be a lot easier to answer. The thing is the game has improved so incredibly much over the last 10 years. The art team at CCP deserves as much credit as possible for making that happen, as well as all the technical support, software, and server improvements. But we are fortunate to have so many talented people on our side at CCP, extremely talented artists. I'm a huge fan of them all.
If I could snap my fingers and have all the ship models updated to reflect those improved graphics I would. But that's an easy answer. My greatest wish is that EVE continues to become a more lived-in, vital, and energetic universe. The new Jita station is a great example of that concept, but there needs to be more of it. More activity. More unexpected phenomena. More science-fiction elements. Those types of things only serve to make New Eden a better place to live.
What advice would you give to other creatives wanting to start making art from EVE?
First of all join the EVE Creatives Discord channel and meet others like you. Talk. Discuss. Discover. Ask questions. Realize that creating in this community is a work of passion for something we all love and enjoy. There are no shortcuts, but there is room for everyone. Some extremely talented people have come through the EVE community over the years. Some stay a short time, and others stay longer, but in my experience they are all more than happy to help, answer questions, and collaborate when possible.
But most importantly, for any creative, my advice is the same as it would be out here in the real world – be yourself. Find your own voice and discover how to best express it.