Elite Dangerous is unique in that there is no leveling system. The only restraint is your amount of credits, and once you have the credits to get yourself that perfect ship, you can do anything you want. For this guide, you'll be required to have Both Elite: Dangerous and the Horizons expansion.
New Player Friendly
This is new player friendly. You'll see your first 100 million credits even as a new player to the game fairly easily. The only limitation is your skill at piloting the ship & Surface Recon Vehicle (SRV).
What we'll be doing is heading off to a nice active part of space to run scanning missions. Tedious, I know, but worth it. I started out flying an Asp Explorer. Three days later, I am in command of a fully fit Anaconda worth 200 million credits. Yes, it's a beautiful ship. It has both size and sex appeal.
Recommended ship
The Diamondback Explorer is the best ship for newer players to start off with. However, any larger ship should be suitable—Just don't try this in a Sidewinder!
Why the Diamondback Explorer? It can fit a large Frame Shift Drive for its size, has a large 32-ton fuel bay, and can fit extra tanks plus a fuel scoop to further reduce your dependence on space stations. Add in its light mass, which means less fuel consumed with each jump and more range, and you have the ideal ship for travelling long distances on a budget.
Fittings
You'll want to get yourself to a station and start stripping your ship for exploration / long distance travel.
The goal is to make your ship as light as possible without sacrificing fuel capacity. By stripping out weapons and other unnecessary components for the journey, you can further for longer.
Hard points: ZERO – Nada – Sell them off, lighter you are the better.
Utility Mounts: Heat sinks all the way. The more the better.
Core Internals: Aim to fit everything with Class E. If you can aim to fit your Distributor, Power Core and Shift Drive with Class C, B or A equipment if you can. It's important that you don't overspend as this ship is intended for a one-way trip, though you can store it for later use if you want.
Optional Internals: Fuel tanks are nice, as they reduce the number of stops required on long journeys. A fuel scoop (a good one will allow for fewer stops and is worth the investment). Finally, a discovery scanner—the better the scanner, the longer the range.
Livery: Name your ship. It is optional but you might as well, seeing as you'll be spending the next hour or three with it, depending on how you want to proceed.
Destination & Route
We're heading to the destination of Quince – Millerport station. This should be somewhere in the region of 550 to 700 light years from your present position. A direct route should take you around 30 to 45 minutes, depending on your ship and fit.
While the availability of missions no longer depends on your rank, long-distance travel is still a great opportunity to raise your exploration rank and make a little money on the side. Buy an Advanced Discovery Scanner, assign it to a fire group, and charge it up in each system you pass through. This is called "honking" (on account of the sound effect), and the data you gather will help raise your reputation with the controlling faction at your destination, which will help jump-start your earnings!
IMPORTANT: Watch your fuel levels, glide near the sun to fuel scoop, fly at minimal speeds while keeping an eye on your heat levels, and use a heat sink if you need to. Be careful, as you only get three charges per heat sink.
Quince – Millerport
Hey, you made it! Hand in any scan data to "Universal Cartographics." It takes a while to update. While you're waiting, take a look at the mission board and note that your reputation sucks. That's okay. We'll grind that up. There are two types of missions you'll want.
Counter-Insurgency Surface Scan Mission
Planetary Scan Job
Once you accept three missions, you won't get anymore at this location. You max out at 20 possible accepted missions at one time so choose wisely. I've personally only seen 15 in a single board in a station, and that was only once during my grind. You can switch between Solo Play and Open Play to refresh the board.
Lock your destination to the planet "Kosmala Rewards," switch to Open Play (You'll see why in a moment) and then undock. You'll want to get close to the planet so your mission status updates. After you receive your automated messages, you'll be able to lock onto "Scan Request: Building" or "Scan Request: Outpost." Don't worry—you only need to scan one of them. Head to the location on the planet. Once you've left glide mode, you'll be slow boating your way towards your objective. Sometimes someone is already on the ground and scanning the objective. If this is the case, your missions will update and you can go back to station to hand in the completed mission. Yes this is intended game play, yes it can be that easy.
Assuming someone didn't do the job for you. You'll need to land next to the base, deploy your Surface Recon Vehicle and scan an object. Please do be careful as sometimes they shoot at you.
This is the data point you'll need to scan. Once scanned all of your missions should be complete and you can head back to the station.
The Numbers, and how to make them better
At the start, you might make 500 to 800 thousand credits per trip due to your currently low reputation. Working up to Allied reputation, you will be looking at around two to eight million credits per trip. You could do this in any ship. I choose to do it in a Sidewinder as it's the cheapest ship to replace, and fast. Get eight cargo on it, a planetary vehicle hanger, and dump the shields. Remember to empty your cargo after each trip, as some missions require at least four cargo space to accept them.
What I'm about to tell you is not an exploit; this is intended gameplay. However, some players will dislike you if they see you doing it, and may go out of their way to shoot you because of it.
Once you complete your mission, lift-off and then crash. This causes you to get "podded," or respawn back home in about eight minutes. Assuming you would want a break after an hour, you could do six runs and have 12 minutes to grab a drink. On average, I personally made about 25 million credits per hour, but it is possible to make nearly 50 million credits per hour with this method.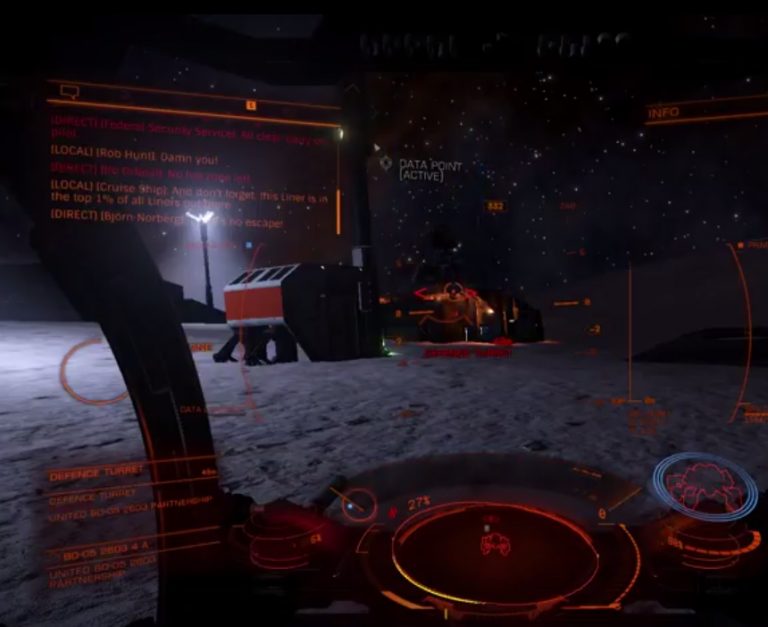 Boosting your Reputation
You can take up the missions that ask you to donate some of your hard-earned credits. If you plan to be here for a while then skip them, for now. If you want to grind as fast as possible, these are a good way to boost your reputation.
Test this guide out and let me know what you think. Does it work for you? What do you plan to do with your farmed credits?