A Prelude to Purchasing
In 2003, I was a junior in high school. For me, it was a pivotal year in my story of personal development. I was in the middle of my first real relationship. I lost my virginity, smoked marijuana for the first time, discovered the band Ween, and finally had a computer capable of running the game all my friends were talking about: The Elder Scrolls: Morrowind. Multiple install discs later, I fired up the game, and was teleported into a digital world full of giant mushrooms, cranky elves, religious cults, and adventure that I had no idea was possible in a video game. Looking back now I see a game that lacks a lot of textures, lighting elements, and physics that today's modern AAA titles take for granted, but it still has that *magic stuff*.
For me, it always will.
Fast forward to 2017. After several on-and-off attempts at trying out The Elder Scrolls Online, I was ready to write off Zenimax's latest attempt in creating hype for its upcoming expansion, titled Morrowind, as a gimmicky way to win over players like me who had tried ESO expecting Skyrim and left disappointed when it turned out to be just another bland MMO without a heart or soul. When presented the opportunity, I had responded to a questionnaire sent out by Zenimax about why I was not playing Elder Scrolls Online. Long story short, the game was boring and lacked the things that made you care about your character in other titles like Skyrim, Oblivion, or the Morrowind of my youth. Months passed. I played other games and went out with life.
I was not expecting a phone call from the survey company that Zenimax hired to conduct whatever survey it was about why I didn't like their game, but the fact that they called me and asked me to elaborate on my feedback really struck me. We talked about various aspects of the game, and at the end, the caller asked if I had been following the details for the upcoming Morrowind expansion. I admitted that I had lost interest and hadn't been paying attention. He mentioned some of the changes, but did not press the point home. We parted ways, and he sent me an Amazon gift card for my time.  
A week later with the launch date drawing near, I made the impulsive decision to pre-order the Morrowind expansion and venture in Vvardenfell once more.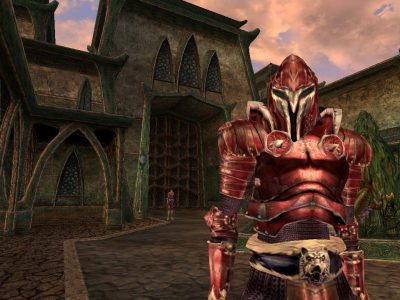 Memory Lane
Stepping off the boat in Seyda Neen was like waking up from a dream about your house where something is different but you cannot quite picture what it is. The graphics are prettier, and since it is an MMO there are random players milling about while others discuss important matters of national politics in zone chat. Turning off zone chat and ignoring people entirely is the way to go and once I did that, the obnoxious MMO aspects that were polluting my Elder Scrolls experience melted away, letting the relaxing sweet nostalgia of my youth set in.
I have not thought about Ween's album "White Pepper" in a long time. For whatever reason, I strongly associate it with wandering around the weird, giant mushroom and angsty dark elf inhabited island of Vvardenfell. I remember getting frustrated at the layout of Vivec City while listening to "The Flutes of Chi" and fighting off daedra to with the song "Stroker Ace" playing in the background. The first five minutes of wandering around the reimagined Island of Vvardenfell brought these memories back like they were happening yesterday. Even though I do not remember many of the quest details from the 2003 version, now, some fourteen years later as I was sitting at my computer desk hundreds of miles away from where I grew up, I was transported back to my seventeen-year-old self, sitting in my room, playing as the angsty dark elf who was trying to figure out who he was.
Going back to that phone call the week earlier, one of the criticisms I had for the survey company guy was that I did not feel very connected to many of the quests or storylines going on in Tamriel. In short, I did not have a reason to really care about what faction I was in, how the daedra were interfering with my life, or who would become the next emperor of Cyrodiil. In fact, it is frustrating that you are funneled through an early game system that delivers such a bland storyline. None of those issues really seemed that interesting. I had fought daedra before and helping someone pick up a crown here or there is a commonly recurring theme in just about every Elder Scroll game.  Restarting my character in Vvardenfell was different. It felt like things mattered.
The Wood Elf Warden – Ettubkrop (Porkbutte spelled backwards)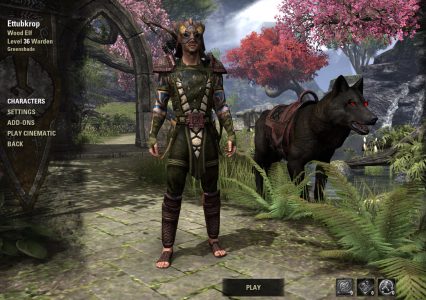 Upon purchasing the Morrowind expansion, I was granted the ability to create a new character using the new Warden class – a caster/fighter/tank/healer that pulls on its connection with nature to help win the day. Unlike other MMOs which release and tweaks classes and specializations frequently, this was the first new class since ESO's launch. Also, unlike many other MMOs, ESO's classes are far and away more customizable than just about any other game out there.  Want to be a dagger-wielding spell caster? Check. Bow-touting plate tank? Umm…okay? A caster-assassin in light armor? Great! All of these things check out and they are things I absolutely adore. The freedom to play around and figure out a style that works is a lot of fun and something I never really tried until I dove back into the game with my new Warden.
The first quest I ran into was a guy who was on a mission for his religious leader, Vivec, who is apparently too busy being a living deity and overseeing the construction of a city dedicated to himself to get away for very long and carry out side quests. So, silly me, running into his errand boy, discovers that Vivec needs some help talking to some ghosts in a tomb that is having some issues. Great!  After talking to the ghosts we learn that "all is not well in the state of Vvardenfell" and before I know it I'm being asked to be errand boy again, as I am told that Lord Vivec might want to talk to me.  
Of course, being more of an independent contractor, I decide to take on some exploration and do some sidequests first, and that's when it hits me: I have freedom again. Unlike starting a character in other parts of the game world, starting a character in Vvardenfell is very open. There's no funnel pushing you to the main storyline, and no penalty for just roaming around and getting into trouble. Eventually I needed to empty my bags, so I did end up going back and talking to Vivec pretty early on. I learned that he was in trouble (again) and that he'd need help saving the city that he was busy dedicating to himself. Again. Oh, Vivec! Will you ever learn?
In my time wandering around Vvardenfell's gorgeously crafted scenery I found myself actually enjoying the silly little errands and quests I was being sent on. They ranged from helping someone get out of slavery to becoming a town's masked vigilante hero. The quests and the quest chains felt interconnected and important. It felt like I mattered. Everywhere there was something to stop and marvel at. I never fast-traveled because part of the adventure was in getting hailed by some random NPC and being asked to retrieve their illegal drug stash from a mine nearby. In the background of everything was the story of Vivec and those that loved him or hated him, and it seemed like no matter where you went someone had an opinion about it.
The Rest of the World
I was around level 20 after completing the main storyline. With thirty more levels to go, I had to decide whether or not to stick around Vvardenfell or leave for the mainland and find more quests. While I still did not know or care if I was playing my warden "the correct way." I was having fun. I had invested in the game and was rewarded with an entertaining storyline and a trip down memory lane that I had never expected to have experienced
For those wondering what else Elder Scroll Online has to offer, I'll try to give a run down as best I can. Of course, you can always look at the website or go to the game's subreddit, which has some pretty good resources, especially for creating class specializations.  
Crafting
This is a big one and can be incredibly useful, though to really get into it you need to be ready to purchase lots of bag and bank space or commit to a subscription of ESO Plus, which gives you unlimited material storage.

Items made from crafting are actually somewhat useful, and have a wide range of upgrade capabilities.
NPC Scaling
No matter what level you are, the zone's creatures will scale to match your character's ability level. That said, not all NPCs are created equal, some will still be quite challenging (especially if you do not know your class spec very well!)
Dungeons
There are several tiers of dungeons. Some of them are quite difficult with very punishing mechanics and if you do not know your class well or your role, you will have a hard time

These are also fantastic ways to gain levels quickly as well as equipment to help you on your way.
Raids
These exist. I'm too much of a newbie to know what they are like.
PVP
This also exists and is something I really want to get into but I haven't really figured out where to go yet or what to do when I get there.
ESO Plus
While ESO is not "free" you can get a fairly large chunk out of the game experience just from buying the initial game and whatever expansion you want, like the Morrowind expansion. I decided to go ESO Plus after playing through the Morrowind content because it is a game I plan on playing for a while and having extra space to put things as well as a 10% increase to XP and gold acquisition is nice as well without being too game-breaking.
Guilds
These exist and players can apparently be in multiple guilds at the same time but I haven't figured out why or what guilds are really used for. So far, I'm doing fine solo.
Other tips
Turn zone chat off, especially if you want to feel more like you are having a classic Elder Scrolls experience.

Learn how to use your alternate weapon and ability bar, hot key it, love it.

At early levels, try wearing a piece of everything and use lots of different items so you can get skill points from it.

Find and use skyshards to get more skill points. There are maps and resources on the internet that you can use that will tell  you where they are.

Don't worry about "getting gud," seems to be that you need at least level 20 or so to really start to get a feel for how a spec works. If something isn't right or you want to change directions, you can respec in major cities for the price of ingame gold.

You can start dungeons at level 10. I recommend running a few when you get there just to get some new gear and set piece bonuses. Quest reward gear is random and won't always be useful to you.

In general: Plate is good for health, Leather is more for stamina, and cloth is for magic users. There are exceptions to this, but that is the trend for everything, so while you can be a plate wearer that relies on magic, you'll mostly likely need a few cloth pieces to make it really work.
I am still far from experiencing what the game is like at the max level. Maybe I'll get hardcore enough that I will get to a point where I can be cool and complain about it too, but for now I just plan on enjoying the adventure and not trying to take things very seriously. The enjoyment is in the nuance.