In a recent discovery posted on Reddit, Dead Coalition member DARKNESS. has initiated the unanchoring process of their Keepstar in the system of CCP-US in Deklein, on the border of Fade.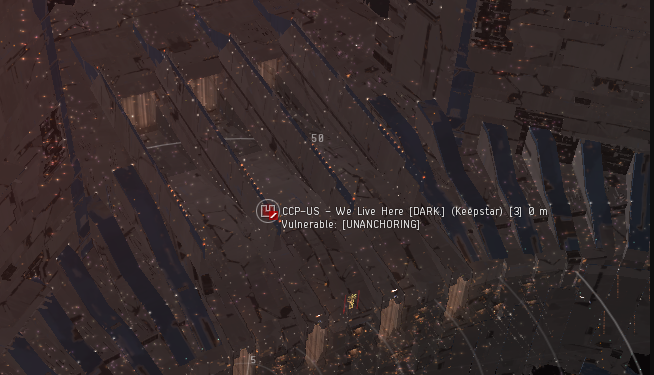 Dead Coalition leader Sort Dragon responded to INN's request for comment, citing the difficulties defending regional border Keepstars during the recent northern war, in particular the Keepstar in DO6H-Q. Sort also expressed a desire to relocate the CCP-US Keepstar elsewhere.
Fade has lately been in flux following CO2's exit from Dead Coalition, leaving much of the region unclaimed. In the recent Dead Coalition meeting, Sort Dragon announced there was no intention to retake Fade – which signals a larger withdrawal from Dead Coalition's position in the regions outlying their main territories of Deklein and Branch.
Various entities have since set up in the region, including Violente Fortuna and Spacemonkey's Alliance. Imperium entities, including Goonswarm proper, also control a portion of the region, but do not appear to have a relevant presence since their departure from major combat operations after Dead Coalition's surrender.
Whatever the case may be, this latest development may prove substantial for Dead Coalition's longer-term sphere of influence.
INN will, as always, keep you updated with developments in the region as they happen.