CCP announced a new contest in a Wednesday Dev Blog, "Calling All EVE Online Designers – FanFest 2018 Mouse Mat Design Contest". The contest, as indicated by the blog's name, is to design artwork for a mouse mat (or mouse pad, as they're commonly called in the US). Based on statements made in the dev blog and the associated forum post, the intention is to build on the success of the EVE Vegas T-shirt Design Contest.
The initial response, however, seems to be going in the opposite direction. Rather than stirring up buzz, the majority of the forum activity has been critical. Some of the criticisms come in with CCP's insistence on .PSD files (the default format of Adobe Photoshop). Other individuals INN has spoken to have questioned CCP's decision to require that all entries become the property of CCP, essentially providing CCP with an abundance of free artwork.
Still other voices have expressed criticism of the EVE Store itself. Criticism there ranges from the selection to the quality of offerings to the shipping fees involved. Some of the criticism is excessive, but other elements raise an eyebrow or two.
So what's the deal? What's going on with this contest, and EVE's merchandising in general? What is it people are unsatisfied with, and how can CCP do it better?
Photoshop?
Designs should be 7.75″x8.25″ (300 Pixels Per Inch @ 100% Size) with all critical details within 7.5″x8.0″. 1 color up to full color, .PSD or .AI files.
Ok, so CCP wants .PSD files. A few commenters objected to this, based on the cost of Photoshop. On the surface, that's not a bad concern to bring up. As other commenters responded, though, there's no need to buy the latest version of Photoshop. Adobe has a number of older versions of Adobe Creative Suite or Photoshop Elements available. .PSD is one of the standard formats for working with images. Other free software, like GIMP or Krita, can save files as .PSDs. So this isn't really an issue.
Rights, or Wrong?
Upon submission, you waive all rights you may have to the submitted design and grant CCP an irrevocable right to own, use, or edit the design without further compensation to you. All designs submitted become the property of CCP and can be used in any way the company wants, forever, across all known and yet-to-be-invented media.
This one's a little more problematic. Yes, there are good reasons for CCP to want to be able to use other submitted designs for other EVE merch. That is completely true. But CCP doesn't need to demand a transfer of all rights in perpetuity. In other, similar situations (Alliance logos, for example), CCP modifies the design ever-so-slightly in order to allow the original creator to retain their IP rights.
Visual artist, like writers or musicians, develop signature elements. Later works by the same artist might incorporate many of those same elements, used in similar ways. They might even be seen as derivative of earlier works. Demanding a complete transfer of rights means establishing a precedent where an artist has to be careful not to be too like his own work, or potentially face legal issues.
There are no indications that CCP would actually do that to someone. But many artists are extremely protective of their intellectual property rights, for good reason. They're wary of simply signing over any claim to their own work without direct compensation. CCP isn't necessarily wrong, or out of line, for putting in this requirement. It's certainly not an unusual thing to include in a contest posting. However, it may be muting response.
The EVE Store
Members of EVE's Development Team, the Community Team, and Team TriLambda (the Art team) will be picking three top designs. Each of the winning designs will win, among other things, store credit to the EVE Store. On the surface, this is pure gravy. You submit one of the best three designs, CCP gives you stuff. That stuff includes at least $50 of merch. So far, so good, right?
This is where the problem comes in.
First, the selection of merchandise in the EVE Store is considered uninspiring by many players. There are a total of 33 different items available. 15 are apparel—t-shirts, hoodies, polos, and a hat. Beyond that, there are a pair of tumblers, a water bottle, jacket patches, shot glasses… stuff. Rounding it out is the EVE Valkyrie trade paperback.
The items themselves aren't the problem. It's hard to screw up a shot glass, after all. The first criticism EVE players have is that the selection is so limited. The shot glasses, for example, are a single set of four, with the logos of the empires. The beer glass is a single item, and bears the Sansha logo. At a point where Blizzard has been offering FigurePrints® that allow custom production of a figure of your specific character and gear for years, the EVE store still doesn't offer replicas of EVE's most iconic ships.
A more significant concern is monetary. Prices themselves aren't the issue here, shipping fees are. The EVE Store's distribution is handled entirely through the United States Postal Service (USPS). The Post Office, to those of us in the States. While this isn't a big deal for customers in the US, having shipping go through the USPS does make things 'interesting' for international customers. Let's look at a couple of examples, on opposite ends of the price scale.
A Tale of Two Products
First up is the EVE Women's T-shirt. Priced at $23.00, the cost isn't unreasonable. Having it shipped to Europe, however, offers three options. The cheapest of the three is $23.33, or €17.86. From there, it goes to $47.31 (€37.84) and $63.91 (€51.12). For a T-shirt.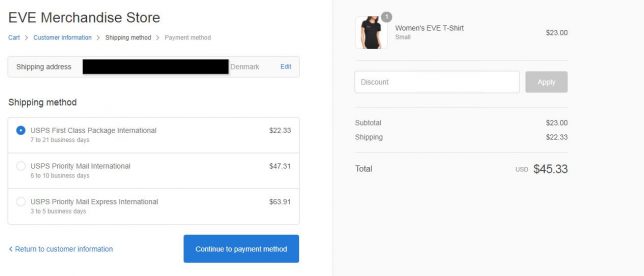 Now on to our second product, the EVE watch. At $160 (€127.97),  it's the most expensive item in the store. Still, it's a quality timepiece, made from quality components by a reputable watchmaker. The price isn't out of line with the product at all. For something like this, the shipping is more in-line with the value. The watch, however, highlights why the shipping is so high on everything: It all goes through the United States Postal Service.
The EVE watch is made by JS Watch co. As the information on the product page says, JS Watch is 'the premier Icelandic watchmaking company. All JS Watch co. timepieces are designed and assembled by hand in their studio/workshop in Iceland'. Consider that for a moment. An EVE player in Paris, 1,385 miles from Reykjavik (2,229km) orders a watch. It gets made in Iceland, and shipped to the US. Specifically, it goes to California. That's where the company CCP uses handles European distribution (Australian distribution is handled through New York, apparently). Then, from California, it goes to Paris. That's a total trip of 9,745 miles (15,683km).  The watch is going more than 7x as far as it has to, and dealing with shipping through customs at least twice as often.
It's easy to see how this isn't optimal. It doesn't make things easier for CCP, and it doesn't help non-US players who want to buy things from CCP. It's also easy to see how things like this happen. When CCP first started selling EVE merchandising, the modern e-commerce environment didn't really exist. Amazon didn't show a profit at all until 2001, and didn't move past books and DVDs until around 2006.
Even now, merchandising isn't their area of expertise. CCP isn't an e-commerce company. They're a video game company. Blizzard didn't really start merchandising until after the merger with Activision infused them with a fair amount of capital, and made them large enough to be able to focus on getting it right.  That one conspicuous combination of attributes: size and money, are present in the other big game companies that do merch, too: EA and Microsoft.
FC, What Do?
So what can be done about this? First, it's important to remember that all of the people at CCP that the players normally deal with aren't involved in this. None of the developers players often vilify can affect this in the slightest. The Community Team may be involved in picking the winner of this contest, but they don't decide how CCP's merch is managed. So when expressing our desire for better options, the first thing we shouldn't do is jump on Fozzie or Falcon or any of, as Claude Rains might say, 'the usual suspects'.
But CCP can look for better options. Among them is finding better options for international shipping and distribution to places outside the United States. Streamlining just that process would eliminate a lot of the criticisms the EVE store currently suffers from. They could look into, as one forum poster requested, "scale models [we] can build". Partnering with Bandai, Revell, or other model companies is a possibility. Plastic injection molds can be pricey, though. They might be better off opting for resin collectibles. Companies like Sideshow ship all over the world without running into the same issues the EVE store does.
Collectibles might seem like something of a big step, but let's face it: we're nerds. We, the players of EVE Online, are a subset of the modern nerd culture that buys not just FigurePrints® and Bandai model kits, but also Sideshow collectibles and Lego. Give us something neat, and we'll gobble it down. The floating Nyx unveiled a few years ago got rave reviews… but it's never made it into the store.
Another player on the EVE Online forums said they'd never dealt with a company they want to send money to, but which makes it so complicated that it's not worth it. In so many ways, that seems to encapsulate the issue players are raising when it comes to a contest to put a new item into the EVE store. Like so many other issues players run into, this one looks like a legacy of the way things used to be. Unlike most, this one doesn't have spaghetti code or developer workloads to get in the way. A little critical examination, a little networking, and CCP's unique and immediately recognizable IP could start making more of a buzz for the game, just by sitting on our shelves, catching the eyes of people who've never tried the game.
All CCP needs to do is just take a look at how they're offering their merch, and maybe expanding the selection a little bit. From there…