The NC. Keepstar in X47L-Q that was reinforced July 31 has just come into armor vulnerability. Despite the earlier server problems caused by a DDOS, a large number of pilots from both sides have managed to make their way to the system.
INN is streaming the fight, with Paramemetic and Alterari Pheonix providing commentary. Local is currently at 2920, the Keepstar is paused at 13 minutes. Titans are on field from both sides, with more rumoured to be on the way from the defenders.
INN will keep you updated with any events as they happen.
1908: It seems that at least 2 titans are down already. One of them is legacy rigged.  We are waiting for Zkill to catch up.  Horde are on field in griffins, as was hinted at in reddit posts yesterday.  MC. are out and about in hounds.
1914: The Zkills are in for the titans. Both belong to Goonswarm. The legacy rigged one is from Amok., with 4S losing the 2nd.
1916: A third Goonswarm titan is down.
1921: And a fourth. DC's continue to plague both sides.
1922: Now the defenders have lost a few titans in return. NC. have lost an Avatar, CO2 have lost an Erebus and reports of a Vanquisher down. We are waiting to get confirmation on the Vanquisher.
1925: The Vanquisher belongs to Kenshin.   Titans continue to die, TNT have just lost an Erebus.
1929: Servers are holding at the moment, but are running at max tidi. Paramemetic just lost connection trying to change his bracket settings. Keepstar is still paused, with around 80% armor remaining. Titans losses seem to be 5 Imperium, and 3 Panfam, including the Vanquisher.
1933: Make that 6 Imperium titans, Mine 'n Refine just added another Erebus to the list. There are several hundred frigates doing ECM bursts on grid, which are causing issues for anyone not in potato mode, or trying to change their brackets.
1937: CO2 Erebus down. Players who have DC'd are experiencing problems logging back into their client. A preliminary battle-report is available here. It is of course, updating as kills come in, and early battle reports are always a mess for who is on which side.  I am confident commenters will correct any errors they see.
1943: Vily has joined Twitch stream to give his view on what is going on. He has confirmed TEST have a sub-cap fleet on the way, and also has explained about the ECM bursts on grid. These are the frigs being used for that.
1956: Titan score seems to be 7-4 at the moment.  Zkill is slow updating and is showing 6-4. Paramemetic has found potato mode and is back in game. Connection issues continue for players in X47. An unfortunate streamer was briefly streaming NC comms, catching Killahbee instructing faction titans to deagress to avoid dying.
2000: There is around 500 titans on field, fairly evenly split between both sides. With the way the servers are holding, it looks like whoever can keep their ships logged in will win in terms of titan kills.
2010: Titan score is 9-5 apparently. Zkill is catching up slowly on the titan kills. On grid, fighters have been launched, which is adding to the connectivity issues.  On the topic of lag and connectivity issues, there are several calls to the server that seem to be taking a long time to complete.

2020: A CO2 Erebus loss has come through on zkill. Reports of more doomsdays firing, so likely more titan deaths on the way. This adashboard shows the number of titans and supers on field. Northern titans are mostly tethered, including one that just got doomsday'd.  This is always a key part of structure defenses. The defender obviously has the ability to tether on their structure.
2022: The server is continuing to have issues. Reports of strange occurrences such as locking dictor bubbles. Keepstar is at 30%. Progodlegend popped onto INN twitch to tell Vily to go open a bridge.
2025: More incoming doomsdays, and the Keepstar has fired it's own doomsday. The doomsdays are coming from Northern Coalition, so likely more Imperium losses to come.
2028: Imperium have returned the favour with doomsdays. Score seems to be 10-6, but Zkill is very behind on kills. We will bring you them as we get them.
2032: This is the current potato mode view of the titans in their positions at the keepstar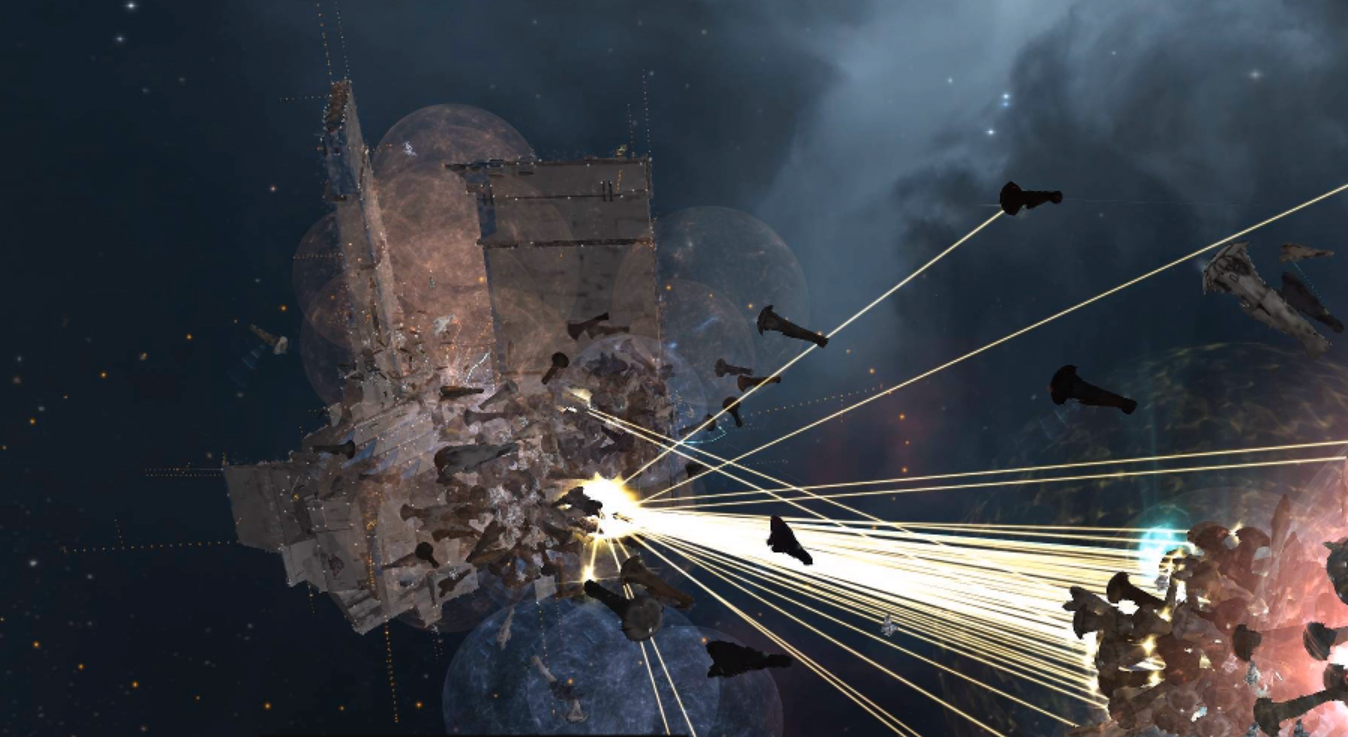 2038: Zkill is slowly adding the losses, another Imperium titan down. Score believed to be 11-6 at the moment. In a change from the Erebus losses, we have a Leviathan down.
2042: CCP have posted regarding the server issues, it seems they are unrelated to the DDOS earlier.
2045: An NC. titan has exploded, as has another Imperium Erebus.  If nothing else, this fight will end up with a high titan score.
2056: Darkness' turn to lose a titan now (non-faction this time).
The Keepstar is at 57%, this will be a long night. The titan score is 11-7 at the moment. Unfortunately, EUTZ means I am closing out this blog, but it looks like the Keepstar will go into final reinforcement, and many more titans will die before the night is over.
0518: Update – Keepstar re-inforced, close to 60 titans down, score is 27 Imperium titans down, 29 Northern titans. Imperium lost a Molok, and many supers have been lost. We will bring you a full report once the dust has settled, and the participants have had some sleep.