Around 1700, a fight broke out in V-IUEL and the neighbouring system of 0SHT-A over a Space Violence Fortizar. Imperium forces rallied to defend the citadel from Legacy coalition (TEST & CO2). NCdot and BRAVE are also present. Jay Amazingness is streaming over on INN Twitch
At present, the fight has moved from V-IUEL to 0SHT-A after the citadel repaired. There are around 1000 pilots involved, and TEST seem to be losing a lot of Maelstroms to bombers, including this notable loss: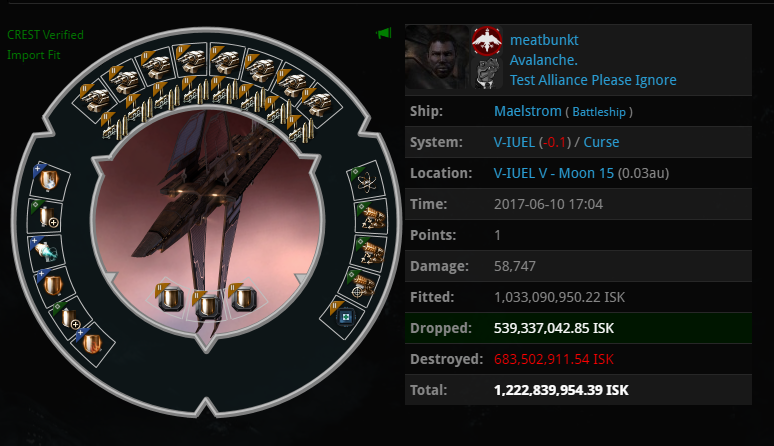 CO2 have a Machariel fleet currently under attack from an Imperium Maelstrom fleet on the V-I gate in 0SHT-A, and NCdot are apparently switching their attention to Imperium forces.
We will keep you updated on this story as it develops.
1749: Currently 1550 in local, 749 of which are Imperium. Adashboard from Jay Amazingness. Tidi is at 10%. PL are also in the system and shooting things.
1752: DaBigRedBoat is being shot at in his bomber by 3 Machs, who are currently doing a grand total of 0 damage to him. According to Zkill, the current stats for V-I are 24b lost by Legacy Coalition and 2.5b lost by Imperium & NC, but, as always in these fights, the killboards are lagging behind. In 0SHT-A, it looks like 12b lost by Legacy Coalition & NC against 7b lost by Imperium.
1801: Gigx has exploded after being booshed by Initiative.
1805: Imperium are clearing up the remnants of the CO2 Mach fleet. It seems as if NCdot are trying to leave the field.
1807: Our own MackyAvelli is in the fleet, heroically flying a FYF frigate. (Actually, a large number of INN crew are in the fleet, so there are probably our wrecks littered across the field!)
1823: Clean-up on aisle 5 is now fully underway. CO2 have lost their Mach fleet, and TEST earlier lost their Maelstrom fleet to bombing runs.
1834: Battle report is up here and at present it looks like 66b loss for Legacy Coalition vs 11b loss for Imperium.