EVE Online is a game where we often measure success and failure in how many make-believe ships have been 'killed' and 'lost', but all too often, the meanings of those words are brought home in a way that is all too real. Today is one of those days.
Robert Adams, aka Photon Torpedo of Ultimatum Corp in The Bastion alliance, was suddenly taken from us on December 2. The very public incident, where a couple opened fire into a holiday party for the County Department of Environmental Health, killing fourteen and injuring 21 others, caught the attention of the country. Nearly all of the victims were County employees. Unfortunately, Robert was among them.
In-game, Photon Torpedo was a member of Ultimatum since early March, and an alumnus of LAWN corp The Graduates. Tauron Torres, CEO of Ultimatum, described him as "a good guy," saying "In game he was known for his Market PVP, and most of the time the designated LOGI pilot. He definitely ruffled feathers with the Market ninja skills." He went on to say, "Robert was a family focused man, often times whispering on teamspeak so as not to waken his newborn or disturb his wife, he was a very proud father, when his wife got pregnant he seemed very excited. She [Savannah] was born last spring I believe, and he thought the world of her, she was his miracle baby they said. Truly amazing! He was a very proud father. Robert was a good guy, he will be missed and remembered within our group and I thank all the members in the community of EVE Online for their support."
Many of Robert's friends and corpmates have expressed similar sentiments, commenting on a gofundme set up to benefit his family:
"For 5 years Robert has been a friend. It is said and surreal to think this has happened. Never did I expect such a thing to happen to him. He will be truly missed. My fellow brothers in Eve are all shock, sad, and angry this happened to him. He was a such a kind man and did not deserve this. He enjoyed his job as it was helping others protect themselves from harmful food and environments. To think someone who work for others would have this happen to him. I want to thank the hundreds of people who supported in this last 24 hours and didn't even know the man. Many of you are from Eve, and while our community treats each other poorly inside the game, it nearly made me cry to see all of you donating to support his family." – Mike Emily
"I new Robert, or Photon Torpedo, from the game Eve online. I have been flying with him for almost 7 years now will miss him deeply. Robert was the definition of a stand up guy. One of the most respectful, kind, and caring individuals I have every met. I started playing the game as a young teenager when I met Robert. He was a huge influence in my younger years and taught me a lot about the game and life in general. I will miss all those late night debates we had. My heart goes out to his wife and daughter. Robert will be missed, and the entire EvE online community is grieving. Fly safe in the heavens Robert o7." – Matt Meisberger
The gofundme has nearly raised $50,000, much of it from EVE players.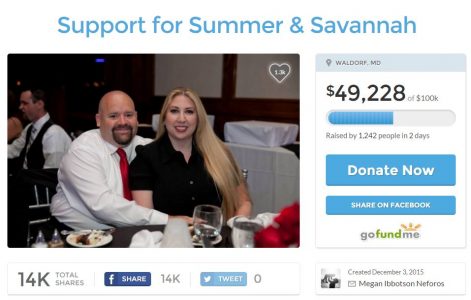 Summer Adams spoke with CNN's Andersen Cooper to share her memories of Robert, his deep love for daughter, and his helpful, generous nature.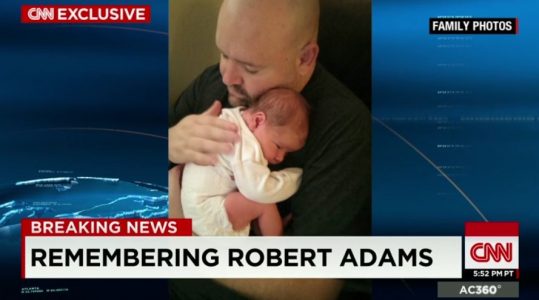 Robert Adams is survived by his wife, Summer, and their daughter Savannah. TMC would like to offer our thoughts, prayers, and condolences to Robert's family and friends, both online and offline, and to all those whose lives were impacted by Wednesday's violence.
Author's Note: The publication of this memorial was delayed pending verification that the gofundme drive, established in Maryland, was indeed connected with Summer Adams. We have confirmed this now, and without reservation hope that all members of our community will join us in helping to care for the family of one of our fallen.