At 01:12 on May 14, a Tornado pilot destroyed an Iteron Mark V worth 100 billion ISK on the undock of the Jita trade hub located at Jita IV-Moon 4. However, this was not your average gank. The bad mood of the loot fairy and the strangeness of the circumstance make for a great ALOD.
Eyewitnesses claim that the Iteron pilot undocked from the station and began begging for someone to destroy his ship and that he had 100 billion ISK in his cargo. The pilot also stated that Eve has become a distraction to him. In order to stay away from the game, he had decided to extract his skill points to give away to the community or let vanish in his wreck.
Some say that this went on for up to half an hour before anything happened. In an interview with INN, the pilot who managed to kill the Iteron, Myfluga, said that he thought it was a prank at first. However, when he undocked in his Vexor equipped with a cargo scanner he realized that the Iteron pilot was, in fact, telling the truth. He found 149 Skill injectors in the cargo of the Gallente industrial. 149 Skill Injectors is enough to be converted into a maximum of 74.5 million skill points, depending on who uses them. They also have a total market value of 101,059,745,535.26 ISK.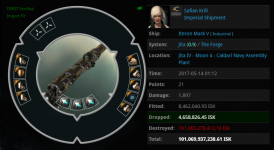 For loot fairy giveth, and the loot fairy taketh away
After borrowing 100 million ISK from a corp mate and buying two Tornados (an extra for his alt to scoop the loot and add DPS if needed), Myfluga successfully killed the Iteron. Unfortunately, every one of the 149 Skill Injectors was destroyed. However, this did not phase Myfluga, who stated:
I spent one of my last iskies on the two nados, but it was worth it =]
INN would like to thank Myfluga for answering our questions. The pilot of the Iteron was unavailable for comment.