History of the hub 0% citadels
Trading for free is bad. But before we start going into this, let's start by saying that this is an opinion piece, and as such there will be many people who will oppose this idea. I've kept my opinions to myself for the most part, but more and more people have been asking me why I'm so opposed, and to address these questions I've created this article to argue my point of view.
So back to my original statement, free trading is bad. Really bad for the majority of traders, except for the ones who are abusing it the correct way. Sadly, for every clever trader using these 0% citadels for their gain, there are countless others who are falling victim to the false promises. Sure, the idea sounds great. Who wants to pay for broker fees if they don't have to? We'll get more in-depth with that later on in the article.
These 0% citadels first came about early to mid-2016, when the competing citadels kept undercutting each other's broker fees. Many traders reported that it was incredibly easy to obtain a 0% rate, even if the public rate was higher. All you had to do was ask the citadel owner. Eventually, one person just set the public rate to 0% and it's been there ever since. There was a period of time when a coalition was trying to be formed, to raise the broker fees back up to a point where the structures could pay for their fuel, and pay for and defense that might be needed. However, it could never stick for very long and then people started to be reliant on the 0% fees. At this point, the public idea shifted to the understanding that people were entitled to this 0% fee, and then that's how it stayed for many months.
Things started to change toward the end of 2016, with citadels starting to be attacked by mercenaries. One of the most controversial take-downs was when VMG reneged on a defense contract, which is rumored to be sparked by another client of VMG, whose citadels were not hit. A more in depth article about this is here: This was short-lived, though, and soon enough everyone went back to their happy 0% citadels in peace.
In December, Pandemic Horde decided to enter the citadel market themselves, however, they were not interested in being another 0% citadel. This was purely a business opportunity, and a much-needed one to start building their capital fleet. Pandemic Horde started going after these 0% citadels, which consumed a large amount of the RMT (Plex/Injector/Extractor) market, as the per unit fees for trading those are fairly high compared to NPC prices. And as you expect, there was a very large distaste against horde for doing this action, as it's cutting into their profit margins and making them move from citadel to citadel. This is still an ongoing activity, as there is one group who's dedicated to anchoring a new 0% structure every week when the previous one dies. The public sees Horde as the evil group ruining trading for everyone, but in reality, it's not their goal at all, and it's not the end of the world either.
Why free trade is bad
In EVE, there are many ways you can abuse a system (unless it's an unintended exploit) with no repercussions. That's exactly how EVE was developed, and I don't see that changing very soon. With trading, people are doing the exact same thing, abusing this system which in reality does not fit in at all with the rest of the highsec mechanics. Let's take custom offices, for example, there is a static NPC fee even on player owned customs offices. If this was not in place, everyone would be doing their factories in high sec. Another example is manufacturing, which uses a cost index to form a minimum tax rate you have to pay. Currently, there is no such mechanic for trading and broker fees. These are set completely by players, and as expected players have been abusing this for a year now.
Free trading allows the ability for margin scamming to be free. One example is adjusting the plex prices, and putting buy orders up that are unrealistic, and will never be filled. People can simply ignore those orders, but that will never be the case. If you're wondering how this is done, here's a click bait title to inform you.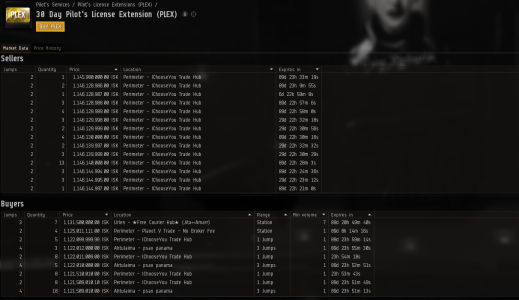 "Big PLEX traders HATE this guy for sharing their secrets".
Granted, not all PLEX traders are using this, it's just currently available to be done for no end cost. Let's start by defining that margin trading is the act of only putting up a % of the order cost. Say you have Margin Trading trained to level 5, you only need 25% of the cost to create the order. This is great for scamming because you just create an order that's not fillable because you never have the ISK to fulfill it. You decide to put up a buy order for 100 plex, 100mil above current buy order price. That's insane, isn't it? However, you also require a minimum of 100 plex to fill the order. For simplicity sake, let's say that PLEX is 1 billion. 1b * 100 = 100b ISK, but you only need 25billion to create this order.
Since no one can fill 1 plex to your order, your order gets ignored, and if anyone does have 100 plex, if they try to sell it to you the order gets cancelled because the ISK isn't in the wallet to complete the order. This is a typical margin trading scam, and it's usually done by selling contracts with the same item, for a lot less but more than they paid. People see the margin, immediately think it's good, and buy the contract hoping to sell to the buy order. Problem is, the buy order was never real and now the poor guy is stuck with a dead space mod that's worth 20 million but spent 200 million on.
Now, you're saying that it's a valid scam and one everyone should be aware of now. The fact is, not everyone is aware of it and they start to .01 ISK and compete with that fake order. Now the PLEX price is upped by 100mil and after an hour the manipulator can just sell his PLEX to these new buy orders, cancel his fake one and be happy with his extra 10% profit margin. The problem is, this is currently free to do in these 0% citadels, and the scammer gets away with it at no end cost while there are countless numbers of people who have PLEX they bought for 100mil more than the actual buy price.
This is hurting the average trader.  New traders now have to compete with the established traders who are operating in these 0% citadels, and even if the citadel traders are using Jita to sell they only have to pay 50% of the broker fees everyone else is paying. This technique is called offshoring, and while it does have it's perks its not very good for the trading community as a whole. Unless traders are doing speculative trading, their main focus is margins. 2.5% of the order total could be the difference between a profit and a loss for many people and items, and it's currently free to do so.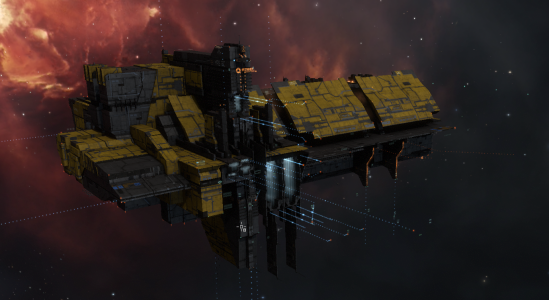 How to fix this?
There is no easy way to fix this. Players in-game have tried by shooting competing citadels, create coalitions to try and rate set the broker fees, but it's truly out of the hands of the player population. There will need to be a change on CCP's end to finally stop the current 0% market trend. The easiest way is to mimic the rest of the highsec mechanics and just add a static minimum tax to broker fees, which still goes to an NPC. This will solve the free trade issues that occur, which is really the problem. I have no issue with the idea that a citadel owner wants to make 0 profit, even owning a market hub citadel myself. Personally, I'll never go to 0% because I don't believe it's good for people. There will be people who will object and say that the only reason they're making profit is because of 0% trading. To them, I ask how they traded before citadels were introduced. Did they object having to pay an NPC broker fee? The margins will return to what they are now, and may even increase as people stop trading for free. This is pretty much the only solution I can think of that makes sense for everyone involved, and is doable by CCP without much effort/work.