It's getting warmer here. Warm enough to have the windows open and hear birds chirping; the sounds of spring are beginning to arrive early this year. My mobile phone buzzes—the final sign that spring is near. The course is open and the text for the "Sunday Sinners" golf group appears on my phone. For the next few hours, 60+ guys text back. "Moe out", "Gary IN". It goes on and on. Inevitably I have to reply: "Erick OUT". But I still wanted to play some golf this weekend. I miss it more having been injured and unable to play most of last year.
That turned my attention to one of my favorite games. I have played it off and on almost as long—although not nearly as intensely—as EVE Online.
The TL;DR
Enter World Golf Tour. WGT has been around for about 9 years and boasts more than 15 million players. It's the #1 rated 3D online golf simulation, according to the developer Topgolf. It even uses GPS and 3D technology to provide gameplay that is as accurate as possible. WGT allows for play on the web, PC, MAC and your iOS and Android mobile devices. It's a solid game across both the PC and Mobile platforms. Though I like the implementation on the mobile platform better than the PC, both are excellent.
Would You Like to Know More?
This game is cross-platform and I have played it on Android and the PC. While I can't speak to the others, if those implementations are anything like the two I have played, you are going to enjoy them. I have this played this game off and on for a number of years. In WGT, Guilds are called Country Clubs. Country Clubs can have internal tournaments and compete against other clubs. You also get boosts and other benefits from being a member of a club. I started one a few months ago and we have already maxed out our membership. Country Clubs gain max membership and other perks as they level up.
WGT has a number of play options depending on what type of game you want to want to play. Typical for golf games is stroke and match play. WGT goes well beyond the normal. They add alternate shot, skins, tournaments, practice, single player and multiplayer. If you are a golfer this is a fun game. It is a mature game that the developer, Topgolf, keeps enhancing. Individual players gain levels as you continue to play and achieve certain goals. The more you hit the fairway on your drive, greens in regulation, etc. all increase you experience points at the end of the round. There are tournaments that coincide with PGA events that you can play to increase credits and/or experience gained.
Free2Play, Pay2Win
WGT is Free2Play, but with that goes the inevitable Pay2Win. That said, I have enjoyed playing WGT for years without spending a dime. Eve is my daily go-to game. Because of that, I allocate my gaming money on Eve or on new games I want to play. All other games I play are secondary. However, with the mobile version as good as it is, this may become my go-to mobile game and it may get some monetary love soon.
You can either buy or earn credits used to buy equipment in-game. You can earn credits by completing offers, taking surveys, watching videos, or other ways. In other words: buy things or be marketed to. If you elect to purchase credits, they run $10 USD per 1,000 credits. If you want better than the starter clubs, a better driver is about 300 credits. A PING G25 driver, on the other hand, is 725 credits. A set of Taylormade M2 irons is 1,400 credits.
Not Fake Equipment
Many golf sim games use made up names for upgraded equipment. Not so in WGT. You will find name brand equipment to buy in the Pro Shop. Manufacturers will have featured equipment you can use for free for a period of time throughout the year. All the golf favorites are in the Pro Shop. It carries Taylormade, PING, Callaway, Cleveland, Loudmouth and more. Golfers like to play online with the same names they carry in their bag. It's all there and more.
The Courses
The hallmark of a good golf game are the courses you can choose from and how realistic they are. World Golf Tour has 24 GPS built replicas of some of the best courses. To name a few of the courses: Merion, Pebble Beach, Oakmont, Kiawah (if you like the wind), Harbour Town, Congressional, 2 Pinehurst courses, St. Andrews and more.
I have played a few of the courses in real life and WGT does them justice. I can tell you I hate Oakmont's greens as much in the game as I do in real life.
The game also features several "best of" mashups to play. Two examples are the 18 Hardest Holes or 9 Exciting Water Shots. Yes, those are the real names. Stop laughing.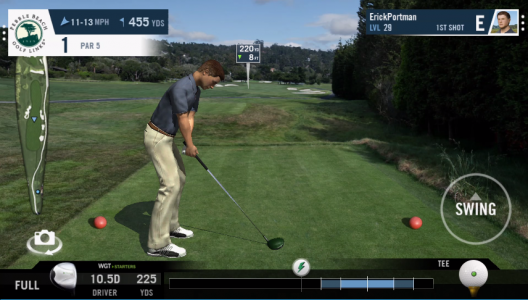 How Does the Mobile Version Stack Up?
The game merges the gameplay on the WEB/PC/Mac with that of mobile devices. I actually prefer the mobile interface better. The mobile version is HD quality. After playing a few rounds on my phone, I can tell that this is going to be my new go-to mobile game. The swing interface is different on mobile; it remains intuitive and easy to use without any explanation for long time players. There is a nice tutorial when you fire up the mobile version for the first time, then you are off and running. In practice mode, you can mulligan and try again. This is a great feature when you are trying to learn a new game that, in all other cases, is as unforgiving as the game is in real life.
The mobile version is a solid representation of the game. It is not standalone from the PC instantiation. All your stats and clubs follow you from platform to platform.
The mobile version is unlike the PC version where there is no application to install (web based). However, the app is a small install. It relies on a fast internet connection to load parts of the courses as needed to your mobile device to move from hole to hole. I found it to be quick with little delay on my network. The graphics were crisp and fast motion was not blurry. Occasionally I did see ball flight skip, but it did not impact gameplay.
Passing muster
All in all: thumbs up. It worked well on my phone and tablet. I think I like the interface and gameplay on the mobile platform better. The only issue I had was I noticed you had to anticipate the swing a bit. I had to react slightly before I wanted to to get the swing meter target where I wanted it.
The View 
Overall gameplay is smooth and HD quality. While the monitor I play on is great, the game seems to have more depth on the mobile platform. The little extras that are standard fare in a traditional golf sim like flyovers and fist pumps on great putts aren't here. There are no clapping crowds. Jim Nance is not telling you how great or terrible your shot was. Every once in awhile you will get a "Great shot." or the like.
PVP Golf
WGT spends its time on making the course as real as it can and not much fluff. If you need the fake leaderboards and competition with the Pros, WGT is not going to give it to you. It sticks to the PVP of golf (did I just say that?). The focus is you versus another human, team, or country club.
That could be a closest to the pin, a blitz game, country club versus country club, or the overall tournament du jour. I would not be surprised if there was some Discord where a group was playing money games against each other.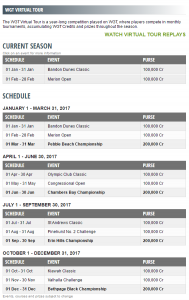 Community!
WGT.com is a full community site. WGT is all about the WGT golf community. Once logged in you will see banners for any WGT tournament leader boards. You have an interface to manage your country club tournaments and club forums. There is a calendar of upcoming events. I like the WGT golf course page where you can go to look up information on each course. Since they are real courses, it gives you a real summary of the course. There is even a link to the course's website.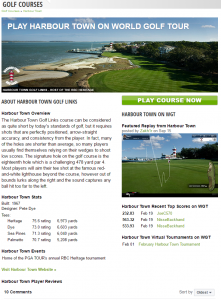 Overall Impressions
WGT.com is a complete game. I like it on the mobile platform best but it is certainly no slacker on the PC. It does have some advertising videos prior to some matches. It is a free game and you never have to pay for it, so there is some give and take. The courses are some of the truest I have played in a golf sim. The country club aspect is great for team interaction and play options. You can even design courses for inter-club tournaments, but I have never tested that option. I like the free giveaways and lender equipment that gets offered on occasion by sponsors during PGA tour events.
In game "announcer" feedback is and always has been missing. Most golf sims give that "PGA tournament" feel. WGT gives you a "I am going out to golf" feel. There is a wind impact to play, but otherwise no weather. Personally, I like my golf days sunny and rain free so no argument there.
One final note: playing WGT made me approach certain holes on a certain course differently in real life. And it made a difference.