If there was any one thought I had going through my mind as my wife, parents and I drove to the airport before dawn to make our flight to San Diego for this year's TwitchCon, it was "oh God I hope nothing goes wrong." There was so much effort on the part of my three "dubiously willing" companions in order to even make my flight. The airline had to be contacted in advance, our hotel room had to have an accessible bathroom for which I had to rent a special chair in order to take a shower, I had to rent a power chair for the convention, and a car to drive all of this around. So many different companies and organizations had a hand in getting us to TwitchCon before we even got around to meeting up with the other guys at imperium.news who were in attendance.
Friday night I decided to forgo what I was told was a pretty epic yacht party. My panel was first thing the next morning, and since my body knows nothing of time zones, I had to get up at 5:00 AM local time in order to use the bathroom and get dressed in order to make it to the Sandstorm Theater on time. I was, fortunately, able to meet up with everyone for a quick drink in the hotel bar the night before, where we all enjoyed a nice sunset over the San Diego Bay. It was the first time meeting many of these people in person, but everyone was friendly, and we talked a bit about the presentation to come, though at that point I still had not finalized what I was going to say.
Fortunately, I was able to get to sleep rather quickly despite my nerves, and when I met my fellow panelists they were all very welcoming and friendly. I had by that point cobbled together a fairly solid outline of the topics I wanted to discuss, and by the time I had made my introduction all my nervousness had gone right out the window. I'd like to say that I hit on all of the issues relevant to a disabled gamer, much less a disabled streamer, but for some reason in the hours following the panel, all I could think about was: "why didn't I bring up this issue or that statistic?" But fortunately, some topics did resonate with the audience, and I'm still glowing a little after receiving applause from the audience when discussing why what little assistive technology exists is prohibitively priced. But if I could do it over again, I would not have forgotten to mention how making games accessible, both on the computer and on consoles, is an issue that is relevant to every gamer regardless of their physical ability. You never know when you might break a thumb or, in my case, a neck.
I thought that once the panel was over, my work would have been done and I could spend the rest of the convention hanging out and having fun. While I did get to do both of those things in abundance, the convention itself also presented many opportunities for networking. Once I realized that this convention was, underneath the surface, a tradeshow, I began to view it in an entirely different light. So, while my presentation my reason for being at the conference, the people I met and the ideas we discussed for what we could accomplish after we got home became my purpose.
Naturally, after a few laps around the Expo Hall I began to get tired, so The Mittani, Porkbutte, et al. took my wife and I to lunch at a nice seafood restaurant in the Gaslamp District (apparently there is such a thing as a free lunch), and we all talked about the things we'd seen and the people to whom we spoke. For me, that was one of the high points of the trip because by then I had realized that while my wife and parents had planned to see to my every comfort, my colleagues here at the Imperium were more than willing to take on this Herculean task. The little things like pushing my chair across the street or even around the convention so they could take a break is an act of such profound generosity that I still get a little misty-eyed thinking of it.
After lunch and a well-deserved nap, we met up with my parents who had spent the time after my presentation on their own, walking through the teeming throngs of sweaty gamers and scantily clad cosplayers, as the thumping dubstep followed them from booth to booth like a shadow. I was worried that the atmosphere and culture would put them off, but as we made our way to Petco Center for the Saturday night party they appeared just as enthusiastic as I was, speaking animatedly of the booths, the games, but also the business aspect of it all as developers and producers met to speak of how to incorporate Twitch in their products as it claims its rightful place in the gaming landscape.
When all was said and done, I asked my mom how she felt being on her own at the convention. "I had an expectation that I wouldn't understand what was going on and I would feel out of place. But quite the contrary, I was amazed by the technology and the following. How normal and nice everyone was and how inclusive the industry is. There is something for everyone and [it's] still growing. I learned a lot!" By the time we got settled in the VIP section at Petco Park, listening to the sound of screaming Millennials being smashed in the face with sheet cake, my parents were actually thanking me for taking them to this gathering of video game nerds who, frankly, were mostly younger than myself.
"I went to TwitchCon interested to learn more about what had so captured my son's attention, passion and enthusiasm. It's just video games after all, and who would want to pay for the privilege of watching someone else play? How could this be a viable business model? I was warned there would be lots of nerds in attendance, I wasn't disappointed. Like other trade shows, there was the mix of suppliers and users. Unlike other industry events I've attended, I was pleasantly surprised by the attendance, enthusiasm and seeming dedication to Twitch TV. The number of different of companies, the organization, professional high-end nature of the displays' presentations, the money spent putting on TwitchCon all speaks volumes as to the potential of the business- clearly Amazon has big plans.
On a personal level I was so impressed with my son's participation in the conference! He was up to the task and he delivered. The friends and associates he has surrounded himself with all seem like high-quality motivated people – the kind who elevate your game, not bring you down. I was really joyed and proud to see what a rock star Brandon is in the gaming world. I believe there is a future here for fulfillment for Brandon – professionally and financially."
To my amazement, by the end of the trip my parents were actually thanking me for bringing them. As if I could possibly have gone without their physical end emotional support. Yesterday, I received this note along with a few bottles of wine: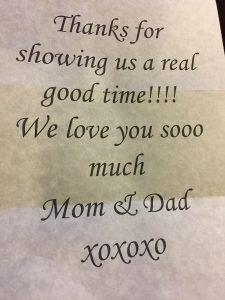 Now, as I've always been a fan of playing video games even before my life-changing injury, I never thought that playing them not only for myself, but for other people as well, would bring me this level of personal and professional fulfillment.
So, as I respond to each and every one of the business cards I collected from developers, inventors, philanthropists and gamers, I have to ask myself what I am going to do next. Numerous ideas come to mind: I definitely want to create content for the members of The Imperium Gaming Community, as they've created so much content in my own life. This means planting the flag of the Black Eagle in every game I've come to enjoy playing, and making sure that everyone, especially the disabled gaming community, knows that they can find a place beneath it where they will be welcomed and supported.