In May, it will be almost an entire year since the release of Creative Assembly's Total War: Warhammer, the first fantasy-based real-time strategy (RTS) game in a franchise that until now, has focussed entirely on historical time periods. For someone looking to get into the series, Warhammer is perhaps the best entry point thanks to a great prologue tutorial system and a fairly streamlined campaign and settlement management system. Veteran players might find the lack of food, taxation, and fertility penalties as a simplification compared to the depth and complexity of the other Total War titles like Attila or Empire.
The world of Warhammer makes a fantastic setting for numerous play styles and options that go well beyond simply "paint the map" by conquering everything that moves. For fans of Sid Meier's Civilization series, Total War games offer various other ways to win through diplomacy and trade (though arguably less of a focus in Warhammer) making the game seem more robust and ways to win more enjoyable. Unlike the Civilization series, Total War offers players a chance to play out their battles well beyond a simple "Rock, paper, scissors," roll of the dice. In Total War, the only place wars get resolved is on the battlefield.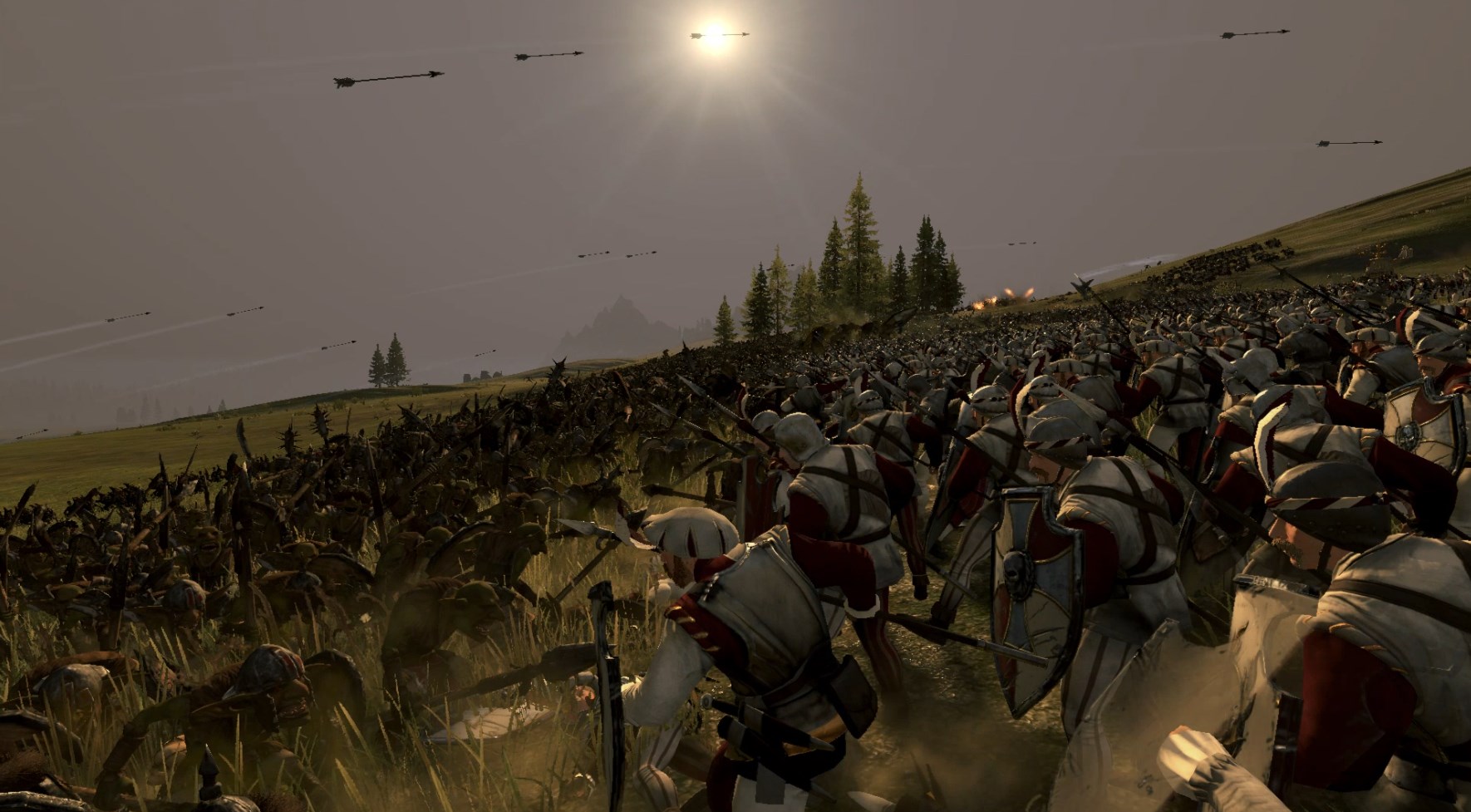 At the end of February CA announced that the Bretonnia and Isabella von Carstein FLC would be the last major pieces of content for Warhammer and that they were going to be dedicating the rest of the team towards making the game's yet unannounced sequel. In all there are supposedly going to be three Warhammer Total War games, each focussing on different races and stories from Warhammer lore. It's also expected that CA will probably release a few more FLC patches with additional playable races, but unlike Bretonnia and the Wood Elf racial packs, these races will mostly just be "unlocks" for already established factions like one of the many Empire factions such as Middenland.
As a die-hard Total War fan, I've gotten (for better or worse) each of the DLC and FLC pieces and have spent hundreds of hours playing through them to give you my best impressions of which ones are worth it and which ones are not. It's important to note that these are my opinions, but as someone who would love to see more people playing Total War, you can take them as you will. WAGHHH!!!  
DLC/FLC Review
Warriors of Chaos (FLC) – A meandering horde-style campaign that eschews a conquest ability in favor of mobility and razing and sacking settlements. If you want to recoup losses or train new troops or build new buildings for your camp, a player has to enter its "encamp" mode, which will prevent it from moving for the turn. This mode was first featured in Attila and was somewhat mixed in terms of its execution. All in all, I found this FLC neat from a lore standpoint but truncated in terms of how it actually played out. The mechanics and storyline are fairly easy to ignore without penalties and it's easier to just go conquer things. Chances are by the time your horde starts moving south, the Empire will have collapse to internal fighting and wars with the vampires and everything else will be pretty easy pickings.
Beastmen (DLC) – This DLC was very weak and caused a lot of outcry from the community for its $20 price tag.  If you are a fan of the faction from a lore standpoint or are curious, it may be worth getting it on sale, but overall the content offered is lacking or just downright bland, I mean, you're playing beastmen, where's the mayhem and blood or gore?  The Eye for an Eye campaign isn't bad but playing these on the grand campaign or in a co-op multiplayer campaign is rough.
Wood Elves (DLC) – This DLC was great! If you like the game, it's definitely worth paying for and adds a fresh, new, campaign and new mechanics that are fun and enjoyable for hundreds of turns worth of conquest. A downside was that until recently, the wood elves were so Op that they kinda ruined the lore in the grand campaign by being too aggressive and basically turning the entire map green. It's been readjusted in the Bretonnia FLC release and the AI is much less aggressive and plays much more defensively than it did when it first came out.
The King and the Warlord (DLC) – More of a challenging campaign featuring new orc and dwarven civilizations in the grand campaign. Both campaigns focus on racing across the map to conquer Karak Eight Peaks and until that happens, the player will have a somewhat severely limited unit roster. Certainly worth getting, but only if you like playing as orcs or dwarves.
The Grim and the Grave – This expansion adds a bit more to the Undead and Empire campaigns, similar to King and the Warlord. While the Empire campaign does not feel that affected, the Undead campaign gets a fairly strong boost. This DLC also introduces "legendary units" that cost a bit more but can instantly get recruited into Undead and Empire armies, bolstering them quite a bit.  Personally, I found The King and the Warlord a much more enjoyable purchase for 8 bucks, while I thought most of Grim and Grave's additions were merely cosmetic and while "neat" did not justify the 8 dollar price tag. However, if you like Undead or Empire and want more, go for it!
Brettonnia – This is by far the best FLC CA has ever delivered. Taking feedback and learning lessons on previous content releases, Bretonnia seeks to correct many of the problems that previous DLC created while offering a wonderfully medieval civilization to play for those who might have gotten a little tired of the Empire and their floppy hats. The "Peasant Economy" mechanic, while limiting the amount of armies Bretonnia can field, does so in a way that is both challenging while not being too punishing.  The price tag for the game plus this FLC definitely makes the whole package worth it, especially for those who might be new to the series.
Various Legendary Lord FLC – There are various legendary lords (Grey Wizard, Jade Wizard, Wurzzag, Grombrindal the White Dwarf, Isabella Von Carstein) you can download and play campaigns with – why these lords weren't included in the release of the actual game? Who knows.  Some of these characters already showed up in the normal campaign but hadn't had their traits flushed out yet. Either way, the main and most important of these is Isabella von Carstein whose traits make her version of the Undead campaign extremely fun due to her bonus for using monster units and spreading corruption. She's also a badass on the battlefield so definitely give it a go.
Multiplayer
In my first review of Total Warhammer last May, I skipped multiplayer almost entirely.  While I still mostly play the single player campaign, I've fiddled a bit with the co-op campaigns and a few battle field matches. They are fun and certainly worth trying out, who knows, you might be a better general than you thought?  
Co-op Campaign – This mode is somewhat limiting given the geographic isolation of many parts of the map. My campaign focussed on playing as Bretonnia while my buddy played as Empire. Even as two factions who are practically neighbors, it took many turns for us to finally start helping each other.  Despite this setback, you and your friend can still help each other through battles. Player 1 can assign units to Player 2. We generally split infantry and cavalry since those require the much individual micromanaging and being able to delegate one or the other can do wonders for making those beautiful flanking moves more of a reality. The worst issue though, was with load times and syncing up.
Head to Head Campaign – This is basically Chess with a lot of AI players in the middle. Due to the load times and drawn out nature of a Total War campaign, I have not found anyone on my budy list who is daring enough to make this happen, though to help with that, CA has made a fairly good match making system and its fairly easy to join a game.  My main issue here is that again, load times and time waiting on the other player eat into a lot of the game time.
Battlefield co-op – This is particularly fun. You and another player go head to head against the AI with armies you create and control. Slay the AI, win the day, and explore using various battle tactics.  It's a great way to learn and it's quite fun creating huge battles.
Battlefield head to Head – This is the area that multiplayer is really growing. There are lots of players creating armies and strategies here. In fact, it's almost completely different style of battle than going up against the AI, so it can be a bit daunting.  This is also the crowd that is creating the most balancing challenges as folks are discovering new and varied ways to abuse units.
The Takeaway
If you like RTS games at all, get this game and at the very least download the Bretonnia FLC and go sacrifice some peasants in the name of the Lady!
All in all, when it comes to detractors it generally comes down to balancing lore and balancing gameplay. Balancing between lore and non-lore mechanics has been somewhat difficult for Creative Assembly, whose core concern must be on the way all these moving parts interact from both multiplayer and single player standpoints. While it might not be "canon" for the wood elves to steam roll the entire map and make it one big nature preserve, if you're willing to in the game should there be any real reason for you not to do that? No. This is a game.
For those wishing to customize their Total War experience further, the game has a fantastic community of modders who can make mods which can completely alter the game experience. Mad that there aren't any Chaos Dwarves? There's a mod for that. Wish you could have more soldiers per unit in your army? There's a mod for that. Tired of the diplomatic penalties you start with in the Empire campaign and wish Marienberg would just fuck off? There's a mod for that. There's a mod for almost anything you can think of and while some game companies might push back against this, CA has embraced it, making the Total War experience even better.