On July 11, the newest edition of Warhammer 40k went up for pre-order, at 10 am local time on Game Workshop's website as well as third-party stores who are permitted to sell pre-orders as well. To understand what happened next we should look back at what happened in the run-up sale.
Going back to the contents of the box set being announced on June 13, GW said "You simply do not want to miss out on this amazing set, so it's important to mention that, as it's a special launch box to celebrate the new edition, it won't be around forever. We've made (literal) boatloads." The message implied that it was a limited-run set, which was odd for a new edition starter, but they had addressed this by making boatloads around this time. The price was rumoured to be around the £120 mark, as that was the value of a mystery box prize for a contest that GW was running.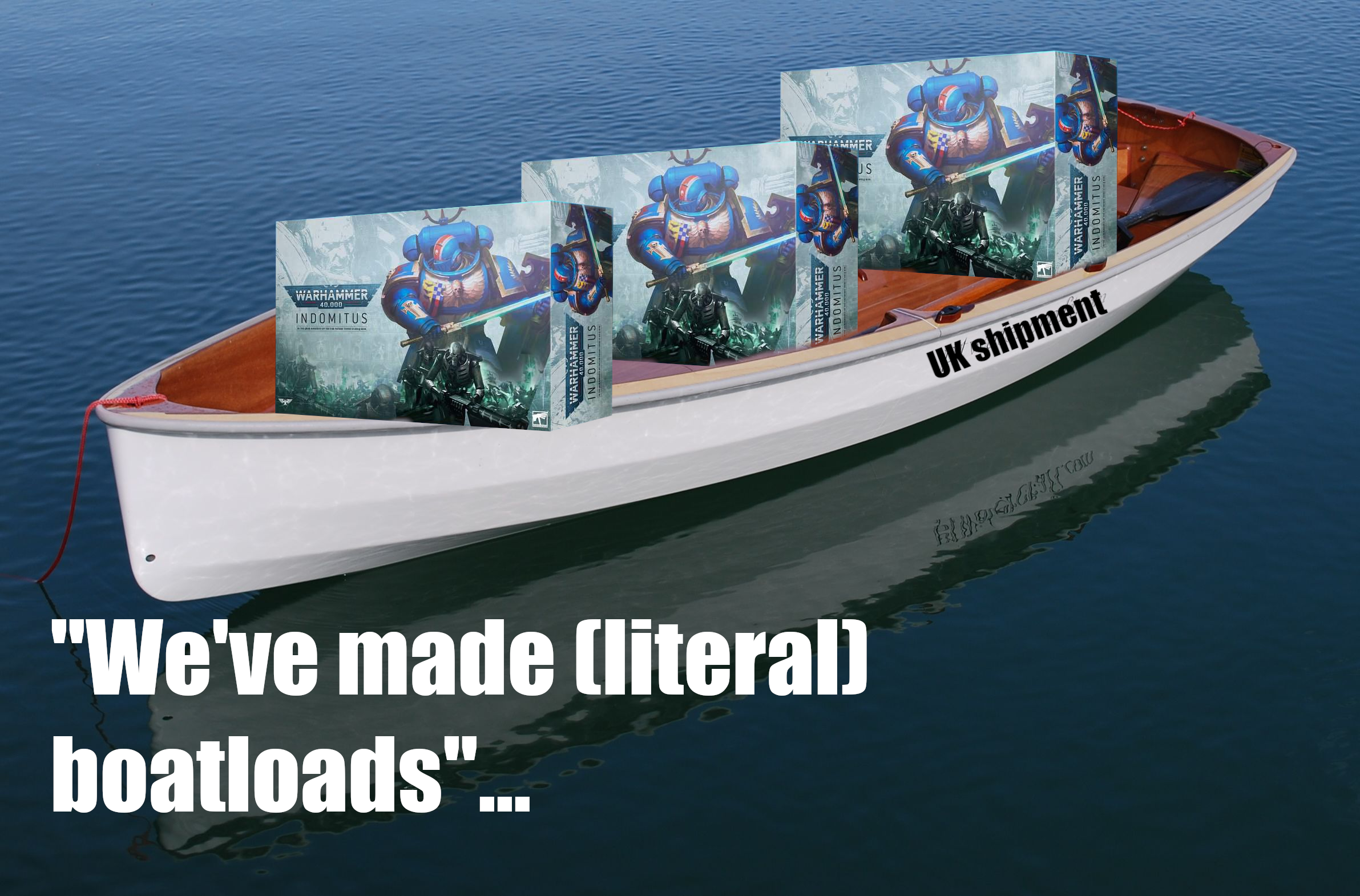 The Lead-Up
The next few weeks saw previews and a more in-depth look at the box set, aimed at building excitement for the preorder date's announcement. This covered the contents of the box, and that there would be a two-week preorder window.
On July 5, another article was pushed out. In this GW outlined that they have taken measures to make sure as many people could get their hands on the box set as possible by limiting the number of boxes that you could order to six. Around this time, third-party local game stores were being told that they could release the price information as a way to engage with their customers, with some stores posting the price at £125. However, I found that not all stores I spoke with were on the same page; some had been informed of the price while others had not been. It started to look like not all stores were getting the same information.
July 7 saw GW pushing a piece on the promo items that would be provided if people ordered direct from them: coins, tokens and dice bags. Lower in the article, GW mentioned that the number of box sets that people can order would be reduced to three. 
The next day came with an announcement on the trade section for GW's third-party retailer network stating that the box set was sold out to retailers, numbers had been locked in and confirmed, and stores were told to make sure to stick to that number. The pre-order date is three days away.
On July 10, one day before the preorder date, I reached out to my local gaming group and stores, and asked about what their plan was. The general consensus was still a 10 AM launch in line with GW policy. I am confident that I can secure my box set.
The set has been hyped up by GW, and its limited run stressed. News that the retail stock had been sold out has passed around the community. The stage is set for a complete sell-out.
In the late evening of July 10 GMT, the New Zealand store page opens for the pre-orders. It reportedly sells out in around twenty minutes.

Black Saturday
Around 0800 GMT, July 11, I make sure that I'm logged in to my account, that my card details are preloaded, and addresses are current. I take time to log into a few third-party sites as well, resetting lost passwords and updating account information so I'm prepared.
At 10am on the dot, pre-orders for the website go live. People rush to buy the set. The limited-edition books and box set are sold out within the first 15 mins, and the UK has the lion's share of stock. Around this time, third-party sites start to open their webpages. The majority of stores are powered by Shopify, and list their entire stock. Stores typically show two to six hundred units in stock, with prices range from around £100 to £105 in the first wave.
By 10:04, one store has sold out their full stock of both waves. It comes to light later on that they had tried to set waves of stock at 300 each with breakers. However, due to the number of orders coming in, the server was not updating the client side fast enough and allowed orders for at least another five minutes, resulting in the store largely overselling. Other stores with a lower level of traffic also experienced a number of issues such as slow delayed posting and items not loading correctly. The majority of wargaming stores were being hit with more traffic than they were equipped to handle, resulting in crashes and shutdowns.
Some stores had tried to mitigate the damage by taking deposits which would be followed up later on. They still faced unprecedented levels of traffic as first-time customers were looking for any stock they could find. Some stores even launched without the box set on sale, stating that they had already allocated their stock to their local customer base. Others moved to an email and invoice system of requesting and going on first-come, first-served basis.
Near the end of the day, other stores slowly added their stock to be pre-ordered after watching and judging what price to set. However, there was news about a possible restock. Element games posted a message saying stock would be refreshed on August 7.
On Monday evening, GW sent an e-mail informing people that Indomitus would become a made-to-order item. This was a massive U-turn for GW, who originally stated that it would be a one-and -done print run. This allows everyone to order a box set right now from GW direct as well as with local shops who able to handle ordering.
In my experience of launches from GW, this one was the most volatile I've ever seen. GW was able to sell out but not without shooting themselves in the foot by underestimating demand. The move to an on-demand system is a great improvement, and I can see this playing a role in future successful releases.