Header Art by Redline XIII
Music has always been an important part of my life. Growing up, my dad was a DJ and had a vast music collection. Cases stacked on cases of CDs, shelves brimming with vinyl, every genre, every era. As long as I can remember anything, I can remember music being a part of it. How I avoided learning an instrument, I will never know. But I consider myself a professional listener, and that will have to be enough. These days the CDs have been replaced by Spotify and my PLEX server, or as I sometimes think of it, the Valhalla-esque afterlife for all those CDs I used to own. Instead of real shelves, the music lives on in celestial shelves, smashing flagons of ale and mead with glorious genre-adjacent comrades, celebrating the fact they'll never be scratched again for all eternity.
As a consequence of an upbringing soaked in albums and singles, I've always had a particular affinity for the music in the video games I play. A good soundtrack goes a heck of a long way to making a good video game, and I spend a not-insignificant amount of my listening time on music from my favorite games. Today, I'd like to turn back the dial and tell a story from yesteryear, of how I discovered EVE Online and how the good ol' Jukebox helped me fall in love with this weird and wonderful game about internet spaceships.
It was 2005. I had just returned home from my local GAME store – let that sink in a bit – and I was carrying a physical copy of EVE Online, a game which had caught my eye on the shelf and twisted my arm into using some money burning a hole in my pocket. I hadn't walked in with a plan. I just wanted to browse the shelves and see if anything made me want to buy it. Turned out, that game was EVE.
MMOs were pretty new. EVE was pretty new. There was a whole exciting world out there, filled with players, the world slowly processing and building on the power of this whole internet thing. Dial-up was still a fresh memory for me. The back of the box even said, "Warning! Your new life may be too addictive to leave!" amidst other slogans like "New Universe. New Rules." I had to try it. I had to see what this universe, where "power is the Holy Grail and the ultimate aphrodisiac," was about. 
After installing the game (from a CD!) and updating the rudimentary client, I was in space. I had no idea what I was doing. My memories of that first night are a haze. I definitely flew around in a ship, maybe an Ibis? I do remember that I used Autopilot a lot. I'm not fully sure if that was the only way to travel back then, or not. I should have paid more attention. I recall that, when it came time to go to sleep, I set myself on a long journey and just left it to go – without a care in the world. Gate safety? Ganking? I knew nothing of these things. I just knew I could fly around in space and make money. Apparently I could do ANYTHING … once I had figured out something I wanted to do. 
The only clear memory from that night is the EVE Jukebox. Specifically the track "Below the Asteroids." It was late at night and the first time I really heard it I immediately connected with it. I turned out the lights, I listened, idling. With the game's then not-so-antiquated ambient sounds it created a deep sense of place. The hum, whir and echo of the dock. The unintelligible, distant sound of the station announcements. Steam hissing from poorly tended ventilation units. In that moment I felt that there was nothing else like this game, which is a true statement even now, 14 years after that first login.

While I bounced off the game relatively quickly after that first session, I didn't forget about the music. It was time to go to university and there was a lot going on so EVE was shunted quickly to the side to make way for it. I knew I'd give it another go eventually, and in 2008 I did, and this time it's stuck. The game was five years old in '08 and had received its first major graphics overhaul in the Trinity expansion. Empyrean Age was just on the horizon, promising the dawn of a new age of Faction Warfare. There were novels. It seemed like the perfect time to give EVE another try. Best of all, 'Below the Asteroids' would be there, and I could turn out the lights, listen and maybe coast through space now prettied up by the Trinity overhaul. Peace within the emptiness.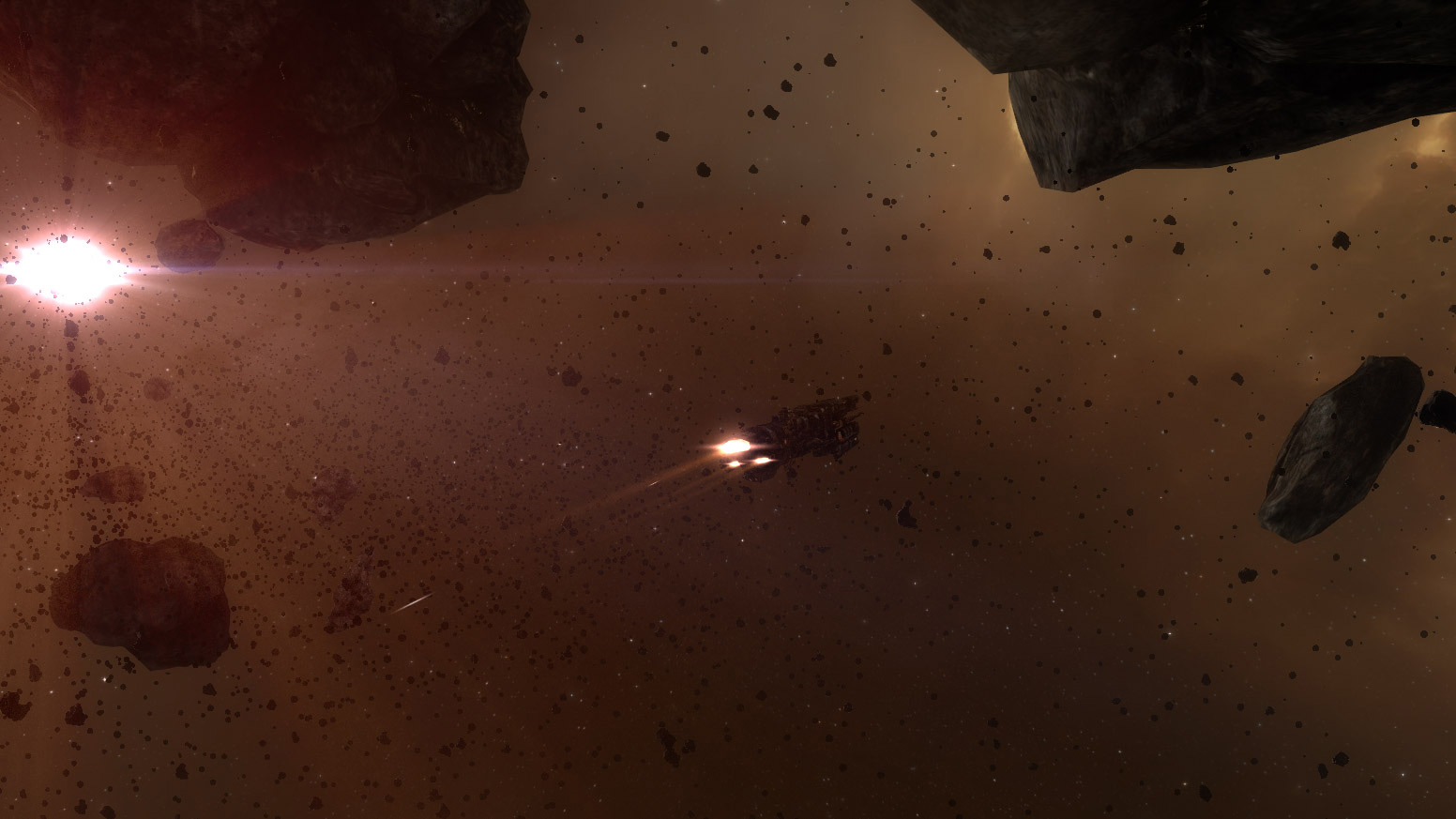 It may sound silly to some, especially in 2019, but the Jukebox was a great feature for me. I loved having it available. Aside from having 'Below the Asteroids' available in-game, on-demand, I could take in other moods like "Merchants, Looters and Ghosts," or "…But Still We Go On." Those are very evocative tracks for me, and effortlessly conjure up a different time in my life. They are fond memories. I can say that, while there have been times since 2008 that EVE Online has not been in my life, the music of EVE Online always has been. I turn to it in moments of calm, grasping the branch of nostalgia the music offers to me, now approaching my mid-30's, living 4,000 miles away from the home I grew up in.
Sadly the Jukebox is no longer with us. Though the concept lives on thanks to the EVE Jukebox project. But while it's gone from the game, most likely for very good dev reasons, it's nice to know the spirit of it lives on. Kudos to Ashy and Malmar Padecain for their work in developing it and presenting it in a way that echoes the UI of old. Like the game itself, the music is still here, thankfully. CCP recently began adding the soundtrack to Spotify, though currently there is just the one album featuring 11 tracks as Chribba kindly pointed out. Luckily for us, CCP Convict was on hand to let us know that more tracks will be added in the future. In time, we'll hopefully have the full collection available to us to make a big impact on our 2020 end of Year Spotify wrap-ups (watch this space.)
So, the music lives on. If I enable the music in-game, I'll hear some of the old favorites as I plod along the space lanes and, sure, I can just throw it on Spotify or Soundcloud (for a more complete collection). Or I can listen to whatever the hell I want, including Roc Wieler's excellent "New Eden Soundtrack," but it just ain't the Jukebox, baby … it just ain't the Jukebox.