Players will be tasked with hunting down Guristas Pirates as the next in-game event, title The Hunt, begins on March 20. Pilots who wish to take on the hunt will find sites all across New Eden, with rewards including Cerebral accelerators, a new damage modifier module, boosters, clothing, and skins from the new Hunter Quiver range up for grabs.
The story behind the Hunt involves the Guristas collecting derelict capsules, hoping to fuel their own cloning agenda. Pilots must race against time to recover the pods before they are stolen by the Guristas, and keep hold of them as they will fetch a reward from interested parties. To take part in the event, use the Agency to find a beacon called Guristas Detention Facilities or Guristas Transportation Facilities.
Rewards are provided in the form of the capsules, loot drops from the Guristas rats and the boss and agency rewards (not yet known).
Like the Gala, there should be missions where you score points for killing (5,10,25,50,100) Guristas in the sites. (information has been taken from Hoboleaks as the event quests don't appear on SISI).
All testing below has been done on SiSi, so as always, there may be changes between the test server and live.
Guristas Detention Facility
This is the easy site for the event, and there appears to be no variation between highsec, lowsec, or nullsec. The random spawn at the start normally contains five ships, a mix of frigates and cruisers, but sometimes a battleship will appear. If a battleship is present, then the starting group will be smaller. Reinforcement waves come randomly and are not triggered by killing an NPC. The rats showed no advanced AI behaviour; they did not warp off and back. Also, they only used a target painter as a form of electronic warfare. Finally, the boss warped in at range, not just spawning in the middle of the site and burning off like in the Gala. Overall, the site felt easier to run than The Gala sites, but there's been a major change to the loot.
In the Gala sites, the only loot worth looting was from the boss. This meant that all your work was rewarded with the final boss; if someone ninja'd the kill or your loot, you missed out. Now, Agency boosters are dropping from the rats. In one site I tested in HS, I got 30m ISK worth of boosters before the boss loot. This means that the value is spread out, and use of an MTU is important to collect all the wrecks. Skins are also dropping from the rats, and the boss has a bounty of 350k ISK.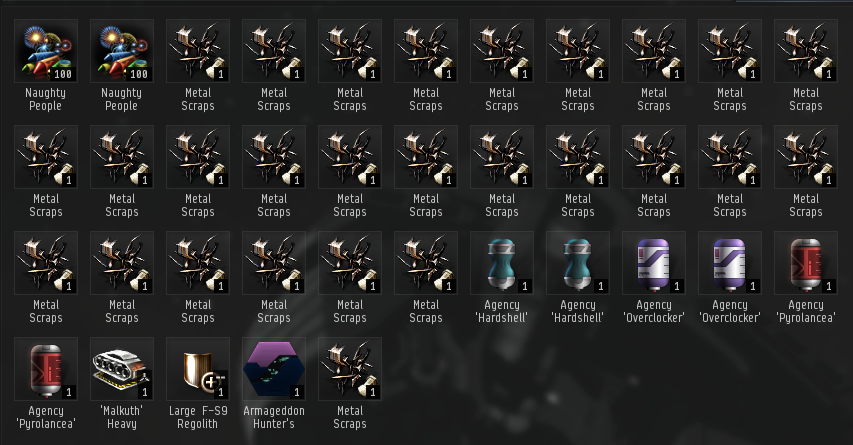 Guristas transportation facilities
This is the hard difficulty site for the event, containing a larger starting wave and featuring battleship spawns as mobs. The rats follow the same behaviour as they did in the detention facility. When I tested this on SiSi, the normal event rats in the site dropped skins as well as assorted other loot. Remember to bring your MTU with you!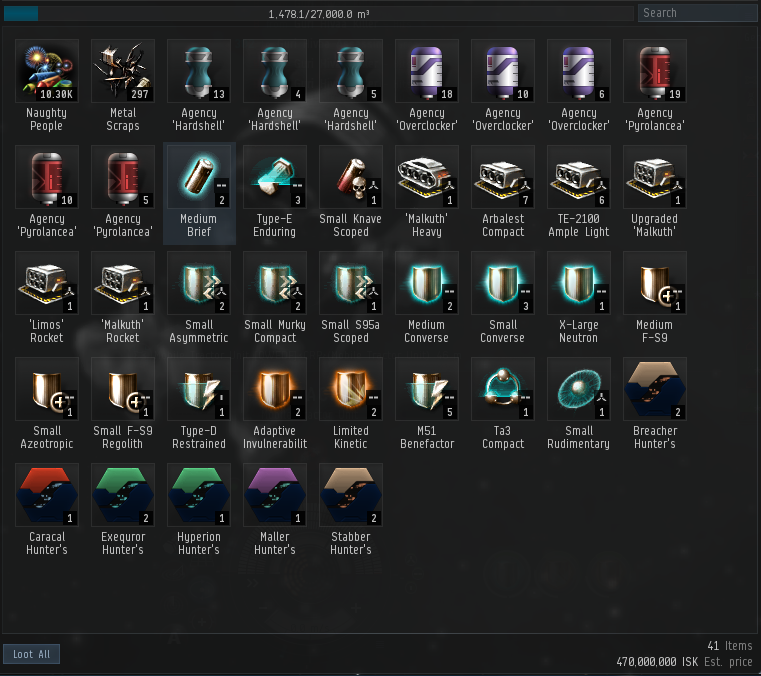 You will find more capsules inside these sites, as well as a dreadnought as a boss with 2.5m ISK bounty. At the time of writing, the dreadnought does not attack you due to a bug on SiSi. There is a timer on the site, meaning you need to use a super or a group of carriers to deal enough DPS to kill the dread before it warps off and closes the site.
Rewards
The main reward is the return of cerebral booster, once again they are offered in 3 different flavours: +10 for 24 hours, +12 for 24 hours, and +10 for 72 hours.
As before, these boosters take up slot 10 and are affected by the Biology skill . Allowing you to double the time on boosters at level 5. At this point, I feel if you don't have Biology to level five and you plan on using boosters, you should train it now. These boosters are becoming more common in the game, and the five days to train level five is worth every minute. This is because you get an extra 4.8 hours per booster for every level of Biology you train.
Agency boosters are also present:
Agency 'Hardshell' TB dose 1,2,3 (+3,5,7% Armor Repair, +3,5,7% Shield Booster. Duration 30 minutes.)
Agency 'Overclocker' SB dose 1,2,3 (+3,5,7% Max Velocity. Duration 30 minutes.)
Agency 'Pyrolancea' DB dose 1,2,3 (+3,5,7% turret damage, +3,5,7% missile damage. Duration 30 minutes.)
Again, these boosters are affected by Biology, making each booster last one hour at level 5.
The exclusive item drop from the dreadnought is a faction module ballistic control system. There are two types, at Meta 8 and Meta 12: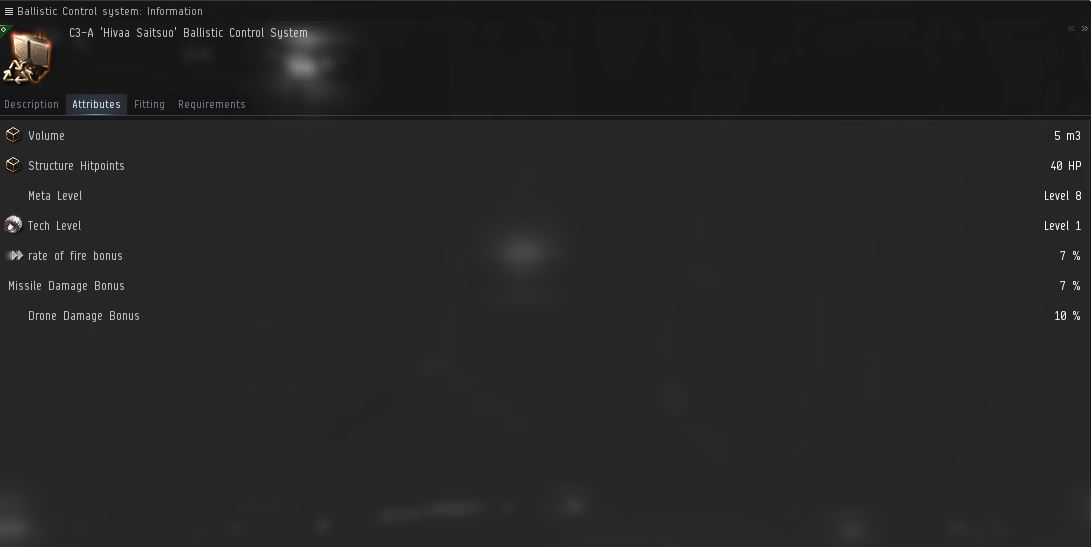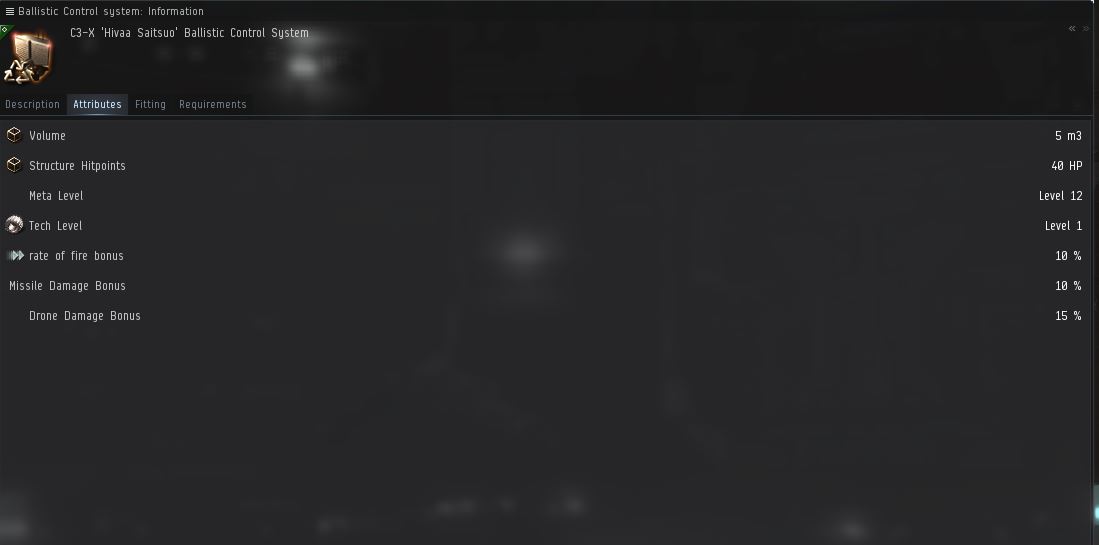 The skin rewards for this event are Hunter's Quiver set, the four empire races have four skins each for the following ships:
Minmatar: Breacher, Stabber, Typhoon, Hel
Caldari: Merlin, Caracal, Raven, Chimera
Amarr: Inquisitor, Maller, Armageddon, Archon
Gallente: Atron, Exequror, Hyperion, Thanatos
Finally, there a collection of clothing items which have a Guristas theme.
Fittings
The Guristas detention facility can easily be completed by a low skilled T1 Gila. the damaged applied by the rats are low and the boss is weaker than the Gala BS boss. Bellow, I've included a fit which can easily be upgraded to T2 and faction should you wish to bling fit. Make sure to pack an MTU to gather the loot, as skins have been known to drop from the rats, not just the boss.
[Gila, *Simulated Gila] Damage Control I
Drone Damage Amplifier I
Drone Damage Amplifier I
Large Shield Extender I
Large Shield Extender I
10MN Afterburner I
Adaptive Invulnerability Field I
Kinetic Deflection Field I
Thermal Dissipation Field I
Rapid Light Missile Launcher I
Rapid Light Missile Launcher I
Rapid Light Missile Launcher I
Rapid Light Missile Launcher I
Drone Link Augmentor I
Medium Core Defense Field Extender II
Medium Core Defense Field Extender II
Medium Core Defense Field Extender II
Now that you have a ship and knowledge of where to go, you are ready to join the Hunt. Are you planning to participate in this event? Let us know in the comments below!