After 393 days, or 57 weeks or 13 months; the PAPI assault on the Imperium has come to a sudden end as the coalition begins to failscade.
After a weekend of rumoured move ops out of Delve, on August 2 PAPI forces began a "Final Push" into 1DQ, as covered on our liveblog earlier tonight.
As the butcher's bill mounted, and T3 fleets were annihilated in T5Z, and the incoming fleets did not manage to get off the gate, it seemed that Imperium would hold the ground in this fight.
What was unexpected was what happened just before 2100 Eve Time in Talking in Stations Discord:
This was followed shortly after by an announcement from Gobbins, the leader of Pandemic Horde.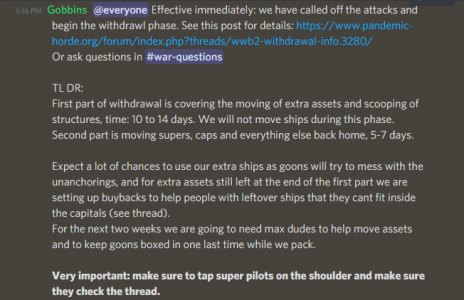 Vince Draken from Northern Coalition followed with this ping to his alliance


ProGodLegend then called an urgent Townhall, in which he confirmed that TEST would be withdrawing to Dronelands. The Townhall covers a lot of ground, including the comments from line members afterwards. The Townhall can be found in its entirety here and is worth listening to. PGL laid a large portion of the blame at the feet of scarcity and CCP changes to broker fees recently, which reduced the income from Tranquility Trading Tower.
After PGL speaks, the comms stay open and the Townhall descends into something of a shouting match between alliance members as they react to the news.
Finally tonight, Dunk Dinkle led a townhall for Brave Alliance. He took a markedly different tone from PGL. He stated that the war is over and they lost and that this has been a war of morale and the Imperium coalition had kept the morale up much more than PAPI has. He said that the will of the coalition to continue has gone. He said that Imperium leadership deserved credit for winning the war against PAPI with the odds stacked against them. As he put it "If you come at the king you had best not miss, and we missed."
He stated that he was not going to comment on CCP tax changes or other CCP changes, because this has been a war about morale and that the Imperium has been able to maintain their morale throughout this thing in a way I did not believe possible.
Dunk said that he knew for a couple of days that the coalition was going to stand down. He told his members that they would not be able to stay in Querious as he believed The Mittani would follow through on his promise to attack Brave.
He is not expecting kindness from Imperium after PAPI tried to wipe them out.
A full link to the stream will be added as soon as it is available, but as it is ongoing there is not yet a link to the VOD.
What will come next is yet to be seen, but this rapid failscade was not something that was expected – at least not at this scale and this fast. It was rumored that PAPI were going to begin withdrawing, but I do not think anyone expected this to happen within the space of 90 minutes without a massacre of supers or some other overwhelming loss.

In the coming days I am sure that more information will come out from behind the scenes as to what has gone on, but for now, there is going to be a special edition of the Meta Show at 2359 Eve (tonight!) where The Mittani will be giving his initial response. So head over to INN Twitch to catch this.

Update: The Brave Alliance chat is available here