It doesn't look like you should be retiring your dreadnought anytime soon.
On September 17, Team Game of Drones, the CCP developers behind the new, yet to be released, player-owned structures coined Citadels, have announced new details into the mechanics of Citadel set-up, siege, defense, and destruction. The new incarnation of Citadel anchoring and siege mechanics was revamped after community and CSM feedback of the previous entosis-heavy model found here. CCP Phantom commented, "Entosis links are not going to work on new structures, to attack those new structures you need to go through their hitpoints. To prevent boring structure grinding, and to prevent the requirement for massive blobs, a new game mechanic that mitigates damage after a certain threshold has been introduced. The attack process has been streamlined as well." 
Along with the announcment of the Citadel anchoring and siege sequence revision, new CCP Citadel art assets were released.  These images demonstrate how a citadel would look and evolve through the phases of Citadel siege and during phases of differential levels of Citadel occupation.  When asked whether the ship will be displayed in bay while docked in a Citadel similar to station docking as is, CCP Ytterbium responded, "No docking scene. When you dock, the camera will be centered around the structure instead, so you can now play structure spinning.."
In total, the announcment of the revamped structure attack process describes the process of anchoring and unanchoring Citadels, vulnerability windows, the sequence of events for Citadel siege, the role of damage mitigation during siege, automated structure repair, and exceptions for wormhole space that seek to hasten the process and sweeten the pot for the would-be evictors.
The new design model for Citadel siege is sure to satiate many as actual weapons systems, rather than hacking modules will be utilized. However, to mitigate attackers bringing overwhelming numbers to hasten the speed of siege, a pre-determined damage cap specific to Citadel structure size will exist.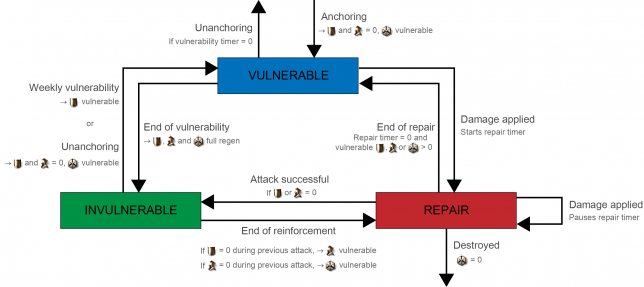 Proposed model for Citadel anchoring and siege mechanics provided by Team Game of Drones. 
The basic system goes (roughly) as follows: a Citadel is anchored and starts out in an invulnerability mode with only hull HP.  After 24 hours the Citadel will then enter a vulnerability phase for some amount of time and will be attackable with only its hull for defense, and if brough to 0 HP, will be destroyed. If damage is applied, an auto-repair timer will initiate and at the end of the cycle the auto-repair will fully restore that phase of health (be it Hull, Armor, or Shield) however sustained attack will reset the repair timer. Repair timers are modulated by sysem security and index levels in null sec and are static in high sec, low sec, and wormhole space. Remote repair is not available to be used on Citadels so the only defense comes from forming a fleet to stop the invasion or using in-Citadel manned defense systems.
If the anchored citadel survives the first invulnerability window it is presumed to then be subjected to the corporation decided weekly vulnerability window that is modular and unique to each structure, not based on sovereignty indexes. The proposed weekly vulnerability windows for medium, large, and extra-large Citadels are 3, 6, and 21 hours respectively and can be allocated piecemeal between days of the week.
Sieging citadels operates by knocking away the HP of each phase to 0 under the constraints of a damage mitigation system that limits the effective DPS per structure size, outlined in great detail in the devblog (and reposted on Page 2 for posterity). If the Citadel shield HP is at 0 at the end of its vulnerability phase the Citadel will tick down one step (ie. Shield to Armor to Hull to RIP), entering invulnerability for some time (akin to reinforcement of structure now) and will exit into vulnerability after another period of time. The exact details for much of this has yet to be fully explained or developed.
Unanchoring a Citadel requires it to be in full shield, and will cause the structure to become invulnerable for some time.  Once the invulnerability window ends, the structure is vulnerable to damage, although full shields, armor, and hull, having a auto-repair process identical to before. Again, after a period of time yet to be disclosed, the Citadel will be fully unanchored and scoopable.
Interesting enough, when Citadels are invulnerable they will not consume POS fuel as is the case for starbases now, instead fuel consumption in Citadels will be required for service modules, using a new type of fuel block that is made of the material from all existic fuel blocks with the addition of strontium clathrates.  Robotics and coolant market speculation for days!
KEEP THAT CAPITAL ARMADA; A TIME TO EXPAND?
Since hacking links discourage the use of Capital assets except as a force multiplier, the new Citadel siege design seeks to re-value and provide more purpose for capital ships during operations. Expect the capital re-balance that is on the horizon to take this into consideration. "We are aware Capital Ship are in the pipelines to be rebalanced, and bringing HP damage back into structures is not a coincidence. We want both structures and capitals to have a strong tie with each other, a binding theme delivers a unified and enriching experience. As such, the Capital Ship rebalance will definitely account for this HP damage system for structures" CCP Game of Drones commenting on the impending Capital Ship rebalance.
A WORK IN PROGRESS
The suggested changes outlined are clarified to be a work in progress, variations will arise as CCP approaches the yet to be announced release date for Citadels. Team of Drones stated, "All of the numbers, timers in this blog are still up to discussion and debate. If anything, we do believe we have proven so far that we were willing to listen to feedback and change our designs accordingly, so please make sure to remember those are not final numbers yet."
How exactly will this new revision to Citadel siege gameplay pan-out long term upon their release? Will the proposed Citadel siege system put the advantage only in the hands of the defenders having choice of shield vulnerability window? In wormhole space, Citadels lost will be a loot piñata, consistent with the current eviction rules of wormhole space. How harsh are these proposed rules for wormhole dwellers since not all wormholes are created equal?
To illustrate the newly proposed Citadel mechanics, CCP provided a hypothetical case study that has been included in its entirety at the end of Page 2. You can find the complete devblog on the proposed Citadel siege mechanics here. Please stay tuned as we continue to provide coverage on CCPs revamps to EVE online player-owned structures including the development and eventual release of Citadels alongside player-owned stargates and defensive structures.
DAMAGE MITIGATION
Even if they're not going to be directly involved any longer, we do believe Entosis Links promote beneficial gameplay in the sense they do create a more level playing field between various player entities: using an HP metric as an attack system alone strongly encourages blobs to pile up on structures. This in turn encourages us to create structures with lots of HP to make sure blobs take time to bring them down. Which removes any incentive for the smaller gangs to engage in structure assaults, thus reinforcing large blob attacks.
This is a vicious circle we intend to break while singing dirty French limericks and wielding a garlic-infused baguette. How? By introducing damage mitigation on structures.
The way damage mitigation is going to work is pretty simple:
We set a maximum limit on a structure, say, 4000 DPS
Every time damage is applied to that structure, we check all cumulated damage done before that within a specific time frame – let's say 30 seconds
If cumulated damage on the structure would exceed 30*4,000 = 120,000 then any further incoming damage is reduced, or negated to preserve that amount over the last 30 seconds
Mitigation is counted after shield, armor or hull resistances are applied to incoming damage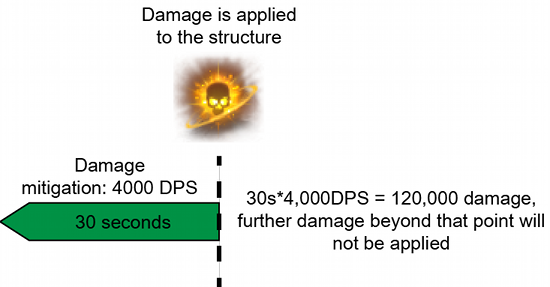 Not all structures are going to have the same damage mitigation. That is going to vary depending on the structure size and role. Here are the numbers we have so far, along with some very rough calculations on how many ship types would be required to reach the indicated damage mitigation for each size (yes, those are very rough, no nitpicking).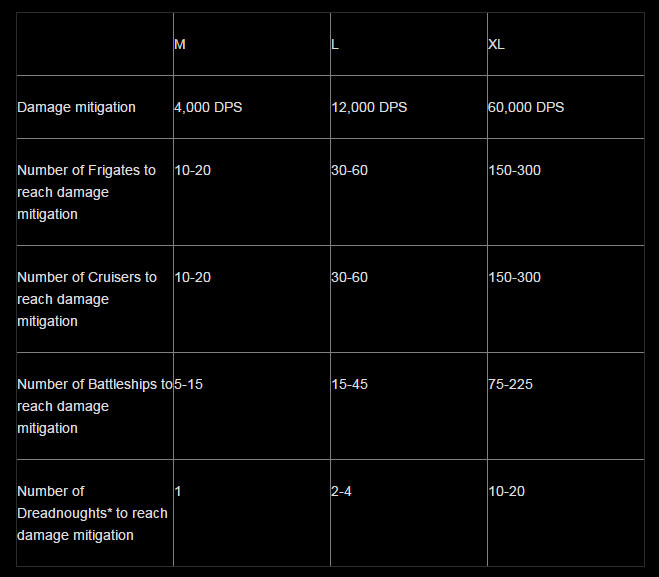 *Assuming current damage numbers for Dreadnoughts, which may change with the planned capital rebalance
STRUCTURE HP NUMBERS
As further iteration from the previous attack mechanic, we would like structure assaults to take around 30 minutes to complete, no matter where the structure is deployed. This ensures a unified experience and prevents confusion as a whole.
Based on the damage mitigation numbers above, we end up with the following HP and resistance profiles for Citadels: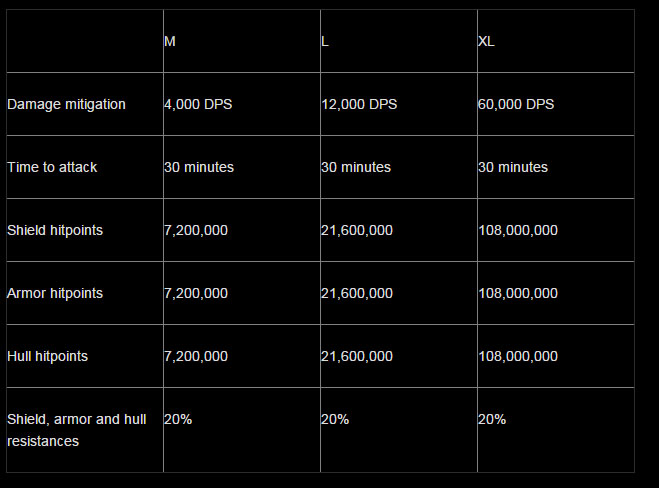 As a side note, there won't be hull, armor or shield hardeners, or anything that increases structure EHP since we do not want attack time to drag on forever. There may be modules that switch the resistance profiles however, from, for instance, 20% EM / 20% thermal / 20% kinetic / 20% explosive to 0% EM / 80% thermal / 0% kinetic / 0 explosive.
The below is an example of the new citadel siege system in action and was provided to the CSM by Team Game of Drones. 
CASE STUDY – THE STORY OF CROQUE-MONSIEUR CONGLOMERATE™
The CSM requested we use an example to help illustrate the new attack system, which we thought was a good idea. We are going to start with a corporation owning a Medium Citadel in high-security space, the Croque-Monsieur Conglomerate™ (CMC).
CMC acquired a Medium Citadel structure and deployed it in Tar (0.8 security status system in Gallente space) at 18GMT on the 10th of September. As such, the structure will be invulnerable until the 11th of September at 18GMT, at which point it will become vulnerable for 15 minutes (located in high-security space), and only have hull as an active defense layer. An attacking entity who would have bothered to declare war on CMC and showed up might have been able to destroy, but that didn't happen.

A Medium Citadel located in high-security needs to have 3 hours of vulnerability set up weekly. One of the directors of CMC, having enough roles, set them to Saturday, from 17 to 20GMT.
As such, the Medium Citadel will be invulnerable all the time, except each Saturday, from 17 to 20GMT, where shields may be shot. During that time, at 19:40GMT, an enemy corporation, the Implacable Kartoffelsalat™ (IKS), having a proper war declaration, shoots the shields.
As the structure has been damaged, it will now try to repair itself. Such a process would take 15 minutes in high-security space, which would bring end of repairs to 19:55GMT. Unfortunately, IKS keeps shooting the structure, which pauses the repair timer indefinitely. Since CMC is unable to repel IKS before the shields are brought to 0, the Medium Citadel enters an invulnerability phase at 20:10GMT, since it took 30 minutes for IKS to bring the shields down due to the damage mitigation mechanics.
Note the weekly vulnerability window would normally end at 20GMT, but was overruled due to the repair timer being active.
The Medium Citadel will stay invulnerable for a specific amount of time (again, how and when is still left to debate). Let's say the Medium Citadel will come out of invulnerability 24 hours after the repair timer started, so 19:40GMT on Sunday.
As it comes out of invulnerability, the Medium Citadel armor is now susceptible to attack. As it is damaged, the Medium Citadel immediately starts a 15 minutes repair timer.
Since IKS doesn't show up to damage the armor, the structure successfully repairs itself at 19:55GMT on day 2, causing all its shields, armor and hull to be fully repaired. Since there is no weekly vulnerable window set up on Sunday, the structures becomes invulnerable as soon as the repair timer runs out.
If IKS had shown up to damage the armor, the process would have been the same than for shields.