Goonswarm Federation has been around for a long time. During that time, there have been numerous parties, events and meets where people have forged friends in life from relationships in Eve Online. With the Eve Online average player age being older than the typical MMORPG, we have a unique community with the means for travel and more adult interactions. Within Goonswarm there is even a forum subsection that deals specifically with Goon Meets, but the real question is…where's the organization?
For years, any meetup was a solo undertaking by a single enterprising individual, either throwing a single party or doing their own annual event. House parties, weekend hotel getaways and then the big CCP gaming events were the staples of forum section posts, but came few and far between. In my own experience, I noticed a repeating pattern of what I like to call 'interest posts'. These all largely begin the same with, "Hi, I'm from X city, who else is around". This garnered the responses of anywhere from 3 to 10 people over the course of several weeks all declaring their proximity to said destination. However, by the time interest was established, the original poster had either lost interest in monitoring the post, or had no intention of launching something himself and rather hoped someone else would take the initiative. Interest never seemed to be a problem, a force to organize that interest was, but who would do it?
I attended the biannual weekend parties in Madison, WI for a few years hosted by a Director within Goonswarm Federation. Madison, being home to several large figures within the Goonswarm community (including The Mittani himself), seemed the obvious place that a regular meet would occur. As fate would have it, I lived within driving distance myself. Over time I became friends with the fairly regular attendees, but also became aware that new blood only trickled in. There wasn't much incentive to risk traveling hundreds of miles to meet a bunch of people from the internet that you might not enjoy in the real world.
Suddenly, everything changed
The Director formerly organizing the biannual Madison party decided she could no longer do so. Around the same time the Mittani had begun hosting a monthly night out in Madison for those of us local enough and inclined to hit the bars occasionally. It was during one of these events that the concern arose over losing our big weekend event. I asked the Mittani if he intended to keep them going in some other way, to which he replied that he'd like to, but wasn't quite sure how to go about it. After a bit of discussion about my experiences organizing events, I was given the reins in October 2017 with intentions to take the idea of a Goon meet to new heights.
I took a short time to develop a plan for moving the events section into a bright new future. I settled on a tiered approach with the biannual weekend events, as well as a re-branding. No longer having a house party to fall back on, the events would have to be planned much differently. It made sense to host Iceswarm 2017 in Madison, WI where we had a homefield advantage. This first attempt would be more humble and cautious to allow for transition. I secured a hotel group downtown within walking distance of most nightlife spots. Madison's, a bar on the other side of capital square, had a semi-private party area that I could secure for both nights with dedicated servers at a reasonable price. This would serve perfectly for our "pre-game" ritual of food, drinks and conversation. As we discovered, you can just as easily drink, mingle and enjoy the company of friends in this setting as you can in someone's basement. The Imperium had previously used several platforms to coordinate event attendees, including Whatsapp, Discord and most recently Telegram. I reviewed the different applications and decided Telegram was the most user-friendly to my purposes. This event cemented the app as our go-to for future events. My corporation of Sundering even adopted it as an out-of-game corp and leadership chat platform with much success.
With the first event under our belt and proving that attendance was still achievable despite a change in format and venue, it was time to move onto the next phase. This included inspiring, launching and promoting more monthly meets like the one we had going in Madison. I fired out a post highlighting current and future monthly meets, and another giving guideline advice to those who might be interested in creating one. After tapping personal contacts to launch their own monthly meets and get the wave started we have been steadily growing these events. The other portion of phase two was Summerswarm 2017 in Milwaukee, WI. My ultimate intentions being to periodically host a newly branded 'Swarm' event in different cities/regions, I also wanted to stay close to home where the circumstances could be more controlled during development. As a Milwaukee area native and proximity to reliable attendees in Madison, this seemed like the logical choice. It also called for a scaling up in activities. Instead of a casual bar room, I picked an ideal hotel central to activities, but also boasted an attached restaurant with a solid reputation. Members were welcomed to a private dining room at Doc's Smokehouse with a BBQ buffet of chicken, ribs and brisket. Through the weekend we hit iconic Milwaukee spots like Water Street Brewery for dinner, the spy-themed bar Safe House, where entry is gained by performing various acts on hidden camera while patrons watch inside, and the nightclubs Madplanet and LaCage. By all accounts a success, I was satisfied but not finished with my work. We still had to move into the final phase of my plan to begin engaging the wider community. The Swarm had to go on the road and Iceswarm 2018 would be the proof of concept.
The Iceswarm Cometh
Iceswarm 2018 was aimed squarely at Tampa, FL. With several locals I could rely on having met them previously it gave me the resources I needed to target activities ideal for our community. After months of communication, scouting and consideration we were approaching the first weekend of March, our chosen date, rapidly. Already we boasted near double the numbers that we had in Milwaukee and the list of events had also grown accordingly. Probably the most popular of the plans was to secure time at a local gun range to enjoy some target shooting. To my surprise it kicked off a flurry of sharing in the Iceswarm Telegram group over the weeks leading to the event. Multiple people shared images of their firearms they intended to bring and discussed the various styles. Excitement had reached a fevered pitch.
For those individuals that decided to join me arriving early on Thursday we had set up an evening at TopGolf Tampa. If you're unfamiliar, TopGolf is a driving range almost in the style of a bowling alley. Multiple decks and bays have their own tables, chairs and couches where you can order food and drinks while members of your party taking turns cranking little balls at colorfully lit pits for points. An assortment of music spanning multiple genres plays and occasionally an iconic song will kick on with a coordinated light show from the pits on the range. It's very first timer friendly and is a great spot to spend an evening.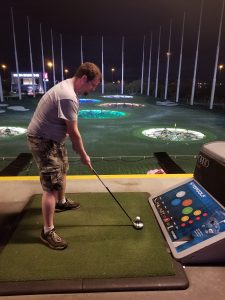 Friday came and the official first day of the event kicked off with people arriving, checking in and beginning to make introductions at the hotel bar. A few of us jumped in my car to head over to Shooter's World to secure range time for our group the following day, and were quite impressed with the facility. If you ever find yourself in the Tampa area and have a desire to shoot, I can happily recommend them for their professional staff, large selection of rented firearms, and fair pricing. We decided to grab some lunch afterwards, and settled on a place called Whiskey Joe's near our hotel. Great ambience and solid tourist spot, they had a music festival going on at the time. The seafood was amazing, and I particularly enjoyed the mussels.
Later into the evening we prepared to head to our first night dinner plans. One of my local contacts had secured us a reservation at a local sports bar/steakhouse called Lee Roy Selmon's, after the local sports personality that founded it. No matter how many times I've seen it, I'm always impressed when our community comes together for events in the real world. Seated around both digital friends and perfect strangers we're all united by our common bond and greet one another with open arms. If you're a member of the Imperium and you've ever hesitated going to an event in real life because you're unsure how you'll be received or just plain worried about "scary internet people," you may want to reconsider. I only knew one of the people seated by me personally, yet I had amazing conversations with everyone around me. The other thing that caught my eye was just how many couples attended this meet.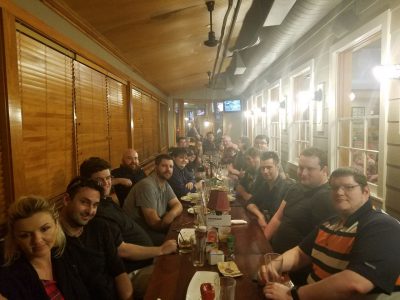 Following dinner, it was time to go down to Ybor City which is Tampa's party central. We first hit the Lion's Den for some premium cigars and liquor. A quaint little bar hidden up an unassuming staircase with a large humidor and a great Old Fashioned, I can definitely recommend it for a relaxed evening. Otherwise, you can do as we did and head over to the Castle for the multistory nightclub experience. Looking like a castle fused with a modern building, this spot has an amazing Gothic interior and feel. While some of us hit the dance floor to the sounds of 80s house remixes, the theme that night, the others adjourned ourselves to the bar for drinks, conversation and people watching. This places had something for everyone.
Saturday kicked off with a little morning brunch at the hotel before heading out to the shooting range secured the prior day. Shooter's World was extremely accommodating to our rather large group, despite our late arrival being inexperienced with the persistently heavy Tampa traffic. Our lead Range Safety Officer (RSO) for the day was John, a former marine. He bent over backwards accommodating every demand we had. Utilizing other RSOs to retrieve us ammo, rental firearms and assisting with loading belts for the SAW. Yes, you read that right, they had a belt-fed SAW that some of our members had the privilege to handle before it broke down under the hail of rounds put through it. Luckily they had a wide range of fully automatic weapons to fire, and several of us brought our personal firearms as well. Special thanks to all of our experienced shooters in attendance for traveling with your firearms and providing expertise for those new to the range. I didn't see a single face without a smile when we left. For the afternoon we enjoyed some bowling down in Channelside at a place called Splitsville by the recommendation of one of our locals. It turned out to be a great suggestion as the food was great and the bowling fun. There happened to be an NHL Tampa Lightning game going on down the block from us and they ended up winning in a game-ending shootout. This brought cheers and revellers to the bar adding to the joyful ambience.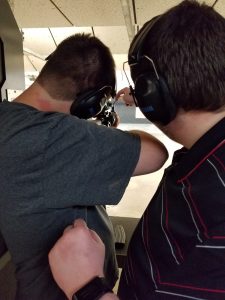 Dinner time came and Saturday night revelry beckoned. We had reservations for the Columbia restaurant in Ybor, the oldest restaurant in Florida, spanning five generations of the owning family. The range of food offerings at the Cuban-styled restaurant was amazing from savory main courses to delectable desserts. The highlight of the evening was the entertainment. Our group was privileged to score tables in the staged room where dinner comes with a bit of ethnic flair. The Columbia restaurant has its own Flamenco Dance Troupe which performs nightly for a small portion of the rather large building. Thanks to our local member who arranged this reservation and the entertainment a surprise for me. The show was unexpected and spectacular. Before we left we were allowed to get up on stage for a group photo and on the way out there was a photo opportunity with the Mittani on a throne-like chair flanked by Innominate and Izalis.
At this point it was late enough in the evening to head back to the castle for their Gothic 'Carpe Noctem' event. Like children in a candy shop, everyone split into smaller groups to attend to their most fervent desire. Some to the dance floor, some to the bar and others to experience a light flogging at the whipping post. We were even able to get our eighteen-year-old attendee in, albeit with large, black marker X's on his hands. With club music thumping and platform girls dressed heavenly or devilishly, the club was at its best that night and so were we.
Those who had later flights the next day returned to Ybor in the morning for brunch. It was a stark reminder of how different places can look lit up at night compared to daylight. We arrived to a popular Sunday buffet spot and though we didn't have a reservation it ended up being advantageous for us. We were allowed to pull together some tables out on the sidewalk in front of the building and had a wonderful breakfast under a warm Tampa sun with a cool breeze off the gulf. Drinking mimosas, reminiscing about the past few days and eating fresh seafood inspired breakfast dishes this was definitely the best way to cap off the weekend before departing dear friends.