20 YEARS OF CCP
EVE Fanfest 2017 is finally underway and the developers are celebrating 20 years as a company. This year's Fanfest has been kicked off with the EVE Online keynote, giving players a glimpse at the past year of development and a brief look into the future of EVE Online.
CCP started the keynote off with a look at the new features and mechanics that have been introduced since the last Fanfest. This included Force Auxilary ships, multifit, billboards, subscription model changes, graphical updates, in-game events, and more. These have kept players engaged and either delighted or disappointed them depending on personal stance.
For the lore buffs, CCP announced that the book Frigates of EVE Online: The Cross Sections is now complete and ready to be released. The book features 168 pages of detailed artwork showcasing the internals of 28 different frigates in EVE Online. As an added bonus, the book also includes a chapter on how propulsion engines work and a chapter on capsules. Frigates of EVE Online is set to release June 6th 2017. Pre-orders go live next week, with the option of a limited edition version that includes a large ship blueprint and a few extra goodies.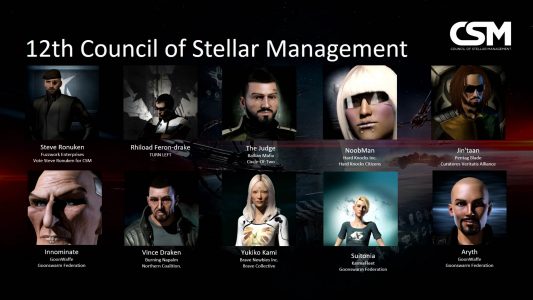 THE VOTES ARE IN
The next topic of discussion was the Council of Stellar Management, or CSM 12. The votes are in and have been tallied with the results ready to be shared. CCP announced that the new and returning members of the CSM are as follows:
Steve Ronuken of Fuzzwork Enterprises
Rhiload Feron-drake of TURN LEFT
The Judge of Circle-of-Two
NoobMan of Hard Knock Citizens
Jin'taan of Curatores Veritatis Alliance
Innominate of Goonswarm Federation
Vince Draken of Northern Coalition.
Yukiko Kami of Brave Collective
Suitonia of Goonswarm Federation
Aryth of Goonswarm Federation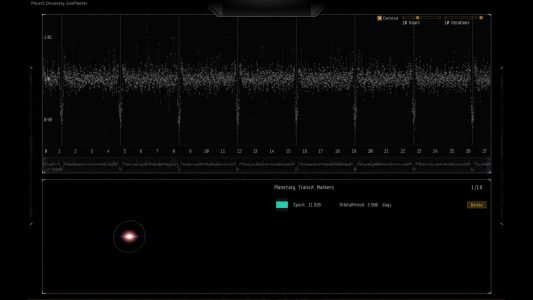 THE NEXT FRONTIER IN CITIZEN SCIENCE
This year at EVE Fanfest, CCP is showing off a development build of the latest introduction to Project Discovery. As previously announced, Project Discovery will allow players to assist real life scientists in the search for exoplanets. To assist in this search, players will analyse light data to identify recurring light patterns that may indicate the presence of planets around suns.
This new version of Project Discovery will be released in the summer update. In the meantime fans currently attending EVE Fanfest 2017 will be able to playtest a development version of Project Discovery to get an idea of how the mechanics of analysing these light patterns will work.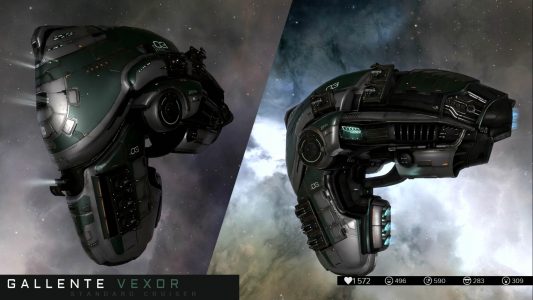 A NEW EXPANSION IN MAY
Looking forward in other areas of EVE Online, CCP showcased several new additions to the game set to release next month. The first addition to be showcased was a new model and textures for the Vexor, which is receiving a complete overhaul to bring it on par with some of the other reworks of existing ships that include new animations and effects.
CONCORD will also be receiving some overhauls with two new additions to the fleets at their disposal. This will bring CONCORD ships in line with the graphical enhancements being applied to player flown ships in EVE Online. The new concord ships will be released with the new expansion coming this May.
CCP are finally delivering on a promise from a while back: new blood raider ships. CCP showcased three new ships; a force auxiliary ship called the Dagon, a new dreadnaught called the Chemosh, and a new blood raider version of the Avatar titan called the Molok. While the build costs are estimated to not be too great, there is an interesting twist on how these ships will be obtained by players once they release in the May expansion.
Blueprints from these ships cannot be bought. In fact, the Blood Raiders don't even want to sell them. With the May expansion, Blood Raiders will build their own engineering complex, only one of which can exist at any given time. It will not show up on your overview as the Blood Raiders will fit it with the latest in stealth technology, so finding it will require some cunning.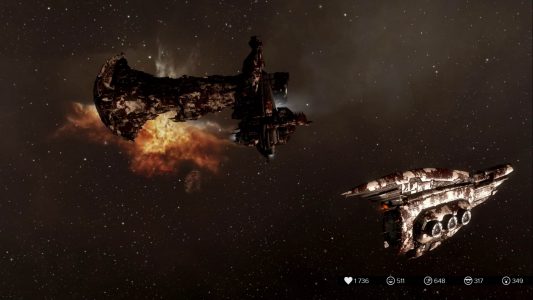 CCP gave some hints though, Blood Raiders will begin sending out their miners to obtain resources to fund their production – if a player were to follow one of these miners on their return trip, they may just find the engineering complex. Blood Raiders will not take the discovery of their facility lightly however and will form up to defend against intruders.
The developers are working hard on improving NPC AI, so the Blood Raiders will dynamically form up fleets and fit different modules to their ships to try and counter the type of fleets players bring and the tactics they use. Blood Raiders will also perform new tactics and strategies more aligned with how players behave, including using tricks to warp on top of player fleets.
If players manage to destroy the engineering complex, it will drop not only loot, but also blueprints of the three new ships. The Blood Raiders will retreat and build another engineering complex in another location. CCP announced that they will introduce this feature to other pirate factions in the future, which hints that we may also see more ships being introduced.
Additionally, in the May expansion, the changes to PLEX will finally be introduced and AURUM will cease to exist. There will be some promotions before the expansion release that will give players an opportunity to spend their AURUM. In the May release, players will also be able to buy items as a gift for other players with an easy option.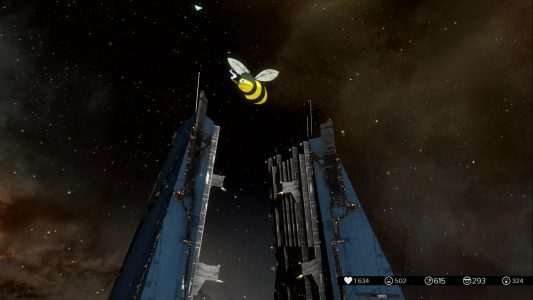 LOOKING TOWARD THE FUTURE
In response to feedback, and in an effort to allow players to showcase the efforts they put into colonising space, players will soon have their alliance logos appear above citadels. This cosmetic feature will be introduced in the Spring update (after many requests from players).
CCP touched again upon the upcoming changes to reactions and moon mining. The new structures known as refineries will extract chunks of the moon they are anchored to, and then blast that chunk into pieces, forming an asteroid belt. Players will then be able to mine those chunks in a similar fashion to regular asteroid belt mining. This update will come in the Winter release this year.
Some statistics were shown detailing that citadels have done a great job of moving services away from NPC stations, with most players choosing to perform their business in citadels over the stations. CCP announced that their focus in the future would be empire outposts, faction citadels, and most importantly, conquerable stations.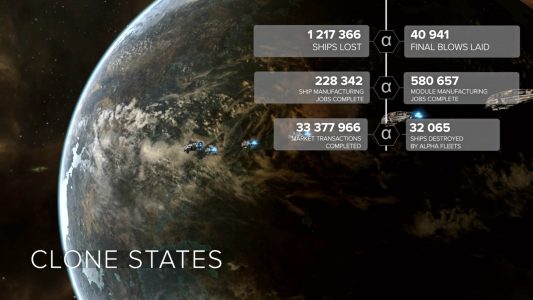 NEW PLAYER PROPAGANDA
As seems to be the theme every year, the New Player Experience is being overhauled again – though not so dramatically this time. CCP said that feedback has shown that the current iteration of their NPE is well liked and effective at showing new players the ropes. That doesn't mean it doesn't need further improvements, however, and the developers are working on that.
In the Summer release, a new intro video for EVE Online will be introduced – which was shown on the livestream – that further highlights the connection between a capsuleer and their ship. In addition, the Empire selection interface will also receive an overhaul.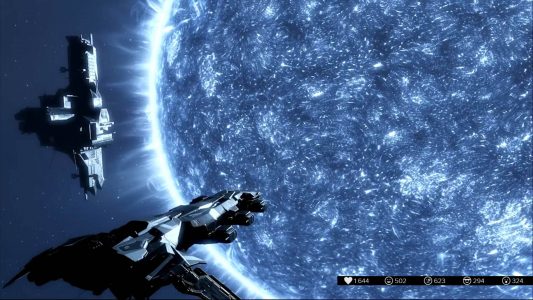 A GRAND VISION OF TOMORROW
Moving forward with the big picture, CCP wants to continue to improve on citadels and offer players new ways to colonise space. The slow introduction of new AI systems for NPCs will continue with a growing focus on providing more engaging PvE content – especially when it comes to NPCs building their own structures in New Eden.
It was noted that the developers do still want to eventually offer players the ability to build their own stargates in order to discover new areas of space for further colonisation. However, they stated that they do not want to implement such a feature until it is perfect – so no timeframe was announced nor should there be expectations to see this anytime soon.
As a small teaser, CCP announced that the Winter expansion will be primarily focused on new content in Empire space – though no details were provided on what this means, only hints that mystery and discovery will be a part of what it's all about.