Elections for the 13th Council of Stellar Management opened today, June 4, and will continue until noon on June 11. All Omega clones are eligible to vote in the elections, which will determine members of the CSM for the next year. Those eligible to vote will be able to do so here.
The Council of Stellar Management works with CCP Games in shaping the development of Eve Online as the representatives of us, the players. CSM representatives carry our interests to CCP in structured meetings throughout the year, providing feedback on the development direction CCP is taking, and expressing the problems and areas of focus that players find most critical for the health of the game.
There are quite a few qualified candidates this year. For your convenience, INN has chosen to highlight ten of who we consider the strongest candidates, who best embody our values, and who we believe will be best for the game:
Aryth <GEWNS> Incumbent member of the CSM and Imperium ballot principal. He's going to be on the CSM.
Merkelchen <SNOOO> CEO of KarmaFleet who looks forward to the new experience of contributing to the CSM.
Innominate <SNOOO> Another veteran of prior CSMs with a long history of service to the greater Eve community.  The less evil Goonfleet candidate.
The Judge <GEWNS> An incumbent of CSM 11 and 12, who pledges to continue to represent you, the players, whether you consider him a hero or a villain.
Brisc Rubal <STK-S> An actual real-life politician. What could possibly go wrong?
Mawderator <B1RD.> A Snuffed Out candidate with experience with lowsec, wormholes, and FW issues.
Sullen Decimus <P0LR> Bastion pilot and wormholing representative from CSM 11.
Commander Aze <Y0-H0> Member of the Bastion and INN Copy Editor.
Jin'Taan <STMOP> Veteran of CSM 12 and 11, now running for a third term. He's been successful in getting things done in the last few years and still has work to do.
Steve Ronuken <FZZW> A representative since CSM 9. A highsec industrialist, his service on previous CSMs shows both the determination and knowledge to get things done.
Citizens of the Imperium may find this list eerily reminiscent of the official state-endorsed ballot, and for good reason! You, in particular, are reminded to do your patriotic duty and vote the party line!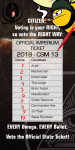 Editor's note: A previous version of this article said voting would close at midnight on June 11. It will close at noon on June 11. This has been corrected.